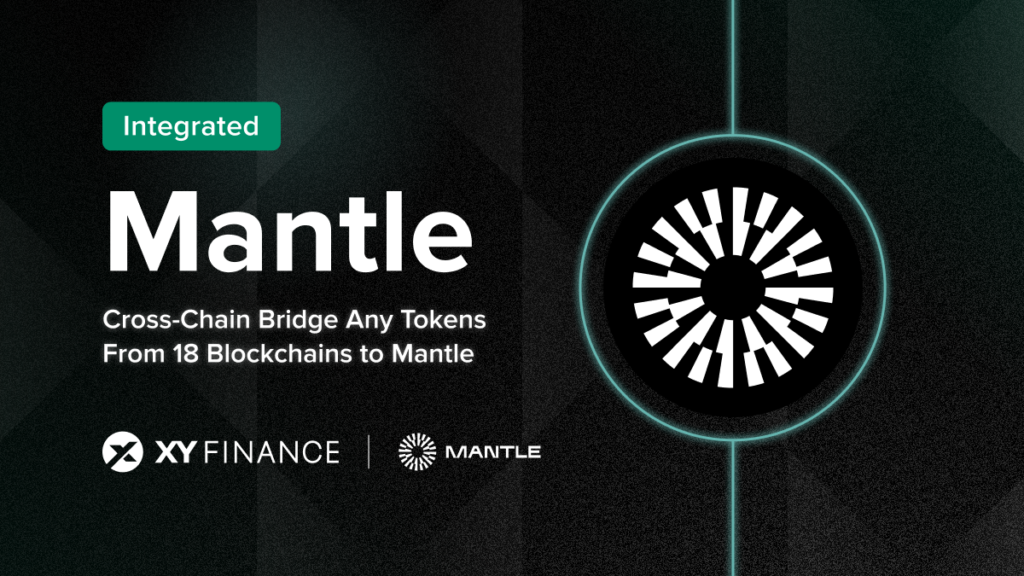 In the dynamic landscape of DeFi, cross-chain interoperability has emerged as a critical focal point. Leading the charge on this front, XY Finance has supported cross-chain bridge & swap of assets on popular L2 chains like Base and Linea. And now, we're gearing up to expand our horizons even further, venturing into the realm of another long-awaited Op-Rollup – Mantle Network 🔥
Mantle Integration (User)
As part of the integration, XY Finance users stand to benefit immensely:
✅ Single-Chain/Cross-Chain Bridge & Swap: Easily bridge & swap any tokens from 18 chains to Mantle via XY Finance.
✅ Provide Liquidity & Earn: Become a liquidity provider to XY Finance's own bridge and earn more ETH, USDT and USDC.
✅ XY Dispatcher: Batch send any ERC20 tokens across all supported chains, including Mantle Network, to hundreds of addresses in one transaction.
Bridge & swap your assets to Mantle Network seamlessly
👉 XY Finance Cross-Chain dApp
Become liquidity provider on Mantle Network
👉 ETH Pool Now LIVE, Provide Liquidity to Earn More!
Mantle Network Integration (Developer)
Developers are at the heart of every blockchain revolution. Recognizing this, XY Finance offers an array of services:
✅ Widget/API Integration: Elevate the versatility of your dApp by integrating XY Finance's cross-chain solution, extending interoperability to 19 chains and growing.
✅ Token Listing: Elevate your token's visibility and accessibility by listing it on XY Finance's cross-chain swap, encompassing Mantle Network and 18 other chains.
✅ xAsset Token Bridging: XY Finance provides canonical token bridge solution that empowers projects to connect with different chains.
For developers who are ready to hop into the multi-chain world & engage more users on 18+ chains
👉 Introducing XY Finance Cross-Chain Widget
👉 xAsset Token Bridging
👉 Widget Integration Developer Document
👉 Partnership Form
About Mantle
Mantle Ecosystem comprises an Ethereum layer 2 (L2) — Mantle Network, a decentralized autonomous organization (DAO) — Mantle Governance, one of the largest on-chain treasuries — Mantle Treasury, and an upcoming Ether (ETH) liquid staking product — Mantle LSD: all built on Ethereum. Mantle token is the unified product and governance token of the ecosystem. Mantle is a fast-growing, DAO-led ecosystem whose goal is the mass adoption of decentralized and token-governed technologies. At its core, Mantle Network aims to redefine Ethereum scaling. As an EVM-compatible L2 solution, Mantle Network employs OP rollups to ensure transactions are both cost-effective and swift, all while keeping gas fees minimal. This is executed by off-chain transaction processing, which is then finalized on-chain. Some benefits include:
Affordable Transaction Fee: By batching transactions, Mantle Network successfully reduces Ethereum's gas fees by a whopping 80%.

Fast Transaction Speed: With a reported throughput of 500 TPS, Mantle Network leaves Ethereum's 32 TPS far behind.

Scalability: Mantle Network is the first L2 to partner with ETH restaking protocol EigenLayer for the data availability module Mantle DA, powered by EigenDA technology. Mantle Network significantly enhances Ethereum's efficiency, reaching potential throughputs of up to 1TB/s.

Security & Compatibility: Being Ethereum-Secured and EVM-Compatible, Mantle Network ensures utmost security while also allowing the deployment of Ethereum dApps and facilitating the use of Ethereum smart contract development frameworks.
More About Mantle
Website | Twitter | Discord | Documents
How to On-Chain or Cross-Chain Swap Your Assets to Mantle Tutorial
Currently, XY Finance supports 19 chains, covering nearly 98% of EVM chains, including: Ethereum, Mantle Network, Base, Linea, zkSync Era, Polygon zkEVM, BNB, Fantom, Polygon, Arbitrum, Optimism, Avalanche C-Chain, Cronos and more. With just a few intuitive clicks, users can effortlessly bridge and swap tokens from any of these supported chains directly to Mantle Network!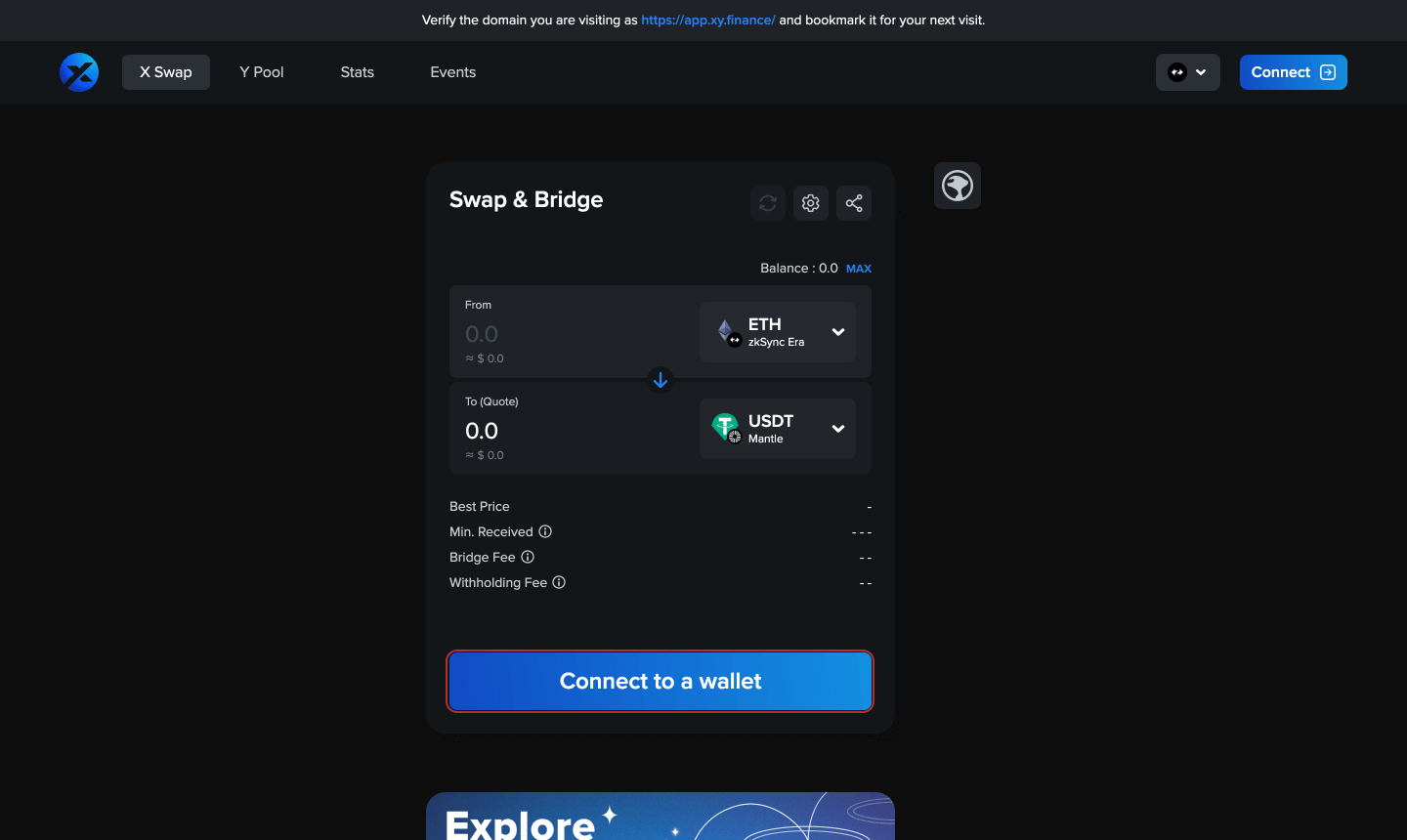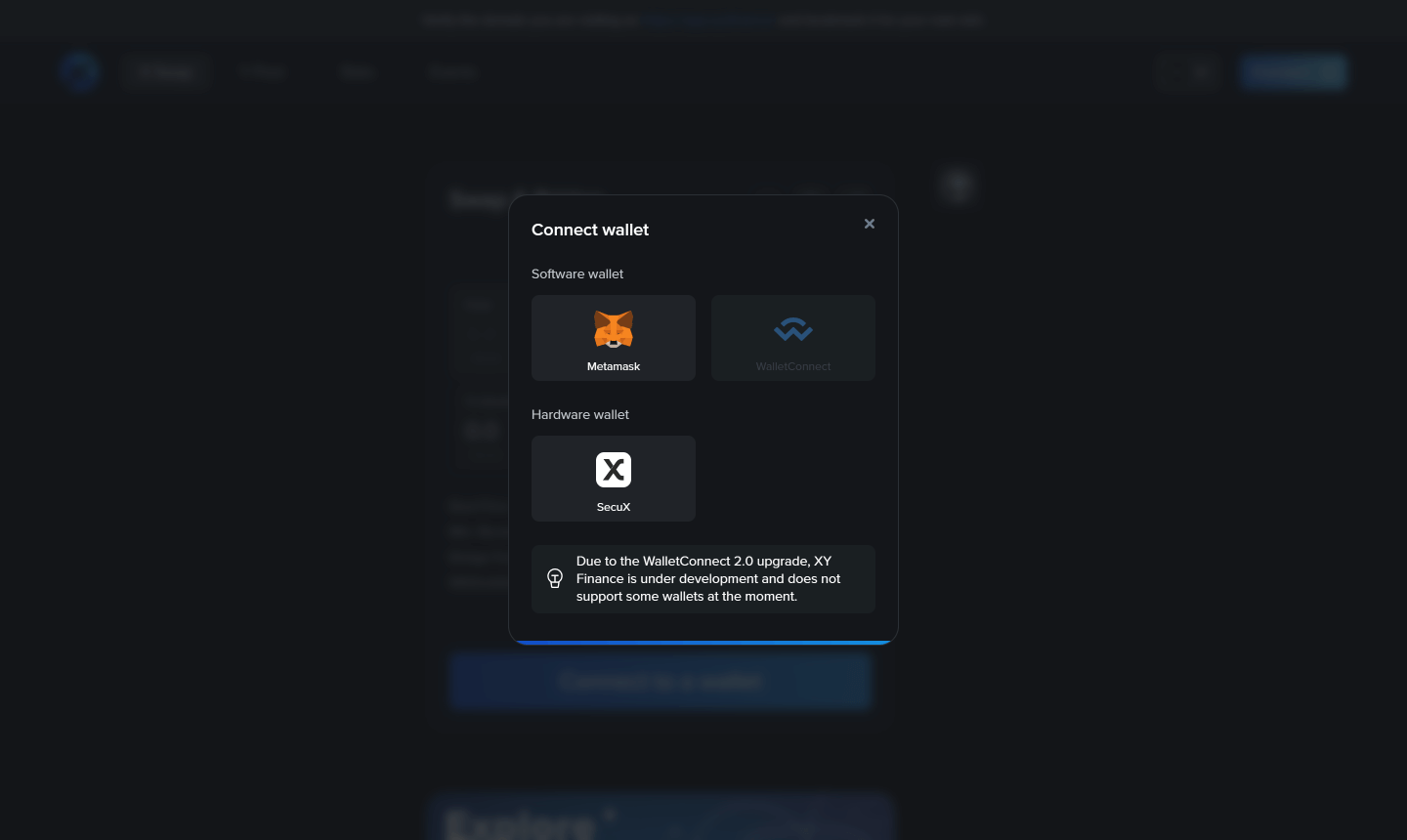 ⓵ Visit Swap Page & Connect Wallet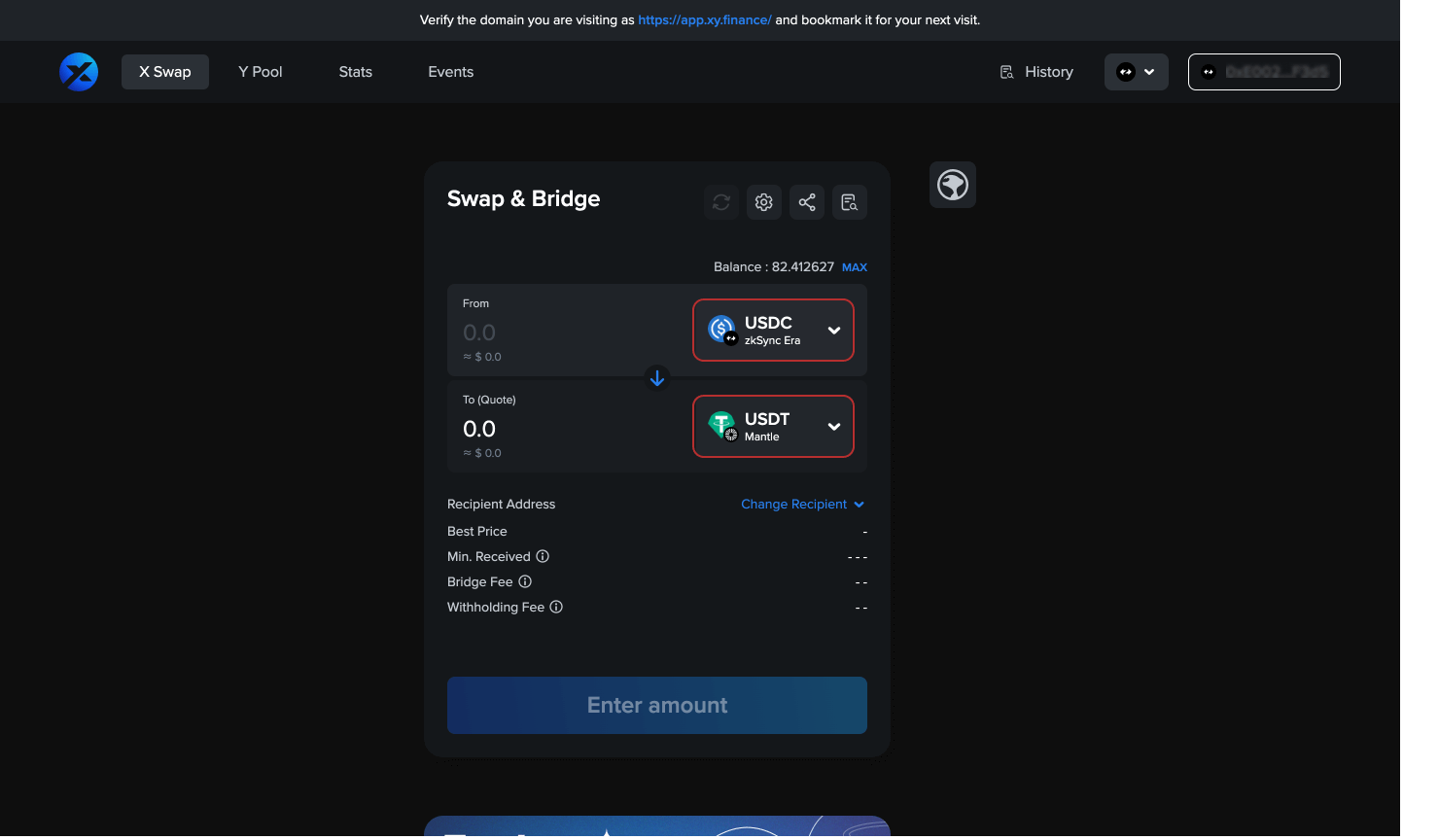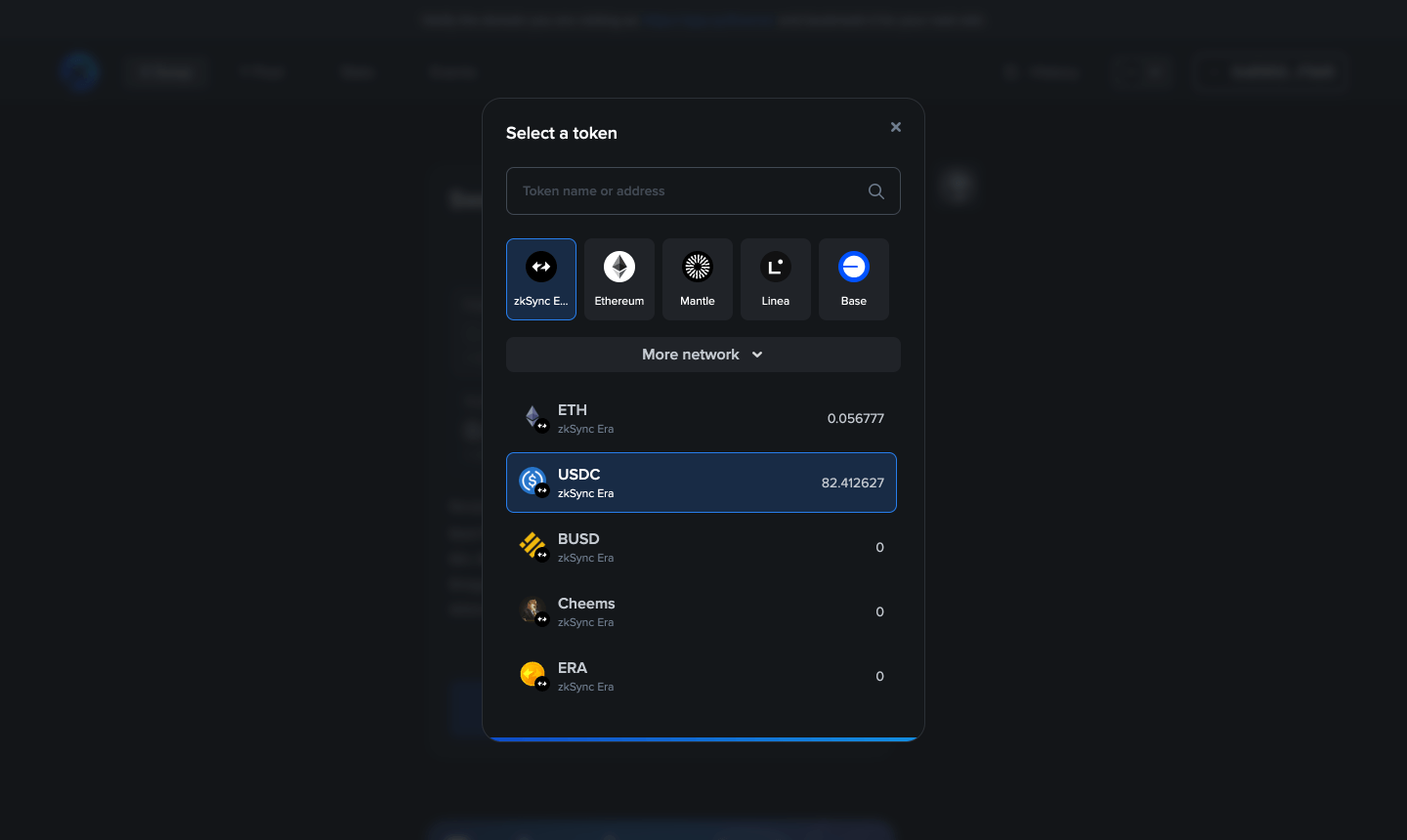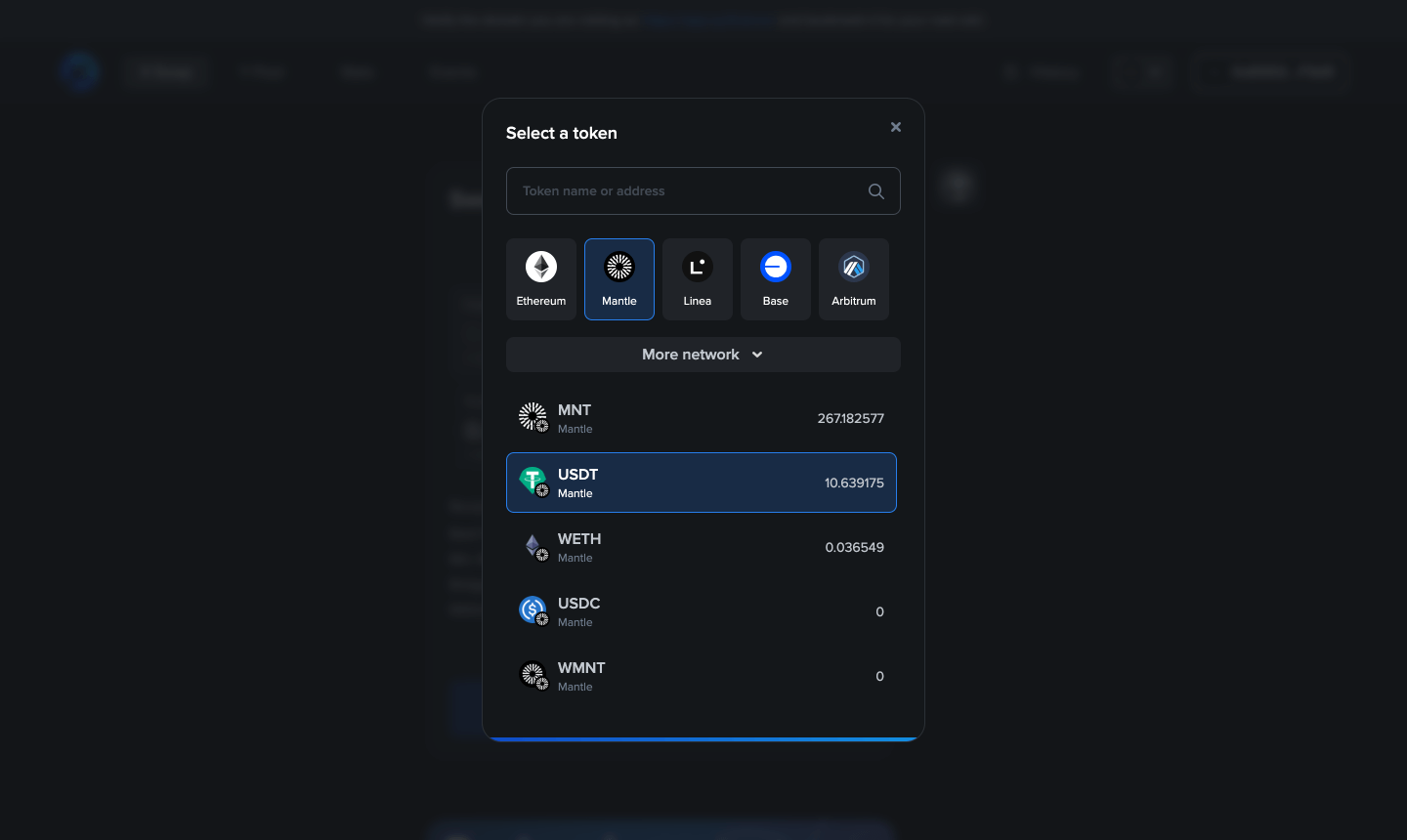 ⓶ Select the Chain & Token
Cross-chain or single-chain swap are both available, in this tutorial, we will be swapping USDC on zkSync to USDT on Mantle Network.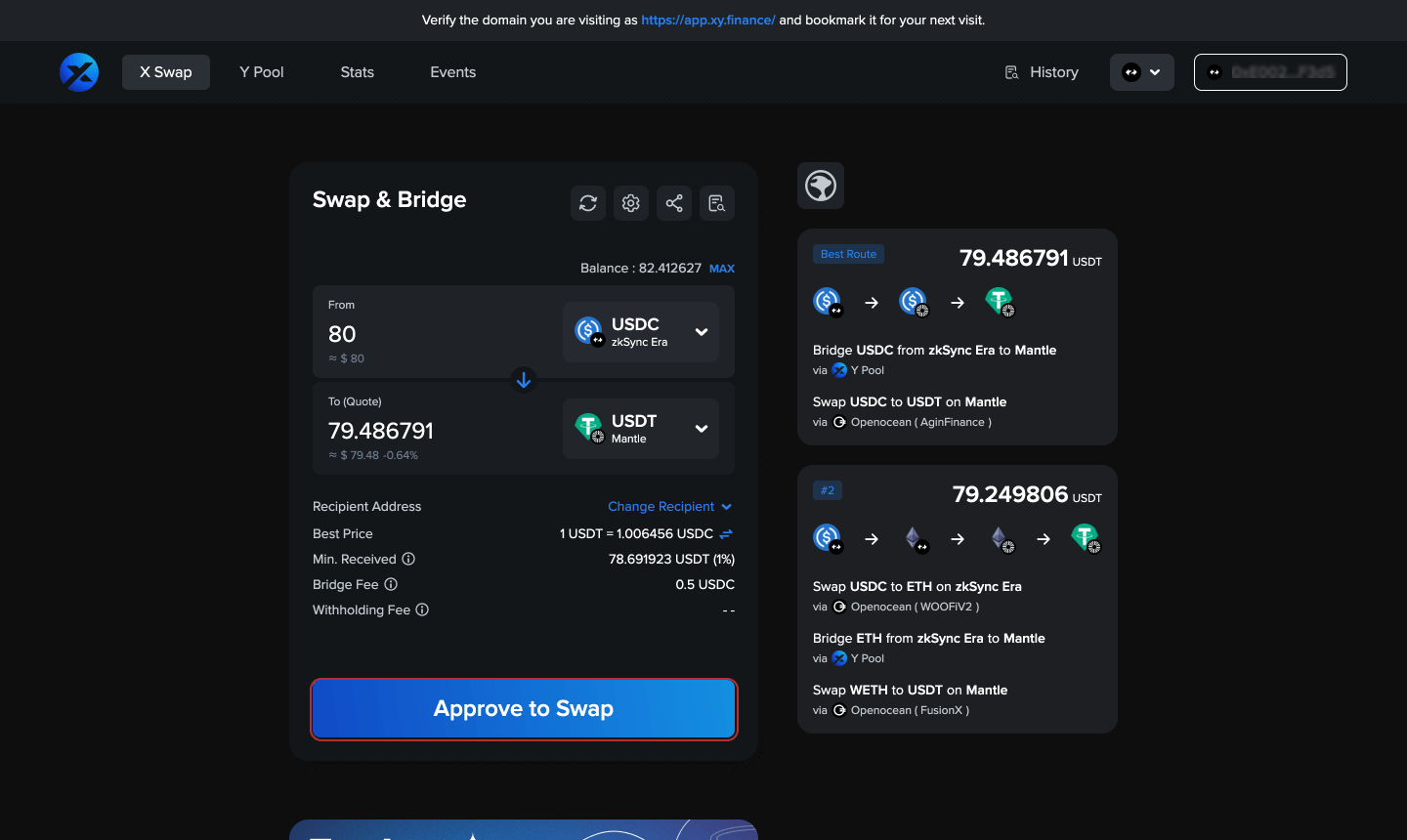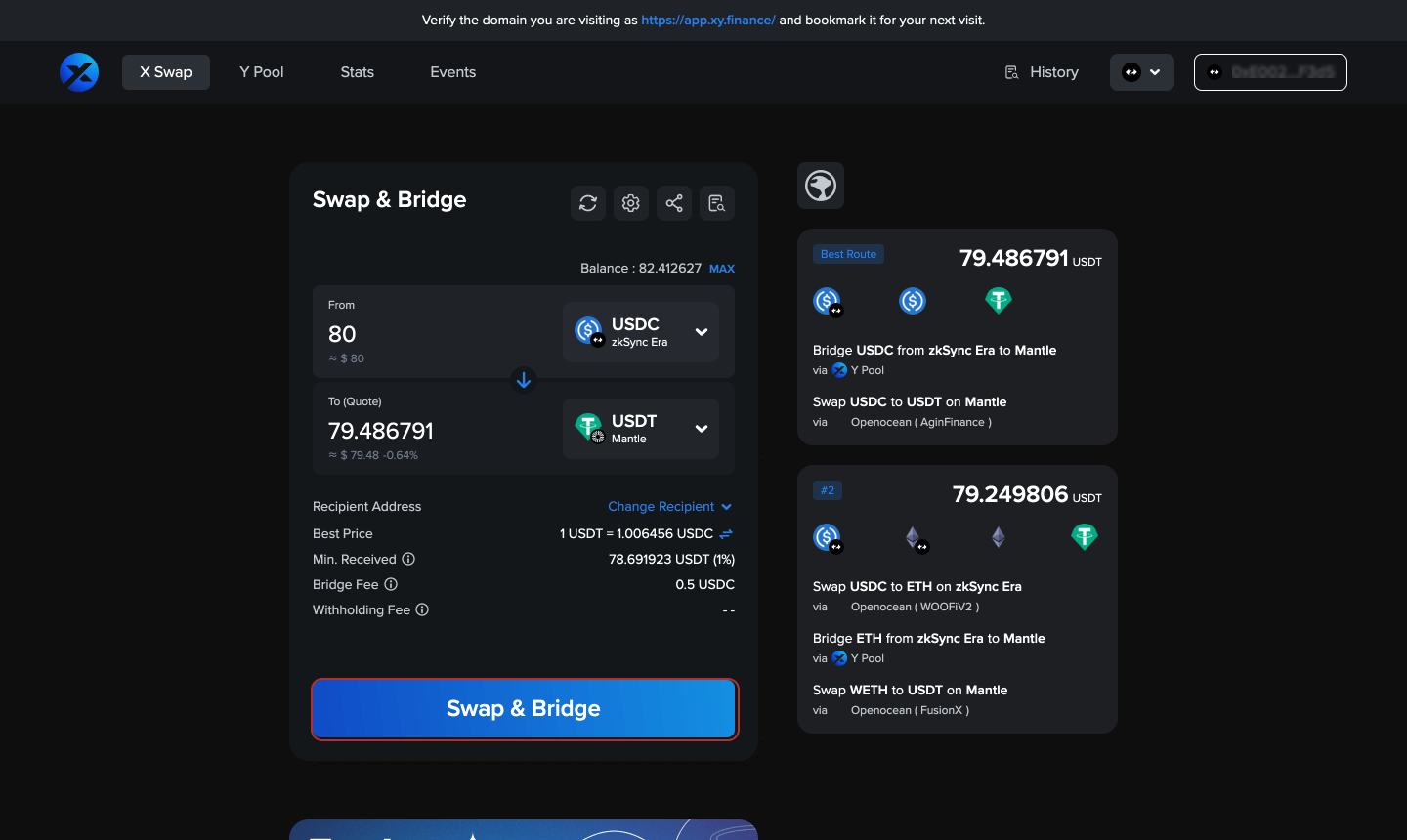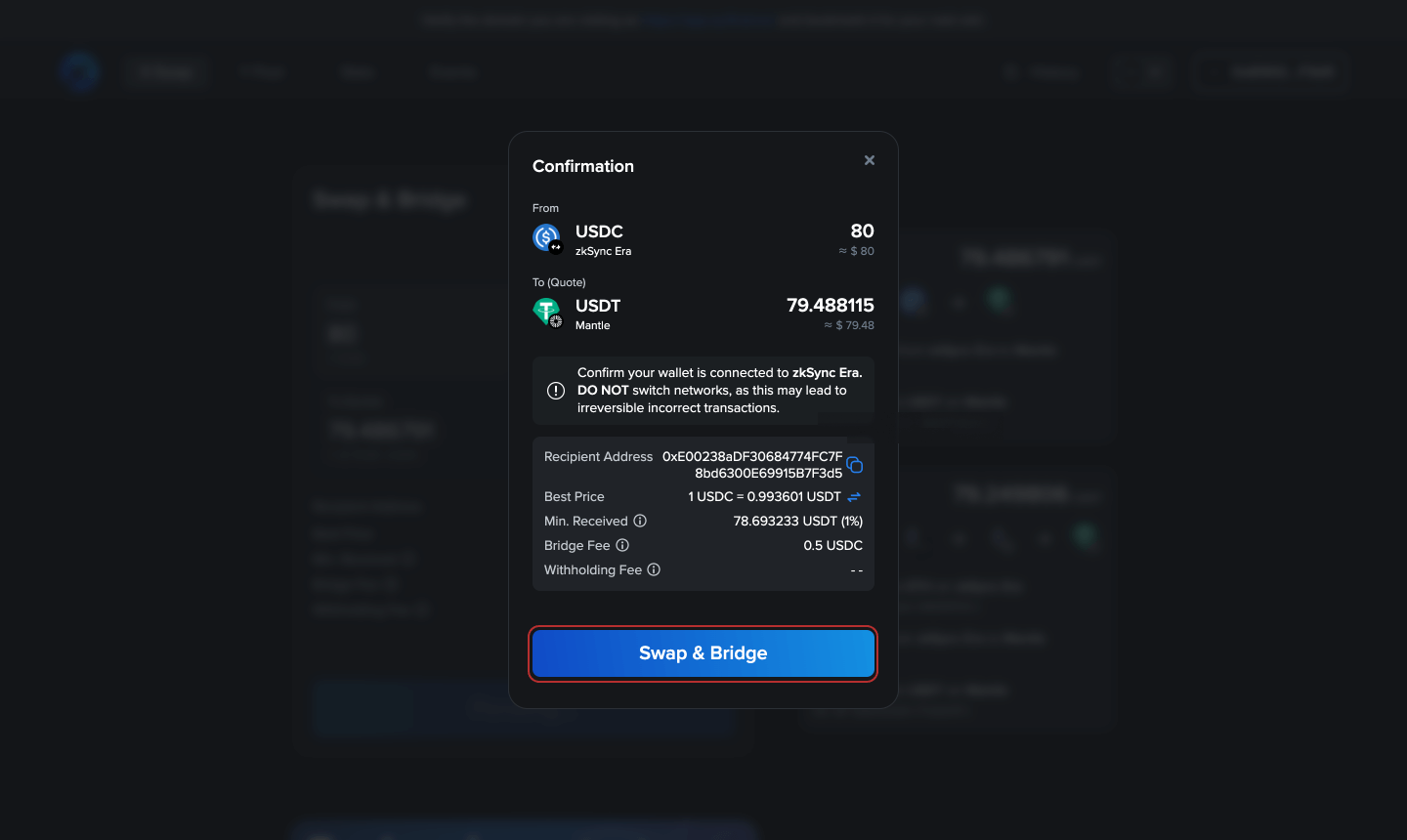 ⓷ Approve to Swap
✅ Check rate & route
✅ Click "Approve to Swap"
✅ Sign the message from your wallet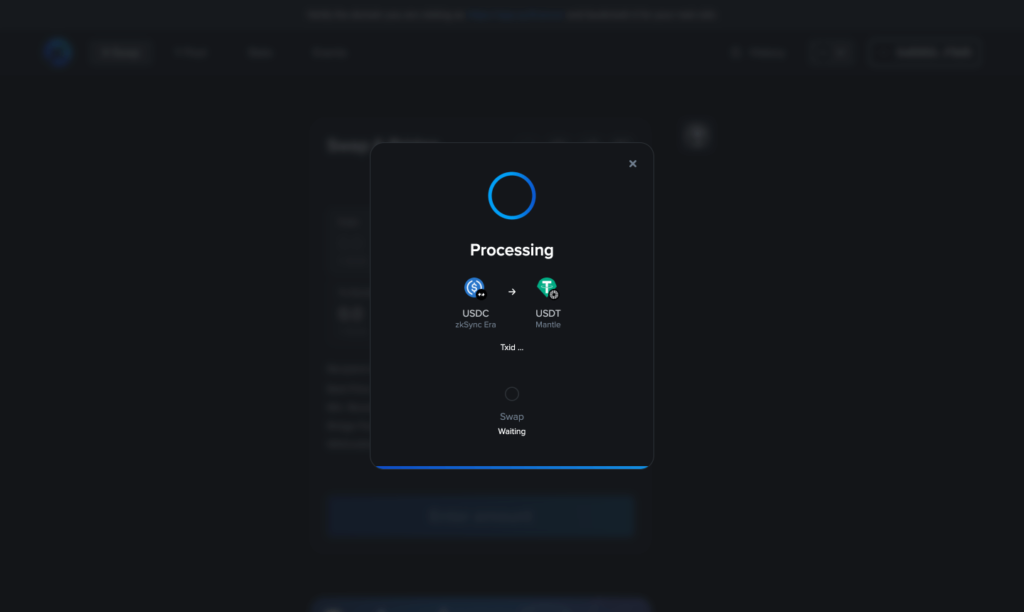 ⓸ Wait For the Transaction to Be Completed
You can also track the process on Mantle's Explorer.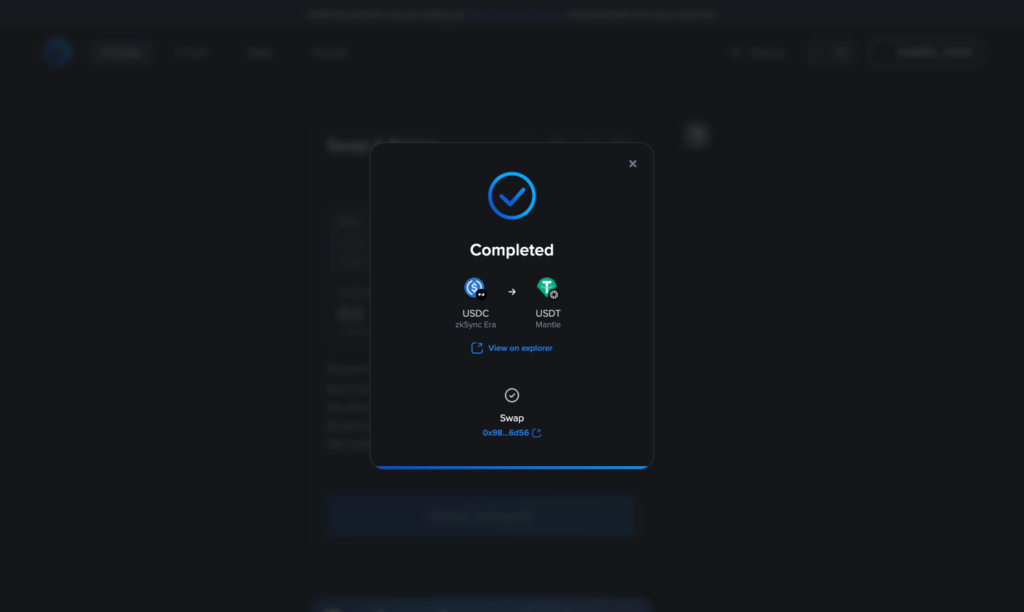 ⓹ Your Transaction Is Completed!
With each swap being completed, you will be notified on whether or not the transaction is successfully executed. Voilà, it is this easy to use XY Finance to bridge your assets to Mantle Network!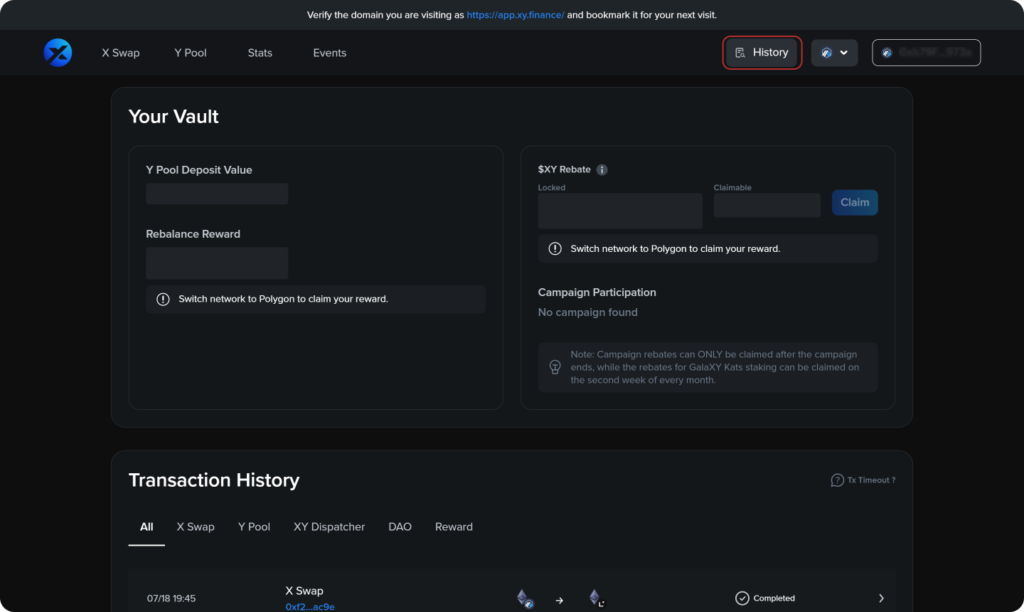 Tips: Check History For All Transactions
You can track all your transactions in the History on the top-right corner of the web page. (As the data is saved in the cache, do note that if you use different devices with the same wallet address, it will only show the transactions completed on the device you completed the transaction with.)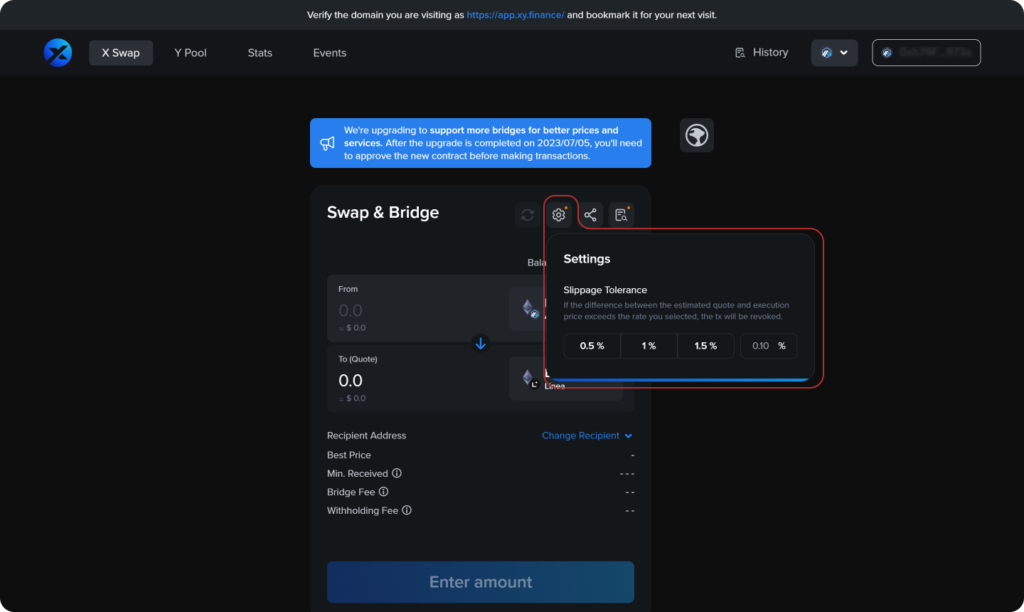 Tips: Customize Slippage Setting
Slippage Tolerance is the price difference between the price at the confirmation time and the actual price of the transaction you are willing to accept when swapping.
If the difference between the estimated quote and execution price exceeds the rate you selected, the tx will be reverted and users will receive pool tokens on the destination chain.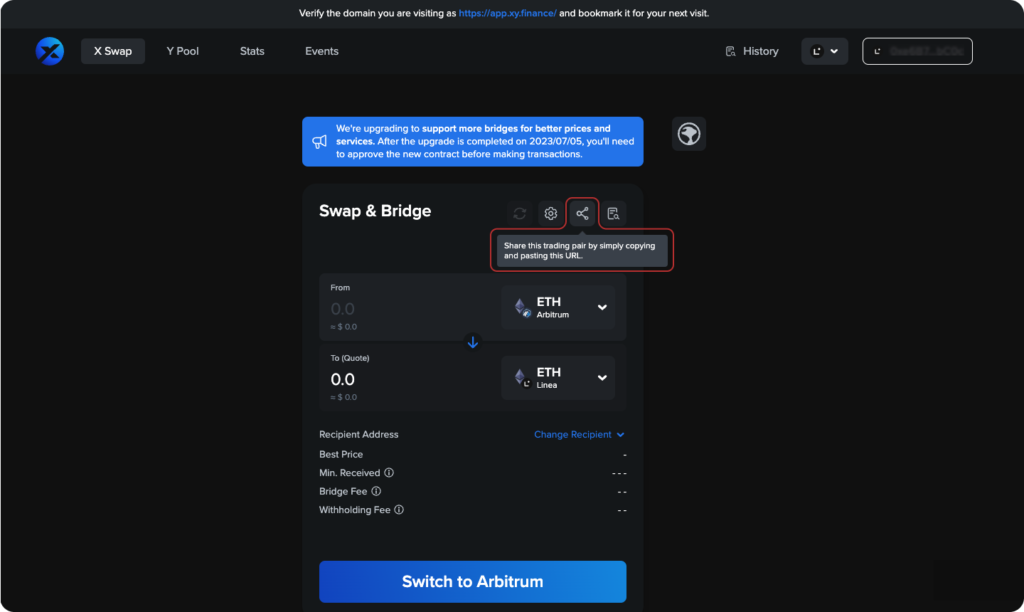 Tips: Copy the link of the trading pair and share it with other people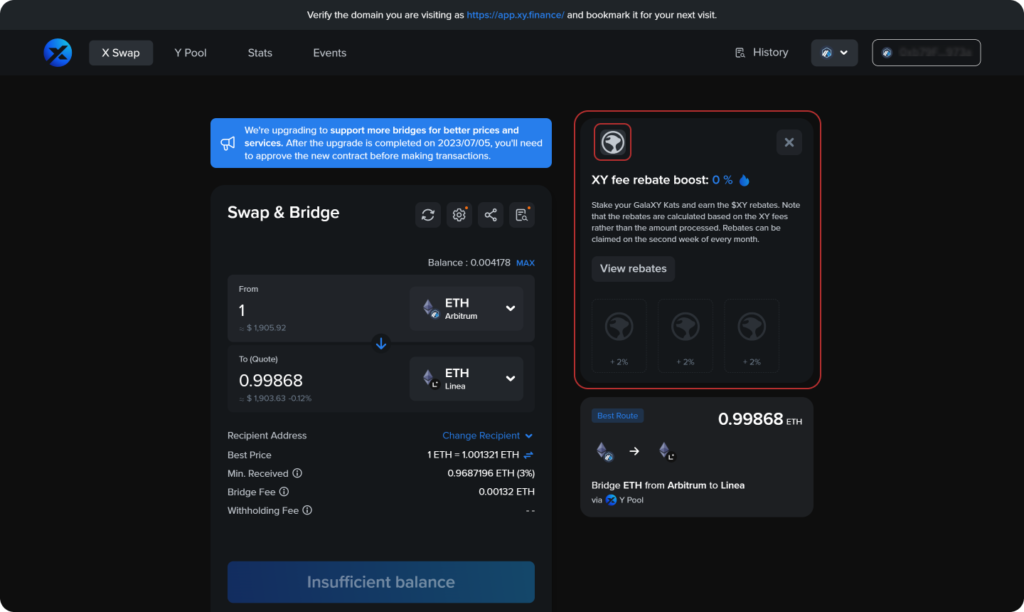 Tips: Stake GalaXY Kats NFT to Get Swap Fee Rebate
Synergising with XY Finance's NFT project – GalaXY Kats, users can stake their NFTs and get DeFi utility such as swap fee rebate while performing cross-chain swaps!
Projects to Check Out in Mantle Ecosystem
Now that you're familiar with bridging your assets to Mantle Network, let's dive deeper into its ecosystem. We'll explore its standout projects and uncover the potential they offer. Please be aware that the information provided here is not financial advice. Prior to involvement, it's essential to DYOR !
AGNI is a permissionless AMM-based exchange that enhances spot trades with concentrated liquidity in preferred price ranges, offering a tailored trading experience for maximum gains with minimal risk. It's an all-in-one platform with an easy-to-access launchpad and yield-generating features. Users can explore innovative crypto tokens and boost their decentralized trading in a secure environment.

About Agni Finance
Website | Twitter | Discord | Document
KTX.Finance is a decentralized derivatives and social trading protocol that offers up to 50x leverage. It is built on BNB and Mantle, and aims to create a capital-efficient, decentralized spot and perpetual exchange accessible to everyone.

About KTX.Finance
Website | Twitter | Discord | Document
Lendle is a lending and borrowing platform built on the Mantle. It aims to bring a new level of innovation to the lending and borrowing experience by creating new features on top of existing lending paradigms.
About Lendle
Website | Twitter | Discord | Document
FusionX Finance is a native DEX on Mantle, offering an AMM and innovative financial services. It empowers users through trading, earning, and governance. With cost-effective transactions, it reduces fees and ensures full ownership of assets.
About FusionX Finance
Website | Twitter | Discord | Document
XY Finance is dedicated to delivering premier cross-chain bridge solutions, expanding options for both users and developers to seamlessly transfer assets across leading networks. Looking ahead, we will forge strong partnerships with innovative protocols on Mantle, paving the way for DeFi power users to effortlessly navigate between networks. Stay tuned for exciting updates!
XY Finance Ecosystem Update
---
About XY Finance
XY Finance is a cross-chain interoperability protocol aggregating DEXs & Bridges. With the ultimate routing across multi-chains, borderless and seamless swapping is just one click away.
XY Finance Official Channels
XY Finance | Discord | Twitter | Telegram | Documents | Partnership Form