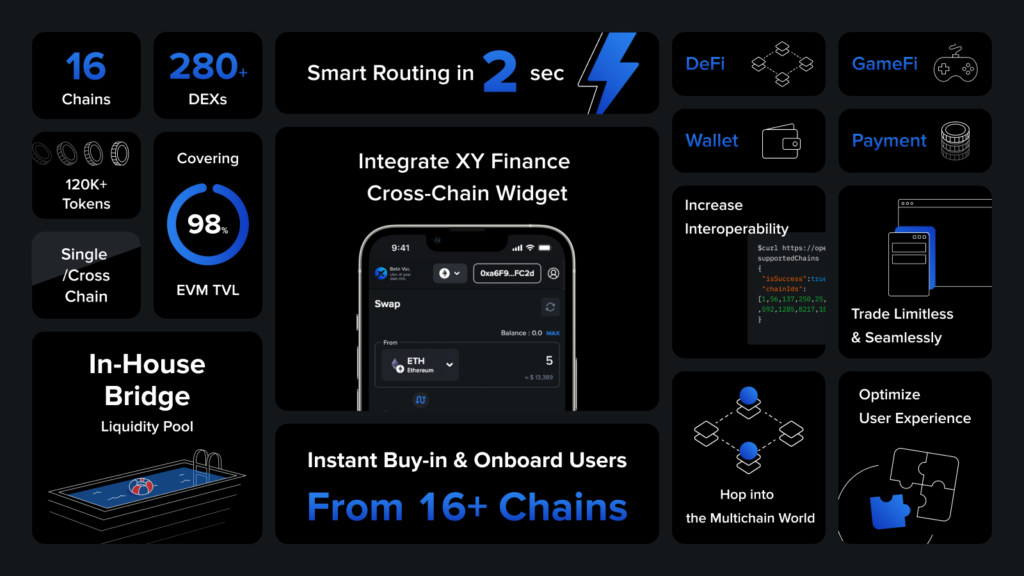 XY Finance is powering cross-chain bridging and swapping for projects including Mojitoswap, CrogeCoin, CrosSkull, Frontier, Rango, Rubic, Neutra Finance, and more. Read this XY Blog to learn how it can help your project attract more users and increase liquidity for your token.
TL;DR
XY Finance offers a robust cross-chain bridging and swapping solution that enables projects to connect with various chains and networks. By integrating XY Finance, projects can seamlessly bridge assets and liquidity across 20+ chains, providing a better user experience and unlocking new use cases. Read this XY Blog to find out why your project & users need our simple and efficient cross-chain solution.
Check out XY Finance cross-chain widget and integrate it in less than 10min!
👉 Widget Integration Document
Ready to hop into the multi-chain world and engage more users on 16+ chains?
👉 Fill this form
Ethereum Domination to Multi-Chain Era
According to DeFiLlama, there were 94% of TVL on Ethereum back in August 2020 compared to 58% TVL as of March 2023. With the boom in a wide variety of blockchains & networks, the infrastructure to bridge each chain has become more critical than ever. Projects must be equipped with cross-chain capability to remain competitive and sustainable.
Why Does Your Project Need XY Finance Cross-Chain Widget?
Increase Interoperability: The lack of interoperability infrastructure often limits projects in the multi-chain world. Increasing interoperability can unlock new opportunities for a larger user base, increase the ecosystem's overall value, and enable more robust and scalable applications that leverage multiple blockchains' benefits.


Reduced Costs: XY Finance cross-chain widget can help developers reduce costs by eliminating the need to develop separate applications for each blockchain. Your project can focus on developing new features for your NFT marketplace, lending/staking strategies, payment solution, or launchpads, and XY Finance can take care of the multi-chain and onboarding more users from anywhere.


Increase Access to More Resources: Provides projects with access to more resources including liquidity pools, tokens, and XY Finance customer support as well as co-marketing opportunities.
To escalate your project to a new level, all you need is an easy-to-implement cross-chain solution. XY Finance offers fully customizable solutions so developers can integrate it in under 10 minutes!
XY Finance Cross-Chain Widget Features Include:
Supports 16 chains, covering nearly 98% of EVM chains including: Ethereum, zkSync Era, Polygon zkEVM, BSC, Fantom, Polygon, Arbitrum, Optimism, Avalanche C-Chain, Cronos, KCC, ThunderCore, Astar, Moonriver, Klaytn, more zkRollups & Non-EVM chains joining soon!
Supports 120k+ tokens, 280+ DEXs, covering 98% of the overall EVM ecosystem
Maintains multiple bridges and DEXs for you to secure the best swap rate & route
Provides fully customizable features, such as chain selection, color theme, and more, for you to freely choose certain chains supported in your own widget
Customizable theming with Dark & Light mode
Customizable color theme to suit your project's interface
Has an exclusive cross-chain expert team to support you
Leverages marketing resources from XY Finance to promote your product and offer co-marketing opportunities prior and after integration
What Does XY Finance Cross-Chain Widget Offer For Users
Trade Limitlessly & Seamlessly: Allows users to trade on-chain or cross-chain the tokens they want via assets across 16+ EVM chains along with all DEXs on these chains from within the project's interface, your users will never have to leave your platform!


Instant Buy-in and Onboard Users from Any Chain: Helps attract new users and increase the project's exposure to a wider audience.


Optimize User Experience: Users are just a few clicks away from onboarding your project, and it can happen all inside your platform with the best cross-chain rate & route in one swap. This can make trading more attractive to users and can synergize with the service your project offers for a better user flow.
Which Projects Should Use XY Finance Cross-Chain Widget:
🎮 GameFi/GameFi Management Platform
Provides players a one-stop platform for everything they need to trade and manage their GameFi assets. Ultimately increase user stickiness & enhance your presence in the GameFi industry by inflowing more liquidity for game players, guilds as well as other GameFi projects.
💎 DEX, Lending, Yield, Yield Aggregator, Derivative, Liquid Staking, Algo-Stablecoins, and more Dapps
Swap & bridge any token across 16+ chains without having to leave the dApp. Facilitate user-onboarding no matter you provide token staking, yield farming, lending, let cross-chain widget help to drive DeFi strategies and make it more user friendly
💰 Web3 Wallet
Hot or cold, give your users a one-stop experience to manage and trade their cryptocurrencies across 16+ chains.
🏛 NFT Marketplace
With the XY cross-chain widget, the NFT trading part just became super simple and easy. Users can get tradeable tokens from any chains on any available liquidity pool. By doing so, onboarding more NFT collectors will become easier and have a much better experience.
Closing Thoughts
Overall, integrating the XY Finance cross-chain widget can help GameFi, NFT, and DeFi projects provide a more seamless and cost-effective trading experience for their users while increasing exposure to a wider range of chains as well as tokens. In addition to the cross-chain widget, we also help developers with the following services! Ready to make your project multichain with XY Finance and engage more users?
✅ Widget & API Integration
✅ Token Listing
✅ Connect Chain/Sidechain/Subnet/Supernet with Major Ecosystems
✅ Token Bridging
✅ Cross-Chain Deposit / Stake / Farm
Tell us what you need here, let us help you with technical & marketing support
👉 Fill this form
Together with XY Finance, we will lead a significant advancement in optimizing your product & service to onboard more users! We look forward to assisting and witnessing how our widget can help!
More Reads About XY Finance
---
About XY Finance
XY Finance is a cross-chain interoperability protocol aggregating DEXs & Bridges. With the ultimate routing across multi-chains, borderless and seamless swapping is just one click away.
XY Finance Official Channels
XY Finance | Discord | Twitter | Telegram | Documents | Partnership Form