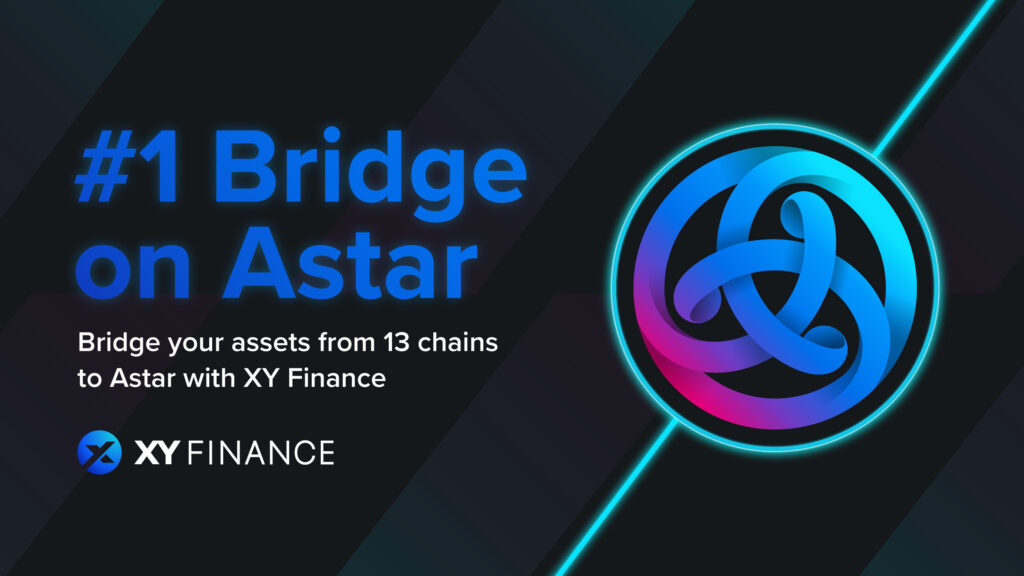 XY Finance team is thrilled to share that we are now the #1 bridge on Astar according to Defillama! We have been opening gateways to users who have yet to experience Astar's promising ecosystem and providing them with the easiest way to move into the Astar wonderland. Currently, we are committed to providing seamless cross-chain swap services to Astar communities:
Cross-chain swap/bridge by combining Arthswap and our own bridge yBridge.
One-stop Widget & API services to empower Astar projects.
Token batch sender XY Dispatcher, allowing users and projects to send tokens to multiple addresses in one transaction only without any service fee.
Token Bridging, helping projects to mint/wrap Astar-version tokens and move into Astar. Meanwhile, we are also supporting Astar projects' multichain expansion by offering token Bridging and seamless cross-chain services.
Subnet infrastructure service. We are ready to support Astar's rollup, subnet, and chain-related expansion plans.
Cross-chain NFT buying and Cross-chain token deposit (Under Development): Users can cross-chain swap NFT or cross-chain deposit/withdraw assets into Defi vaults/ farms in one transaction only.
Past Performance & Milestones
We launch our 14 Astar-bridges connecting Ethereum, zkSync Era, BNB, Polygon, Cronos, Fantom, ThunderCore, Avalanche, KCC, Arbitrum, Optimism, Moonriver, and Klaytn.
We achieved the No.1 trading volume within a week when we and Astar foundation co-hosted a cross-chain trading task to encourage people to bridge into Astar with the 303.33% and 770.59% weekly increase in trading volume and active users, citing the data from DappRadar.
We launched XY Dispatcher, a token batch sender, on Astar to provide a 100% free tool to support Astar projects, including Algem, and more to conduct community activities.
We have collaborated with ArthSwap to list their token $ARSW on our cross-chain swap to lower threshold of buying it from other blockchains.
We rank as the top bridge protocol on Astar according to the DeFi Llama.
Why You Need XY Finance
There were 94% of TVL on Ethereum back in August 2020 compared to 58% TVL as of October 2022 (DeFillama). The multichain future is inevitable as newer blockchains continue to prosper, each offering unique DeFi applications. With more people & projects flocking in the DeFi realm, the lack of interoperability and scalability between chains poses an inconvenience to the overall success of DeFi, and here comes XY Finance to save your cross-chain bridge experience (and of course single chain swap too)!
To know more about XY Finance, you can refer to this article "What is XY Finance? A Brief Introduction".
To read more about what is Cross-Chain Bridge, you can refer to this article "What are Cross-Chain Bridges?" by Alchemy.
To tackle the lack of interoperability and scalability problems, XY Finance grinds on integrating more blockchains, DEXs and support more tokens to help our users optimize their cross-chain experience. Currently, XY Finance has supported 15 chains, covering nearly 98% of EVM chains and soon we will be marching into Non-EVM chains starting from Solana!
XY Finance Currently Supports:
Astar
Ethereum
zkSync Era
BNB
Fantom
Polygon
Arbitrum
Optimism
Avalanche C-Chain
Cronos
KCC
ThunderCore
Moonriver
Klaytn
Numbers
Non-EVM chains soon
You can swap any tokens across these chains. As for developers, you can integrate XY Finance's dapp to help broaden your projects' connection to all our 15+ supported chains! In this article, we will be showing you how easy and convenient it is to swap tokens to Astar via XY Finance.
How to Bridge Your Assets to Astar Tutorial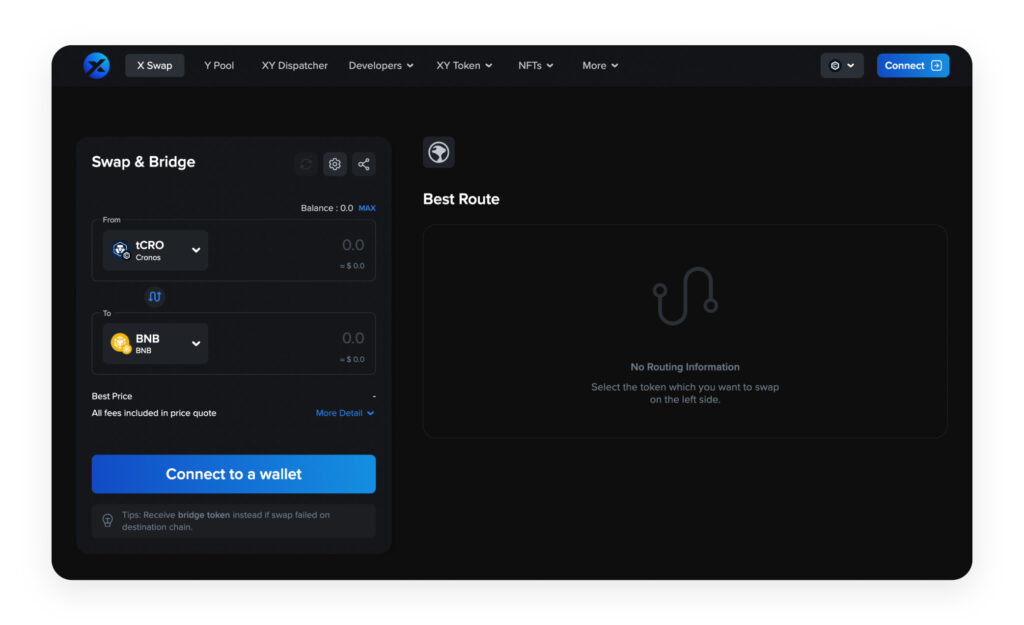 ⓵ Visit Swap Page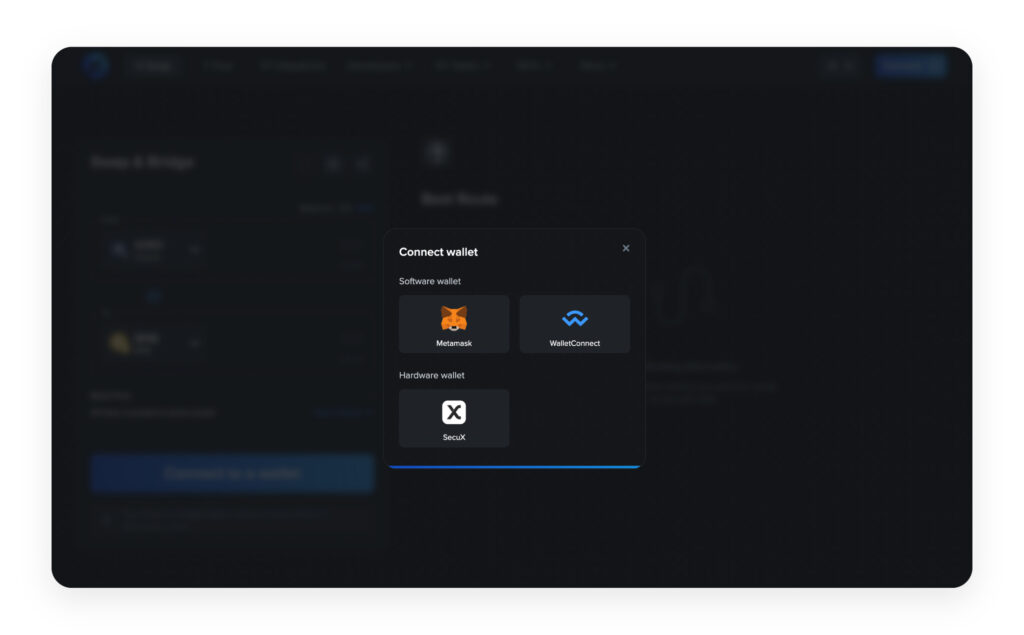 ⓶ Connect Your Wallet
Connect your Web3 wallet through MetaMask 🦊 or WalletConnect 📡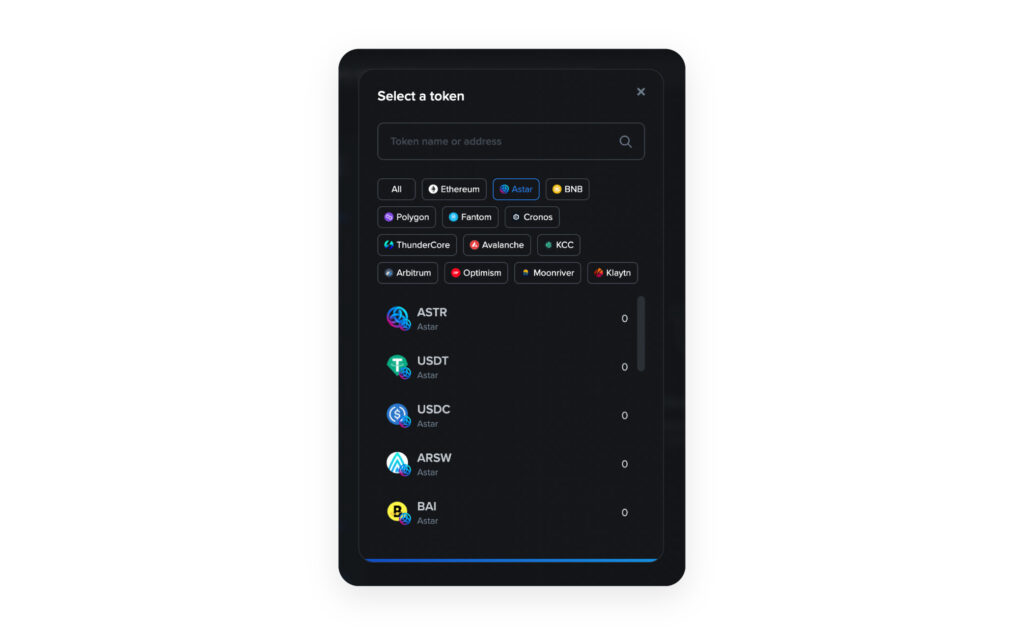 ⓷ Select the Tokens & Chains You Wish to Swap
Cross-chain or single-chain swap are both available, in this tutorial, we will be swapping USDT on Cronos to ASTR on Astar.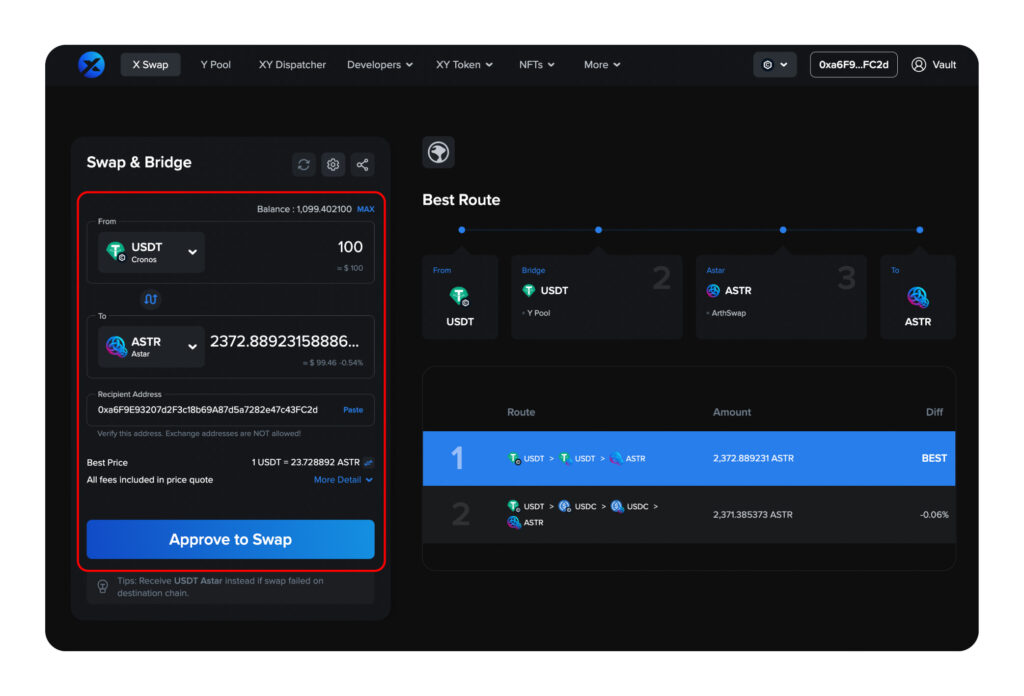 ⓸ Approve to Swap
Upon selecting the tokens on both the source and the target chain as well as the amount you wish to swap, the interface will display the best rate you can get for this transaction and how the token is going to be bridged. XY Finance will display your connected wallet address by default and it also allows you to change the recipient address. Click "Approve to Swap" and sign the message from your wallet.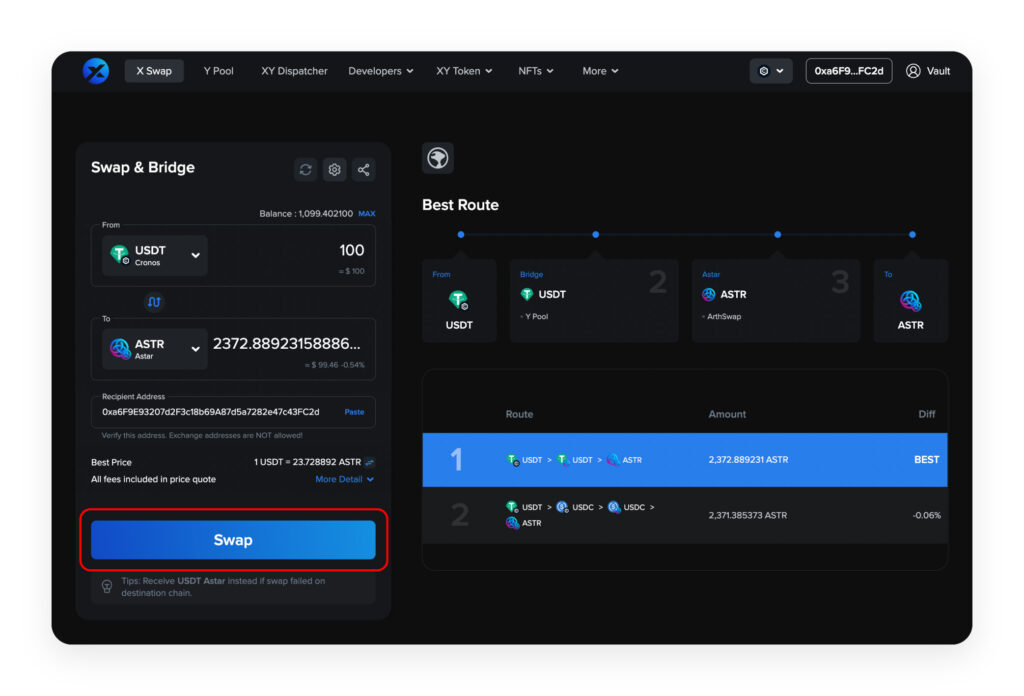 ⓹ Double Check Swap Details & Swap!
Don't forget to confirm your transaction from your wallet again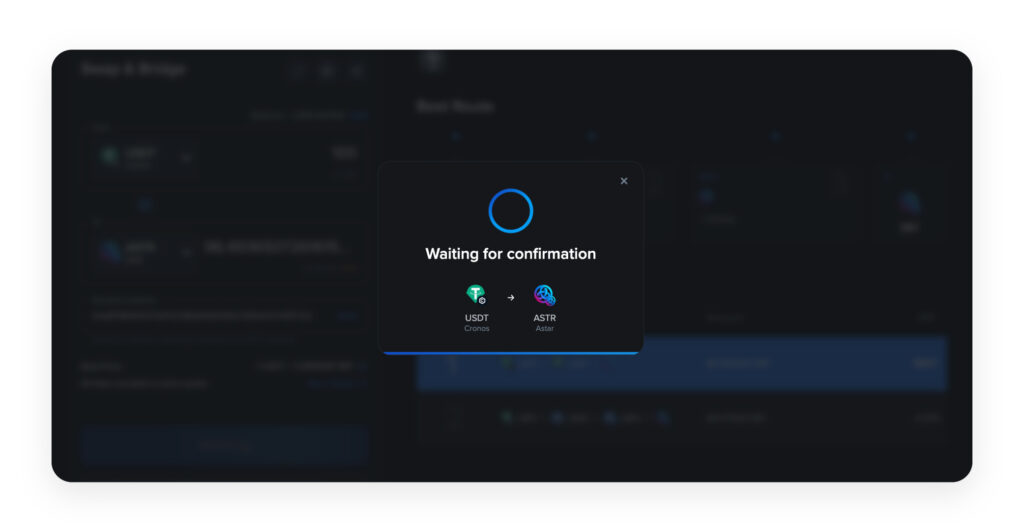 ⓺ Wait For the Transaction to Be Completed
In the course of the swap process, you will be able to monitor and view the breakdown of the whole cross-chain transaction. Meanwhile, Swap will check the latest updates on different blockchains at regular intervals and synchronize with the data for your reference in real time.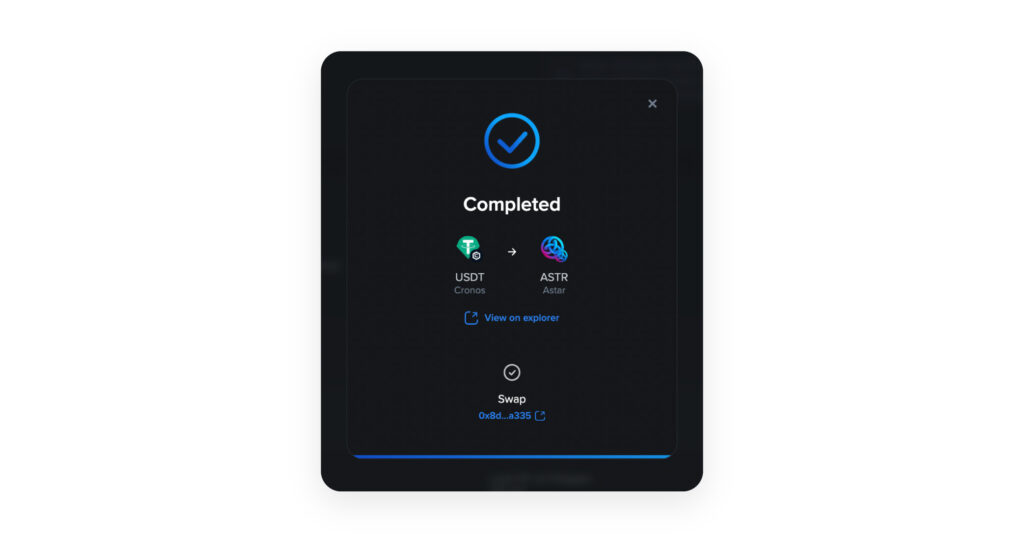 ⓻ Your Transaction Is Completed!
With each swap being completed, you will be notified of whether or not the transaction is successfully executed. Voila, it is this easy to use XY Finance to bridge your assets to Astar!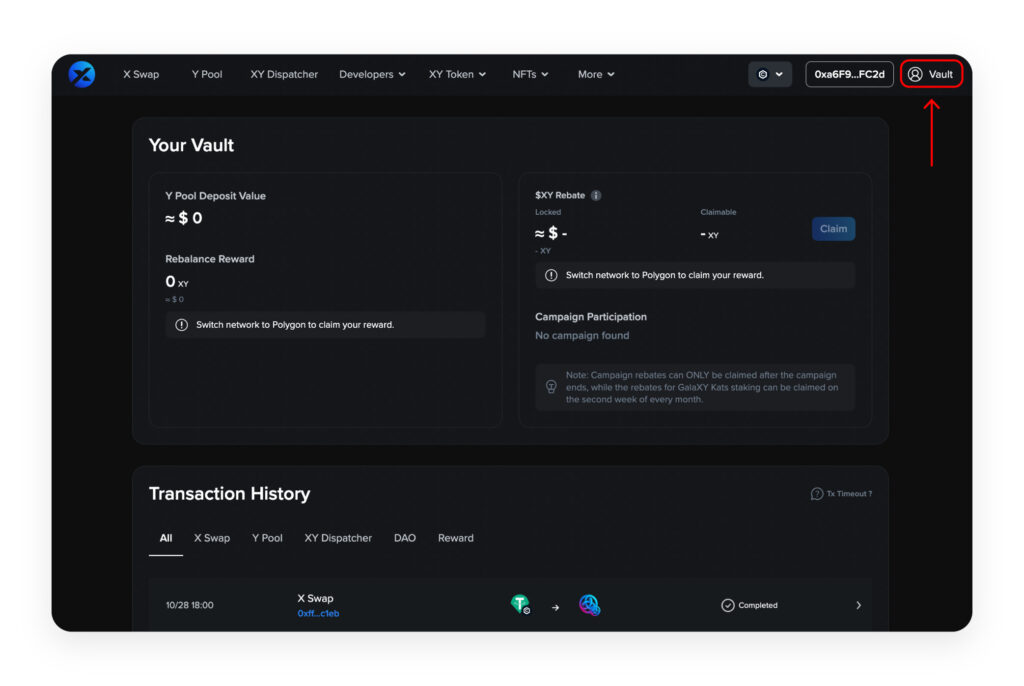 Tips: Check Vault For All Transactions
You can track all your transactions in the Vault on the top-right corner of the web page. *As the data is saved in the cache, do note that if you use different devices with the same wallet address, it will only show the transactions completed on that device.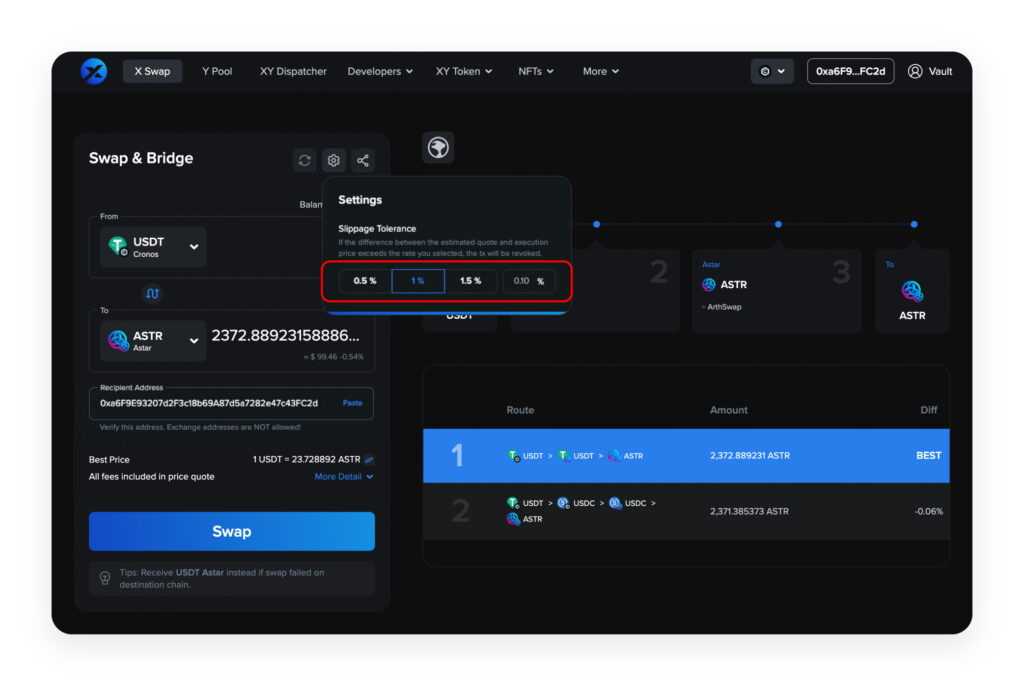 Tips: Customize Slippage Setting
Slippage Tolerance is the price difference between the price at the confirmation time and the actual price of the transaction you are willing to accept when swapping.
If the difference between the estimated quote and execution price exceeds the rate you selected, the tx will be revoked.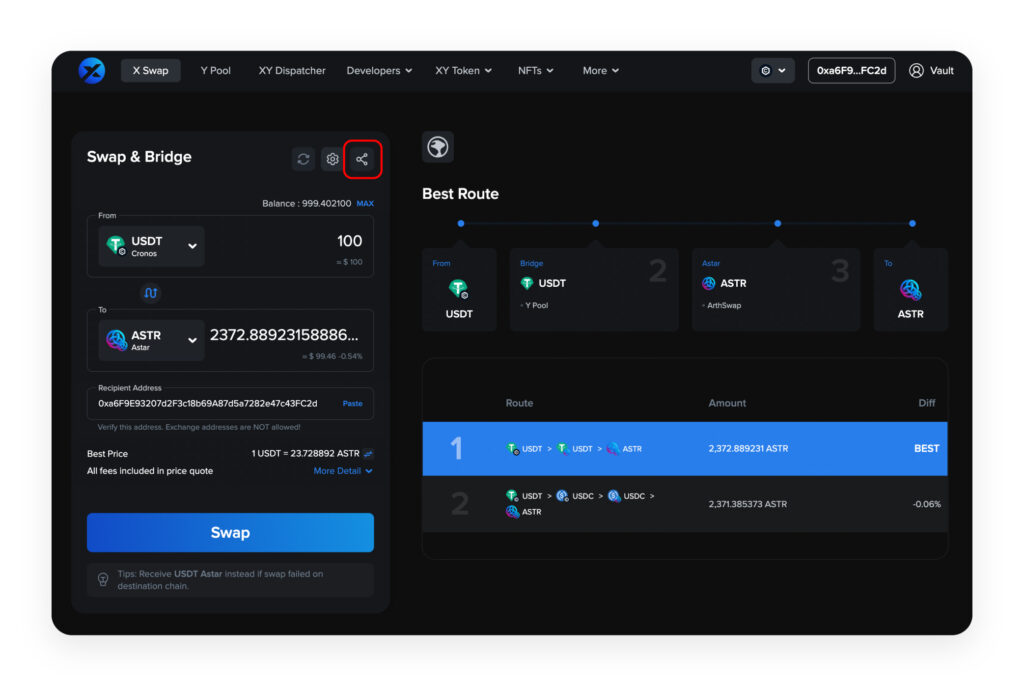 Tips: Copy the link of the trading pair and share it with other people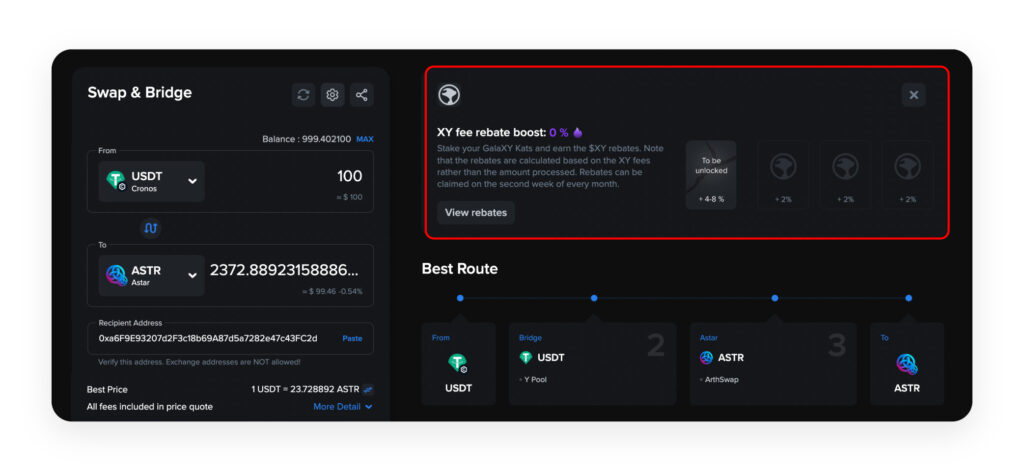 Tips: Stake GalaXY Kats NFT to Get Swap Fee Rebate
Synergising with XY Finance's NFT/GameFi project – GalaXY Kats, users can stake their NFTs and get DeFi utility such as swap fee rebate while performing cross-chain swaps!
You can also check out this Youtube Tutorial Guide "How To: Use XY Finance to bridge EVM assets to Astar" by Astar.
Easy-peasy aight! If you encounter any issues while swapping, you can open a ticket or reach out to us on Discord. Our official Alpha members will give you all the support you need!
About Astar
Astar is a multi-chain smart contract platform that supports the building of dApps with EVM and WASM smart contracts and offers developers true interoperability with cross-consensus messaging XCM.
---
About XY Finance
XY Finance is a cross-chain interoperability protocol aggregating DEXs & Bridges. With the ultimate routing across multi-chains, borderless and seamless swapping is just one click away.
XY Finance Official Channels
XY Finance | Discord | Twitter | Telegram | Documents | Partnership Form