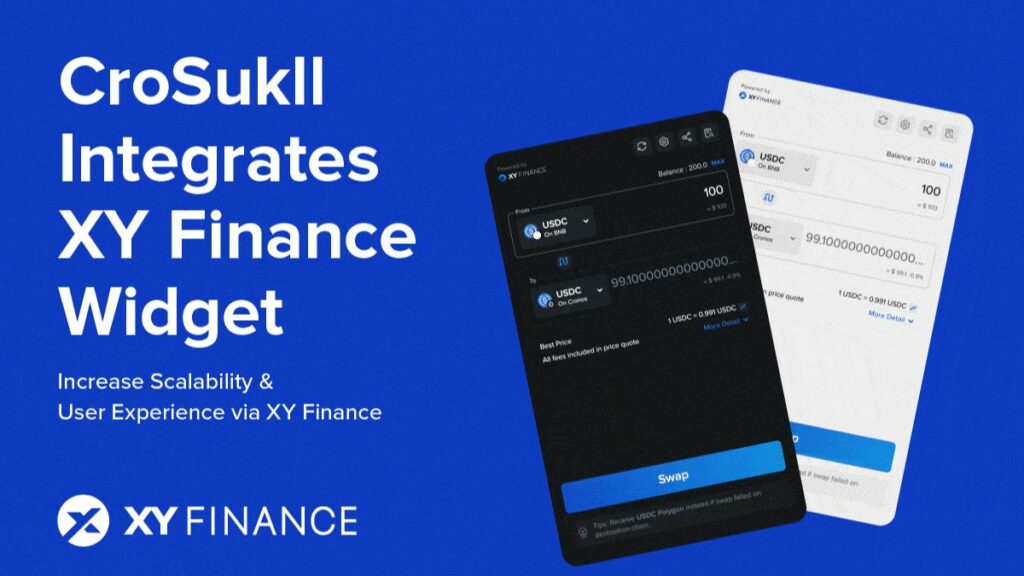 We are thrilled to announce that CroSkull, a promising NFT and GameFi project on Cronos has integrated XY Finance cross-chain widget to its dApp!
After our recent integration of CroSwap dex & its liquidity on Cronos, we are excited to see Croskull join the XY Finance family!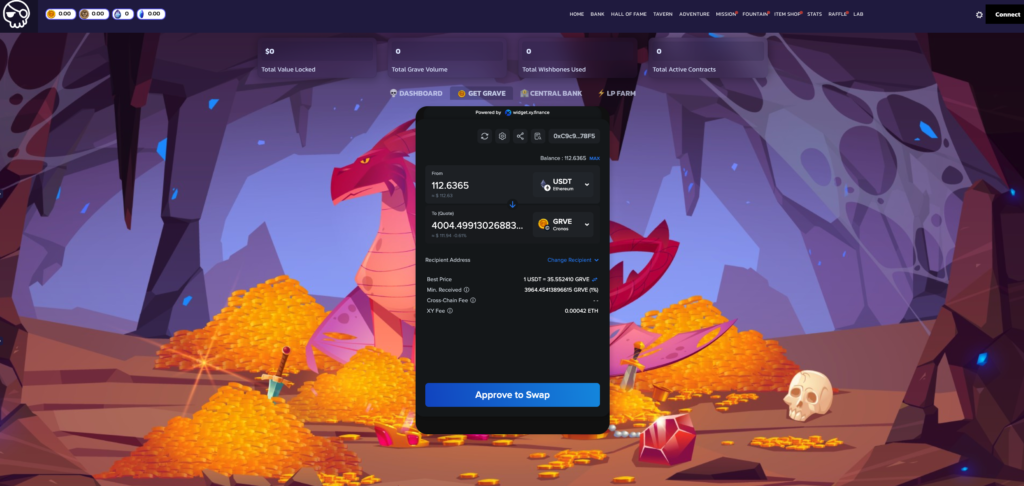 By integrating XY Finance cross-chain widget, users can now bridge and swap assets seamlessly across 14+ EVM-compatible chains directly inside Croskull's platform in just a few clicks creating more new use cases for the projects and a more immersive experience for Croskull's users! Essentially with our cross-chain widget, we help Croskull to achieve instant buy-in $GRVE from assets on all 14+ chains we supported, inflow liquidity for $GRVE, attract new users and increase the project's exposure to a wider audience!
Supporting promising projects like Croskull to expand its outreach to the multi-chain space is what we do at XY Finance and we can't wait to onboard more projects & users to the multi-chain world with XY Finance cross-chain widget!
CroSkulls are a collection of programmatically & randomly generated NFTs on the Cronos blockchain. To date, it has 13 collections available (and more to come in the future) each of which has a specific function within our ecosystem. CroSkull's dApp offers various exciting gamified DeFi features in the pipeline for their NFT collections including NFT staking, yield farming, and more! Croskull is also planning a multi-level game and we can't wait to see more applications for $GRVE! CroSkull aims to innovate the Web3 space by building high-quality smart contracts, and expanding the functionalities of all NFT collections within their ecosystem.
More About Croskull
Website | Whitepaper | Twitter | Discord | $GRVE
XY Finance is a cross-chain interoperability protocol aggregating DEXs & Bridges. For users, XY Finance provides cross-chain solutions in which users can bridge and swap any tokens seamlessly across all the chains we currently support. As of the time of writing, XY Finance has integrated 14 chains, 270+ DEXs and 270k+ tokens! For developers, XY Finance's cutting-edge APIs & widgets help power cross-chain bridging and swapping solutions that enable projects to connect with various chains and networks to inflow more liquidity and create more new use cases.
For users, try out Swap to bridge & swap with the most seamless cross-chain experience
👉 XY Finance Cross-Chain dApp

For developers who are ready to hop into the multichain world & engage more users on 14+ chains
👉 Widget Integration Document 
👉 Fill this form
---
About XY Finance
XY Finance is a cross-chain interoperability protocol aggregating DEXs & Bridges. With the ultimate routing across multi-chains, borderless and seamless swapping is just one click away.
XY Finance Official Channels
XY Finance | Discord | Twitter | Telegram | Documents | Partnership Form