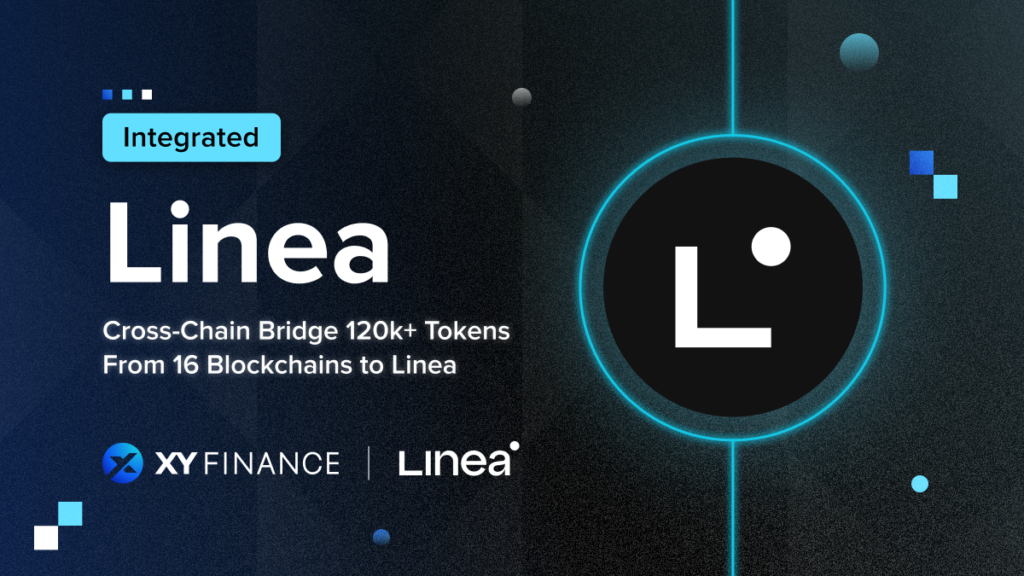 XY Finance has supported cross-chain swap of zkSync Era & Polygon zkEVM recently and now we are excited to step up our game and extend our outreach to another long-anticipated zkRollup – Linea 🔥
Linea integration (User)
✅ Single-Chain/Cross-Chain Bridge & Swap: Easily bridge & swap 120k+ tokens across 16 chains to Linea via XY Finance.
✅ Provide Liquidity & Earn: Become a liquidity provider to XY Finance's own bridge (ETH pool) and earn more ETH.
✅ XY Dispatcher: Batch send any tokens following ERC20 standards across all supported chains including Linea to hundreds of addresses in one transaction.
Bridge & swap your ETH to Linea seamlessly
👉 XY Finance Cross-Chain dApp
Increase your wallet interactions on Linea by becoming liquidity provider to our ETH Pool on Linea
👉 ETH Pool Now LIVE, Provide Liquidity to Earn More!
This integration opens up a plethora of exciting opportunities for XY Finance users, enabling them to experience lightning-fast cross-chain experience, reduced fees, enhanced security and boundless opportunities in Linea's promising ecosystem. Supporting Linea marked a crucial milestone of XY Finance's effort in stepping into zkRollup game, we will continue to build and offer more cross-chain options for our users! More events with Linea rolling out soon, stay tuned so you don't miss it!
Linea integration (Developer)
✅ Widget/API Integration: Integrate our cross-chain solution to your dApp, increase interoperability to 17+ chains with ease
✅ Token Listing: List your token on our cross-chain swap on Linea or other 16 chains we supports to increase accessibility of your token
✅ xAsset Token Bridging: Bridge Your Token to Different Chains

XY Finance offers a robust cross-chain bridging and swapping solution that enables projects to connect with various chains and networks to enable projects and their users to trade limitless & seamlessly, instant buy-in and onboard users from any chain and most crucially optimize user experience!
For developers who are ready to hop into the multi-chain world & engage more users on 16 chains
👉 Introducing XY Finance Cross-Chain Widget
👉 Widget Integration Developer Document
👉 Partnership Form
About Linea
Linea is a network that scales the experience of Ethereum.
Linea is an EVM equivalent zkEVM rollup offering fast finality, high throughput, low gas fees and the security of Ethereum settlement developed by Consensys, a well-established player in the Ethereum ecosystem and the creator of MetaMask.
Linea stands out as a remarkable and long-awaited layer-2 network, utilizing cutting-edge zkEVM rollup technology that incorporates zero-knowledge proofs to achieve Ethereum Virtual Machine (EVM) compatibility.
Linea has already demonstrated its capabilities during a successful testnet phase, where it attracted over 5.5 million unique wallets and facilitated more than 46 million transactions.
Linea has launched its mainnet alpha, bringing an innovative user experience and a thriving ecosystem of over 100 protocols, partners, dapps, and integrations with popular web3 tools like MetaMask.
The mainnet alpha introduces significant upgrades to Linea's infrastructure, including a new outer-proof system, a dynamic fee mechanism, and batch conflation. These enhancements contribute to a network with transaction costs up to 15 times lower than Ethereum Layer 1, making Linea more cost-effective for users.

More About Linea
Website | Twitter | Discord | Documents
Join Linea Mainnet: Interact with Linea & Increase Wallet Interaction For Potential Airdrop (Tutorial)
Following the successful launch of Linea's testnet, Linea has confirmed to reward early testnet participants so hopefully we can anticipate more airdrops from Linea in the future! But to be eligible, you might want to increase your wallet interactions with protocols on Linea ecosystem, let XY Finance be your bridge to Linea!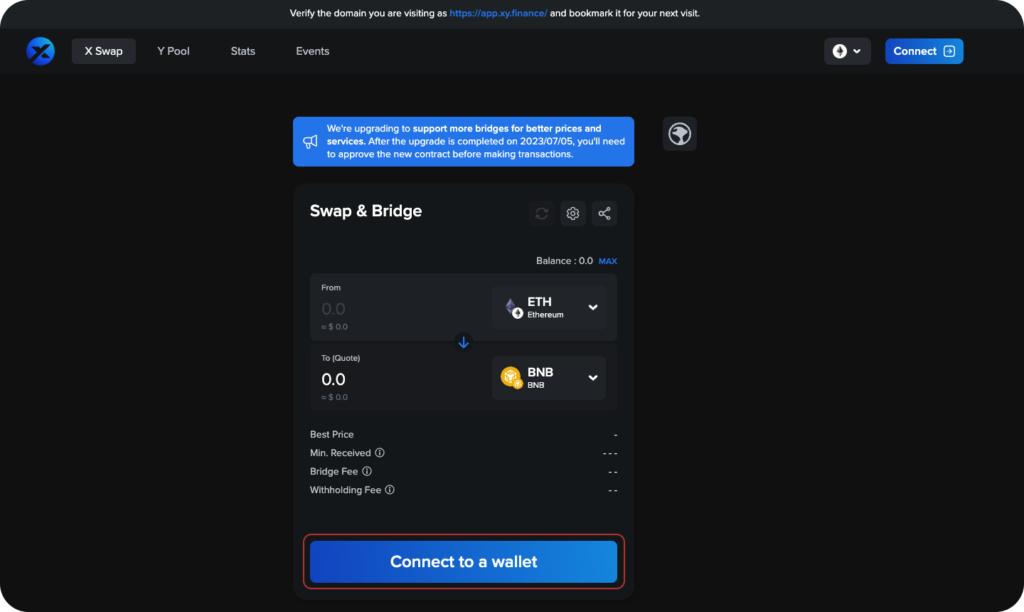 ⓵ Visit Swap Page
Currently, XY Finance has supported 17 chains, covering nearly 98% of EVM chains including: Ethereum, Linea, zkSync Era, Polygon zkEVM, BNB, Fantom, Polygon, Arbitrum, Optimism, Avalanche C-Chain, Cronos, KCC, ThunderCore, Astar, Moonriver, Klaytn, more zkRollups & Non-EVM chains joining soon! Users can bridge & swap assets across all our supported chains.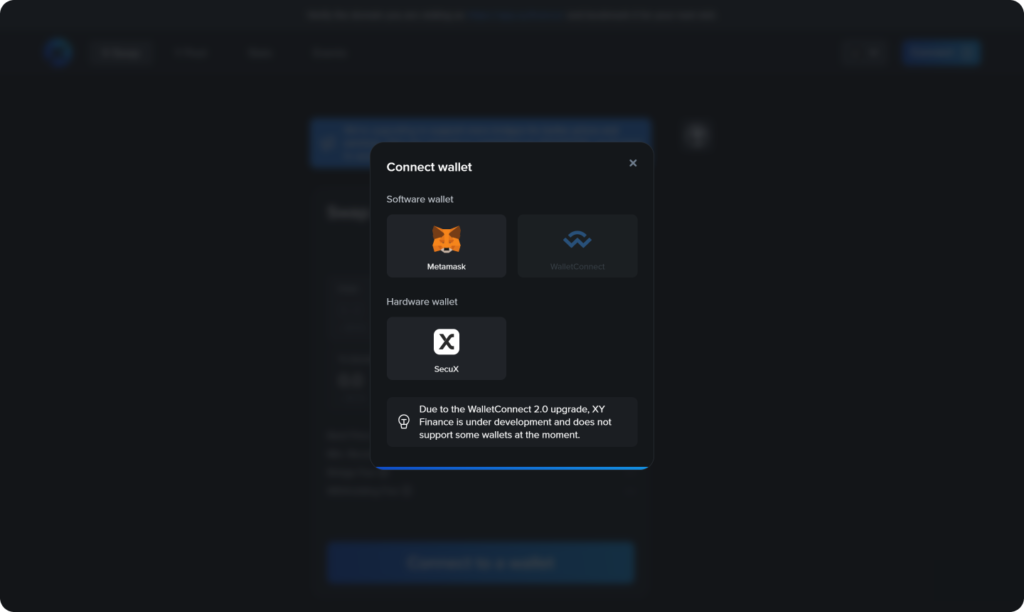 ⓶ Connect Your Wallet
Connect your Web3 wallet through MetaMask 🦊 or WalletConnect 📡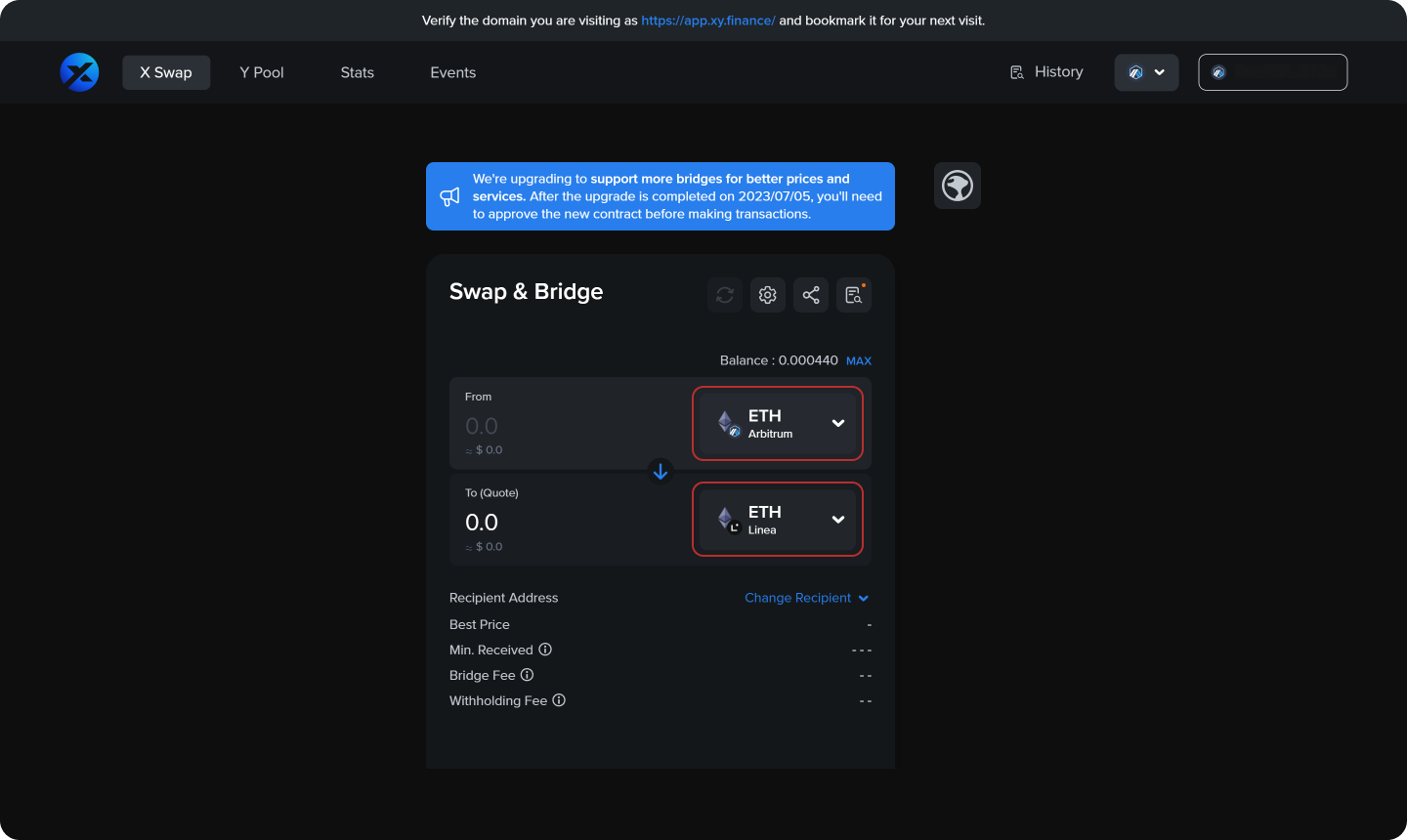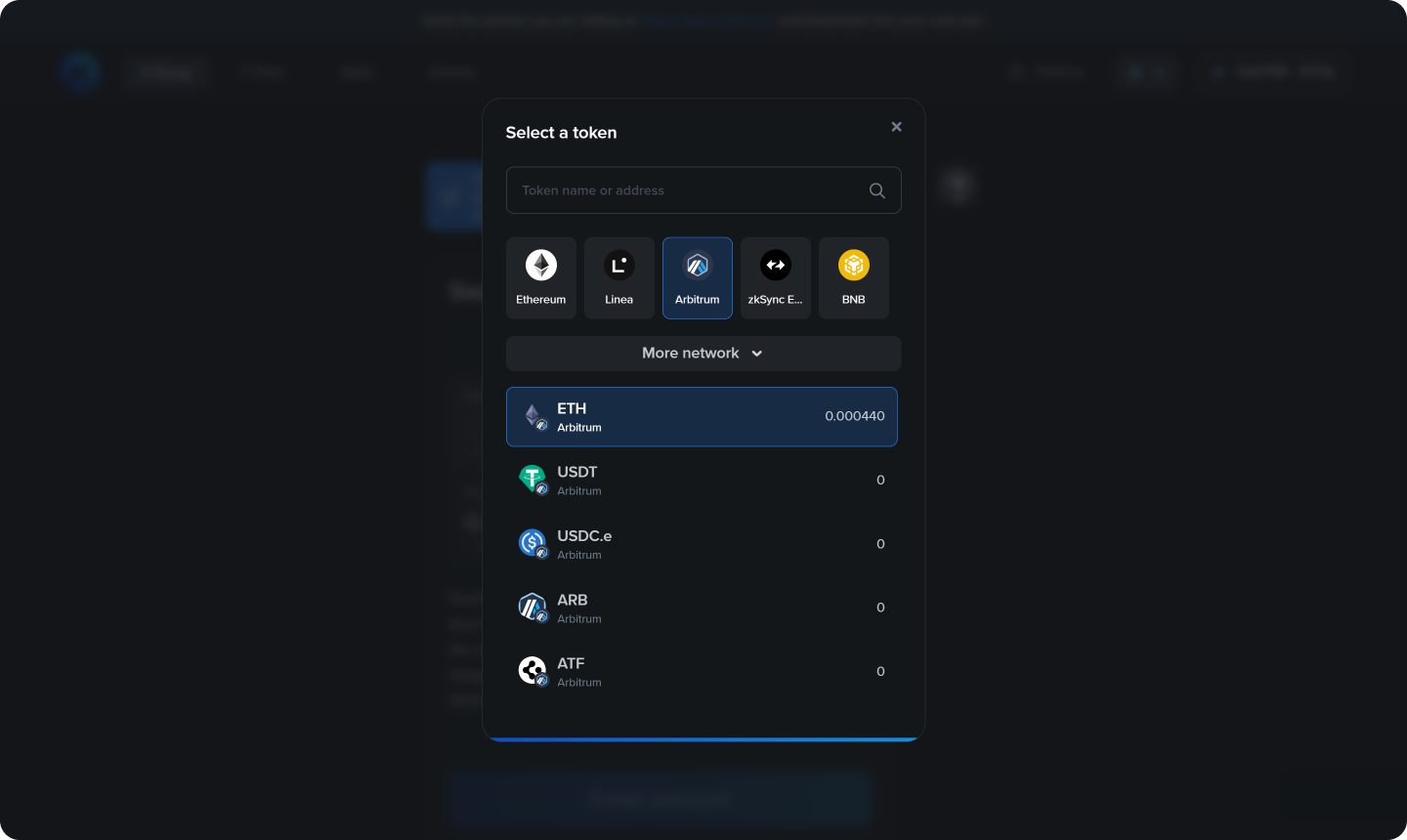 ⓷ Select the Tokens & Chains
Cross-chain or single-chain swap are both available, in this tutorial, we will be swapping ETH on Arbitrum to ETH on Linea.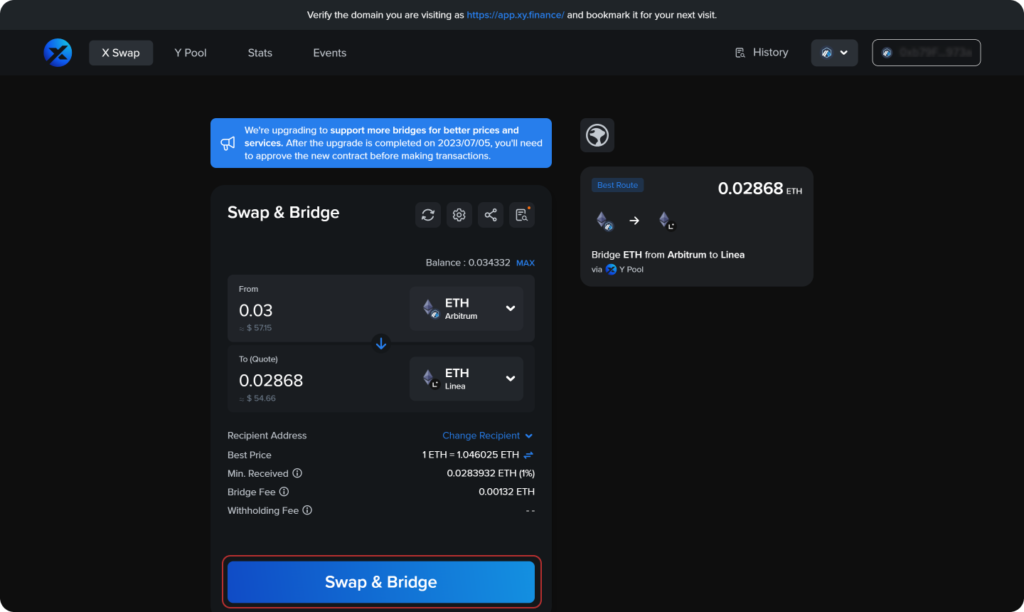 ⓸ Approve to Swap
✅ Check rate & route
✅ Click "Approve to Swap"
✅ Sign the message from your wallet.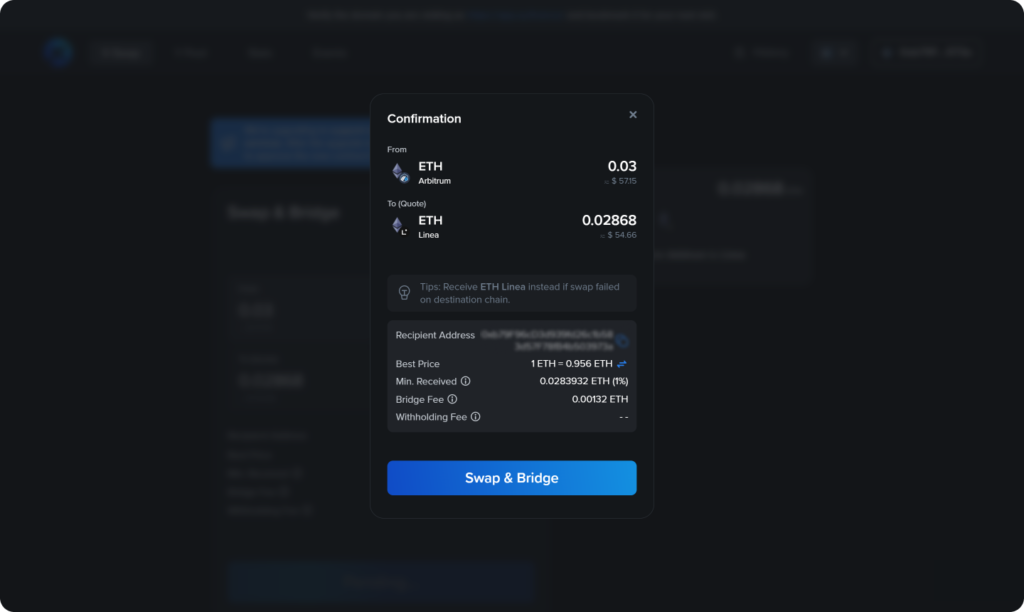 ⓹ Wait For the Transaction to Be Completed
You can also track the process on Linea's Explorer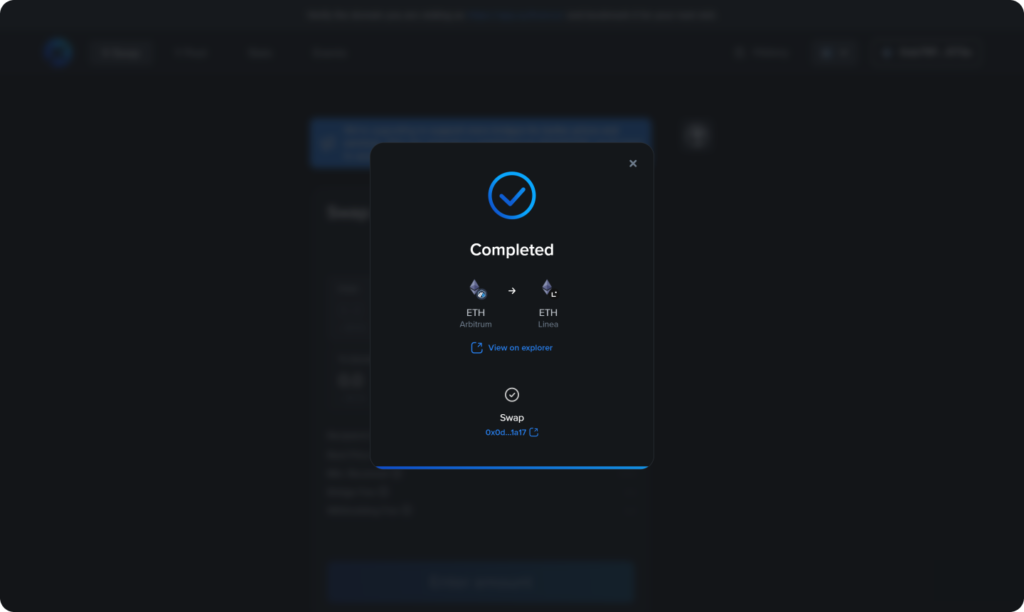 ⓺ Your Transaction Is Completed!
With each swap being completed, you will be notified on whether or not the transaction is successfully executed. Voila, it is this easy to use XY Finance to bridge your assets to the Linea!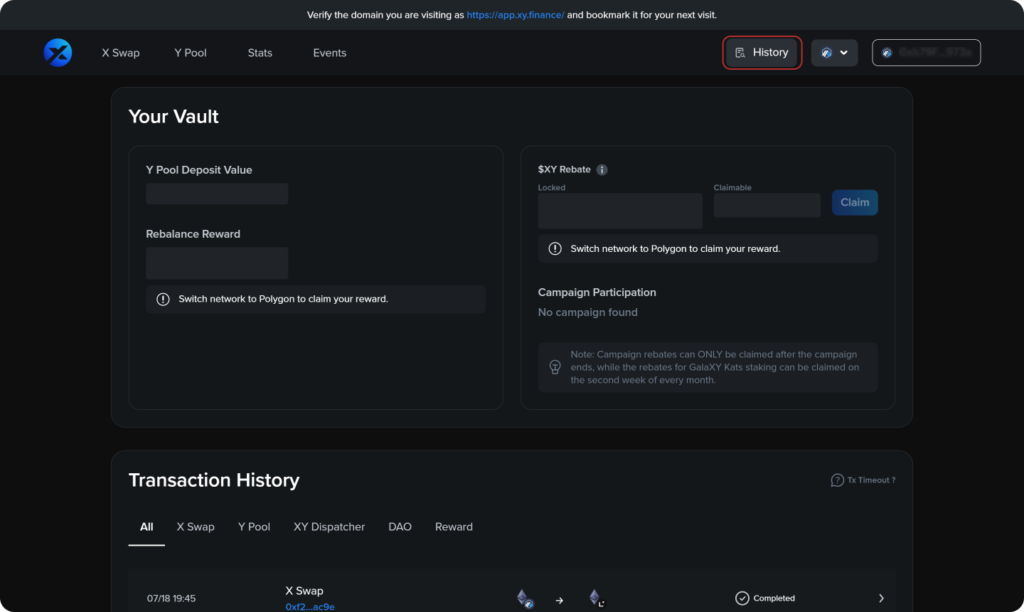 Tips: Check History For All Transactions
You can track all your transactions in the History on the top-right corner of the web page. (As the data is saved in the cache, do note that if you use different devices with the same wallet address, it will only show the transactions completed on the device you completed the transaction with.)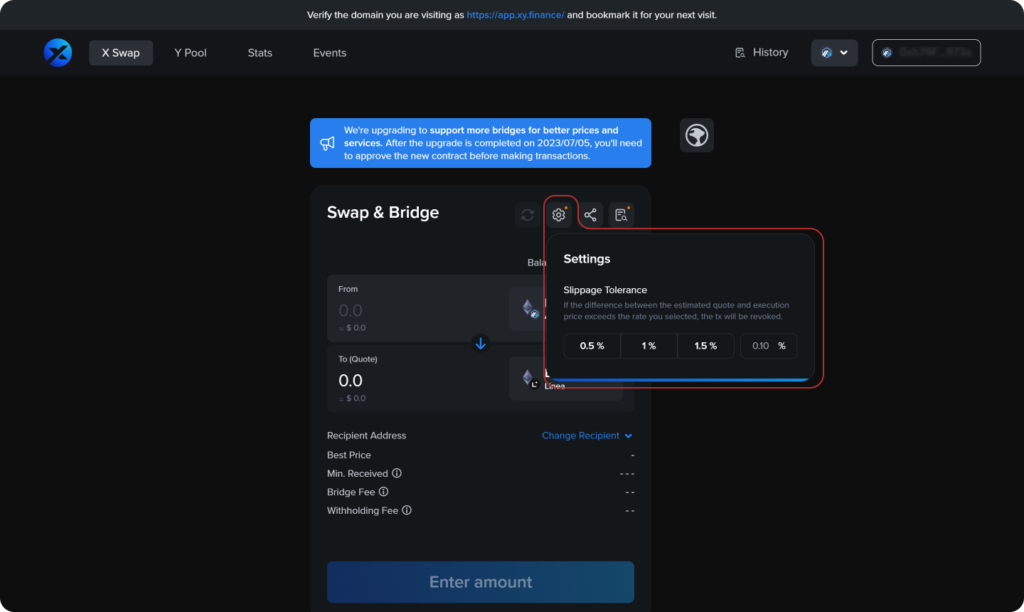 Tips: Customize Slippage Setting
Slippage Tolerance is the price difference between the price at the confirmation time and the actual price of the transaction you are willing to accept when swapping.
If the difference between the estimated quote and execution price exceeds the rate you selected, the tx will be reverted and users will receive pool tokens on the destination chain.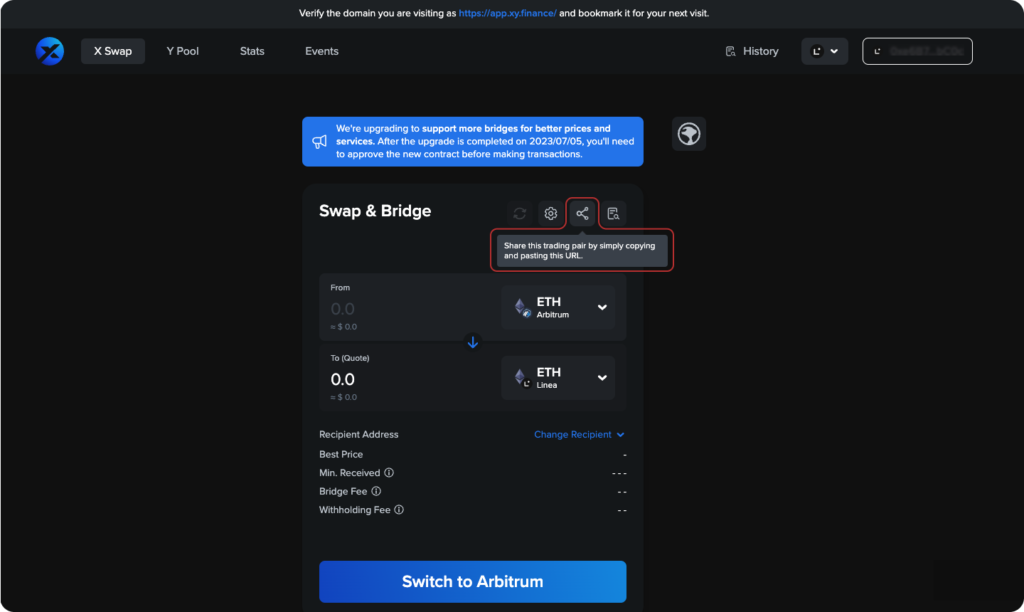 Tips: Copy the link of the trading pair and share it with other people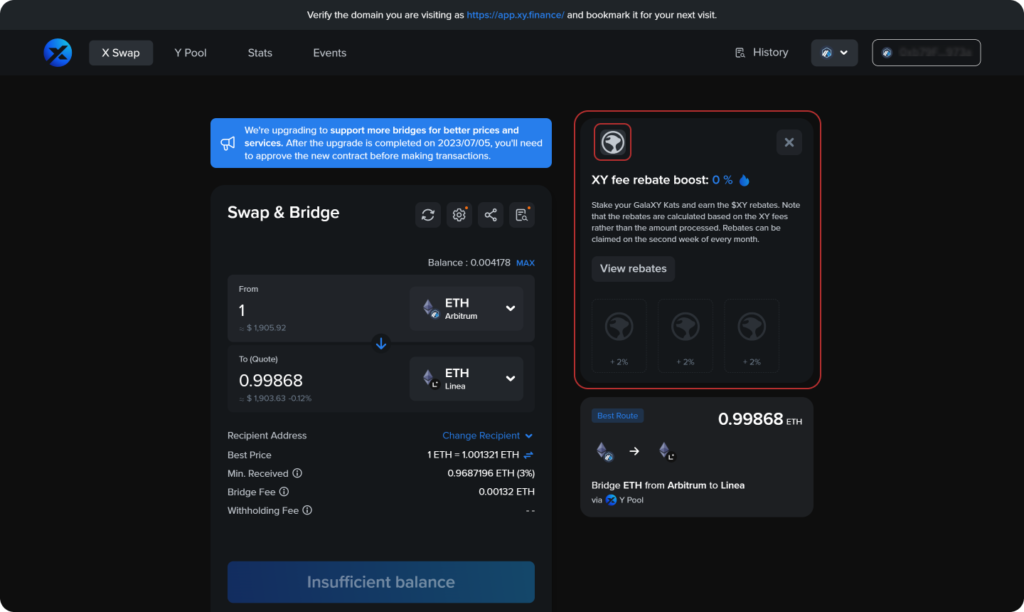 Tips: Stake GalaXY Kats NFT to Get Swap Fee Rebate
Synergising with XY Finance's NFT project – GalaXY Kats, users can stake their NFTs and get DeFi utility such as swap fee rebate while performing cross-chain swaps!
Main Players in Linea Ecosystem
Now we know how to on-chain or cross-chain swap your assets to Linea want to partake in the DeFi opportunities offered by Linea's ecosystem? Let's delve deeper into it, explore the main projects on Linea and what we can do in its promising ecosystem. Please note that the following information is not financial advice, dyor before engaging!
EchoDEX is a low-fee decentralized exchange (DEX) on Linea, offering fast and secure cryptocurrency trading. It features liquidity aggregators, enabling access to multiple liquidity pools for efficient trades. Users can earn $ECP tokens through swapping, farming, and staking.
More About EchoDEX
Website | Twitter | Discord | Document
Linea Swap is a DeFi project that combines a DEX with advanced technologies to revolutionize the credit system. It offers concentrated liquidity, real yields through the xLIN token, and a Credit Ranking System based on Credit Points.
More About Linea Swap
Website | Twitter | Discord | Document
Peko Protocol is a decentralized, transparent and non-custodial lending protocol built for layer2 chains where users can participate as lenders or borrowers in isolated lending pools. Peko Protocol aims to build high-velocity markets for more traditional crypto-asset lending services, with one unified margin account, users can earn interest on deposits, borrow from shared liquidity pools against collateral.
More About Peko Protocol
Website | Twitter | Document
LineaBank is a lending protocol built on the Linea blockchain, leveraging zkEVM technology. It operates as a decentralized lending platform, providing users with full control over their funds and eliminating intermediaries. Through competitive interest rates and a non-custodial approach, LineaBank aims to offer a streamlined lending experience.
More About LineaBank
Website | Twitter | Medium | Document
IDriss is a community-owned and operated suite of tools making web3 more usable for everyone. Send crypto directly on Twitter using Linea.
More About IDriss
Website | Twitter | Discord | Document
Zonic is a NFT marketplace catered for Ethereum Layer-2 including that enables lightning-fast transactions and multichain support for buying and selling NFTs.
More About Zonic
Website | Twitter | Discord
XY Finance is committed to optimize our cross-chain service and offer more options for users to bridge their assets across the best blockchains in the web3 world. In the future, XY Finance will work closely with promising protocols on Linea to jointly open up more gateways for Web3 users to travel across different networks, stay tuned!
XY Finance Ecosystem Update
---
About XY Finance
XY Finance is a cross-chain interoperability protocol aggregating DEXs & Bridges. With the ultimate routing across multi-chains, borderless and seamless swapping is just one click away.
XY Finance Official Channels
XY Finance | Discord | Twitter | Telegram | Documents | Partnership Form