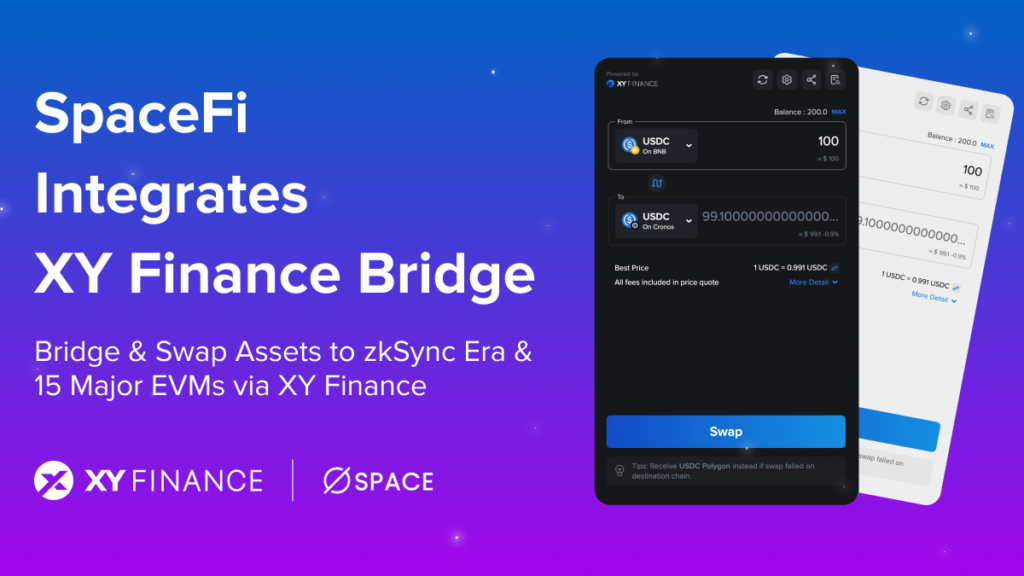 We are thrilled to announce that SpaceFi, a cross-chain Web3 platform on zkSync Era has integrated our bridge. XY Finance is now empowering more users to be on board to both zkSync Era & SpaceFi's ecosystem! Happy to be strengthening the DeFi realm with our new partner SpaceFi 🤝
SpaceFi's Native Token $SPACE Now on XY Finance
SpaceFi's native token, $SPACE, has been listed on XY Finance. This significant step will allow users to trade $SPACE from assets across the 16 blockchains currently supported by XY Finance. By unlocking this potential, $SPACE holders are given access to a broader market, enhancing the token's liquidity and trading volume.
Powering Cross-Chain Capabilities with XY Finance
With the ambition to become the leading DeFi hub in the zkSync Era, SpaceFi is determined to offer a diverse range of features including exchange, farming, staking, NFT, SocialFi, and more. Whether you are drawn to the potential staking and farming rewards or interested in exploring the NFT ecosystem, you will need to exchange tokens from various chains to the zkSync Era. With this integration, SpaceFi users can seamlessly trade $SPACE with 120+ tokens across 16+ chains via a link in SpaceFi's dApp 😉
All You Need to Know About SpaceFi & SPACE Token
SpaceFi is a cross-chain Web3 platform on Evmos and zkSync. Functioning as a multi-purpose hub for a variety of product modules, SpaceFi offers a diverse range of financial tools and services that cater to a broad spectrum of cryptocurrency users and enthusiasts. SpaceFi has been one of the earliest and active projects on zkSync Era. More than 150k users have deposited in SpaceFi with $7.5M liquidity, making it one of the Top 5 projects in TVL ranking.
About $SPACE
$SPACE, SpaceFi's native token underpins the entire ecosystem, serving as the primary medium of exchange, a governance token, and a means of earning rewards. $SPACE was launched on June 2023, at the time of writing the price of $SPACE is $0.1503, and the average daily trading volume exceeds 220k; Liquidity providers APR approximates around 177%-182% for SPACE-USDC & SPACE-ETH pairs on Space Farm.
$SPACE Utilities
✅ Convert $SPACE to $xSPACE, the escrowed governance token that can be used in voting, minting Planet NFT or staking to earn.
✅ Stake $SPACE to get a share of the project token at the initial offering price on Space's launchpad
✅ Mint Planet NFT
✅ Join SpaceBase to earn mining rewards
✅ Receive $SPACE by staking single coin, LP tokens on Space Farm
XY Finance In A Nutshell
XY Finance is a cross-chain interoperability protocol aggregating DEXs & bridges. With the ultimate routing across multi-chains, borderless and seamless swapping is just one click away. For users, XY Finance provides cross-chain solutions with the most optimal routes, covering various tokens and creating ultra-fast transfers. For developers, XY Finance offers cutting-edge cross-chain API & widget to help broaden the project's connection to all our 16+ supported chains!
Recently XY Finance has integrated the highly-anticipated scaling solutions for Ethereum – zkSync Era & Polygon zkEVM. According to DefiLlama, XY Finance is currently the top bridge on zkSync Era, Polygon zkEVM, Astar & ThunderCore!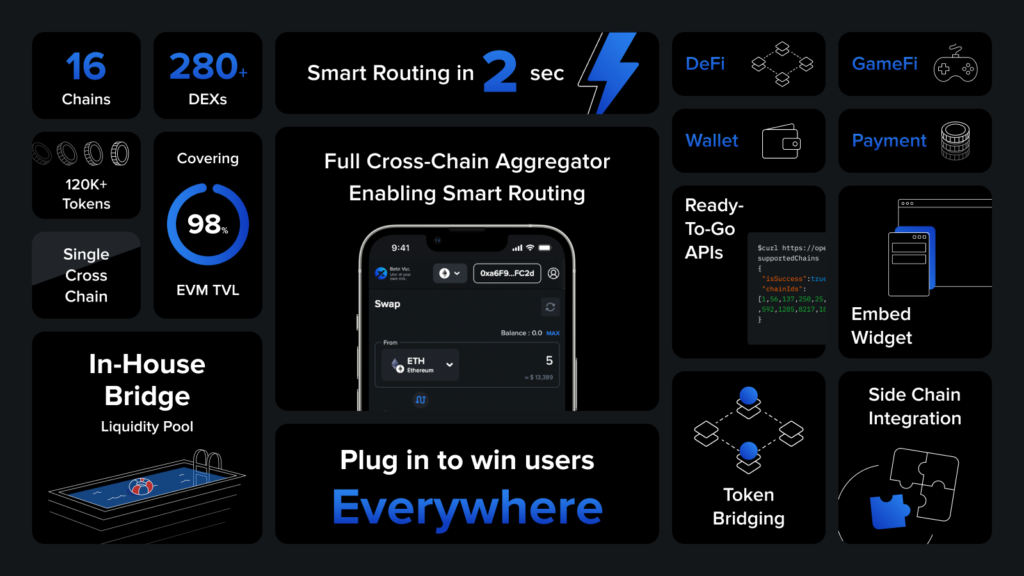 To know more about XY Finance and how to cross-chain swap your assets with us
🔗 What is XY Finance? A Brief Introduction
🔗 How to Bridge Assets Across 16+ Blockchains via Swap
For developers
XY Finance's cutting-edge APIs & widgets help power cross-chain bridging and swapping solutions that enable projects to connect with various chains and networks to inflow more liquidity and create more new use cases. Let us do the work so you can sit, relax and on board more multi-chain users!
Ready to hop into the multichain world & engage more users on 16+ chains
👉 Introducing XY Finance Cross-Chain Widget
👉 Widget Integration Developer Document
👉 Fill this partnership form
In its constant pursuit of innovation, SpaceFi has integrated the XY Finance cross-chain solution, which enhances the platform's interoperability by enabling users to bridge and swap assets across multiple blockchains seamlessly. With this integration, SpaceFi takes another step towards fulfilling its mission of building a unified, efficient, and inclusive DeFi landscape!
---
About XY Finance
XY Finance is a cross-chain interoperability protocol aggregating DEXs & Bridges. With the ultimate routing across multi-chains, borderless and seamless swapping is just one click away.
XY Finance Official Channels
XY Finance | Discord | Twitter | Telegram | Documents | Partnership Form