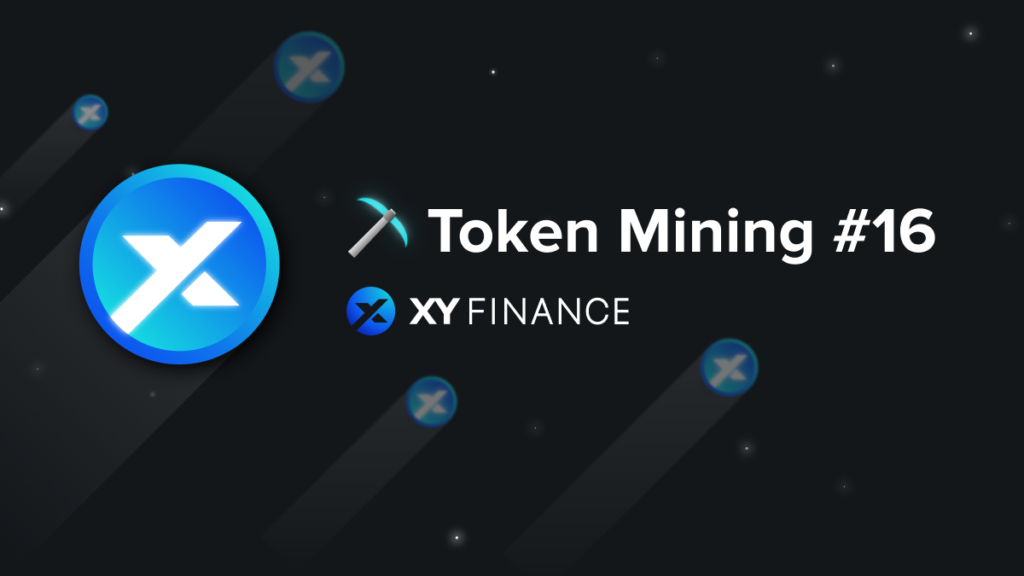 XY Finance thrives to be a community-driven project. To reward our DAO members, we have decided to launch our tenth DAO token mining program! Let's dive into the details of our XY Token Mining #16.
XY Token Mining #16 Key Information
Where to Lock XY: XY Token Mining is available at https://app.xy.finance/dao
Campaign Period: 2023/05/03 08:00 UTC – 2023/06/07 08:00 UTC
Rewards: 15,000 XY Tokens
Reward Calculation Mechanism: The rewards will be calculated based on the total number of veXY on supported chains. Your share is weighed by your veXY, which will be recorded in the snapshot at a random time each day.
Claimable Rewards: After closing the mining campaign, we will announce the final XY rewards of each DAO member and the details of how to claim your rewards.
Tips & Tricks
When locking your tokens, you can choose the length of the lockup period, ranging from 1 to 104 weeks. Note that the setting of XY lockup is to reward long-term committed DAO members. Lock more $XY in the $XY mining pool with a longer lockup period, you will receive a higher share from the pool.
Each XY DAO is independent of the other. XYers can decide to lock a preferred amount of $XY with a proper lockup period in each XY DAO. Also, when you lock $XY on one of the supported chains (Ethereum, BNB, Polygon or Fantom), you can claim the rewards on the same chain only.
When you lock $XY in XY DAO on one of the supported chains, you can claim the rewards on the same chain only.

How to Lock Your XY Token
⓵ Visit XY Finance DAO page
In this article, we will be using Polygon-based XY DAO as an example.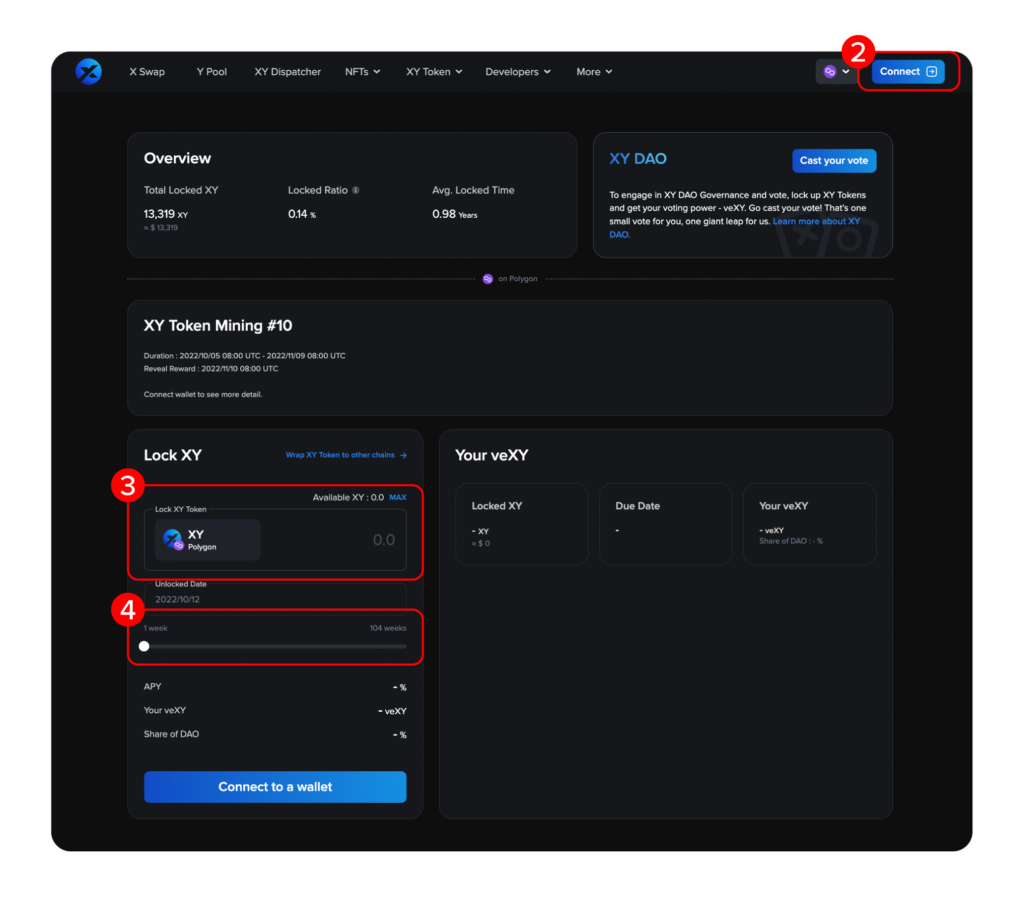 ⓶ Connect your wallet
⓷ Pick your preferred amount of $XY you want to lockup
⓸ Pick your preferred lockup period
You can choose between 1 to 104 weeks for the lockup period.
A longer lock duration can increase your token rewards and APY boost rate.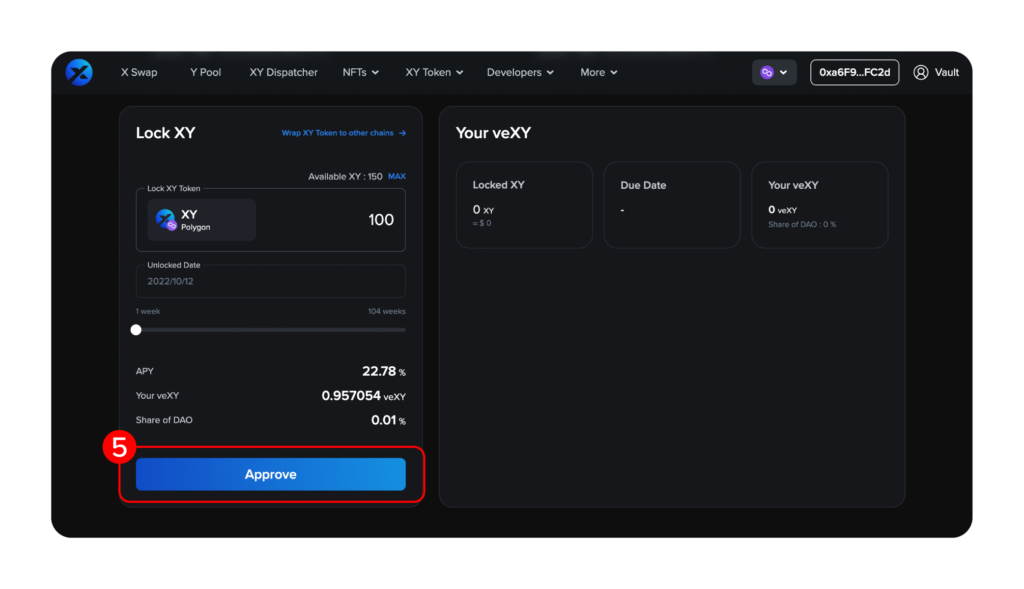 ⓹ Approve
Please note the "Approve" is set to tacitly approve the limited quota to maximize the security for our DAO members! If you decide to lock 100 $XY for the first time and want to lock more $XY in the near future, you will have to authorize approval again.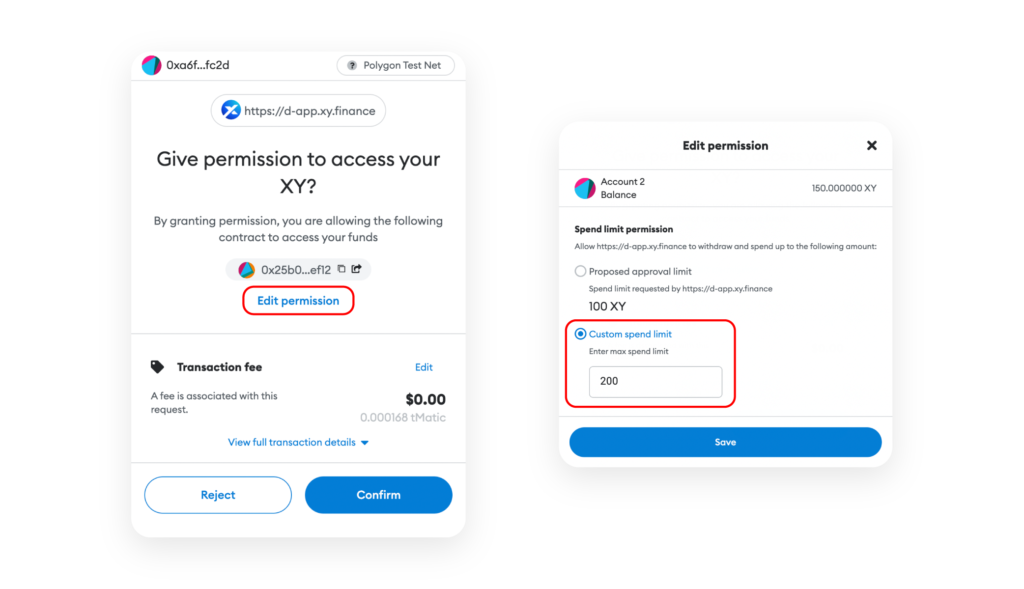 Tips & Tricks
To avoid repeated requests for approval, you can click "Edit Permission" to customize your spend limit and enter a proper max spend limit.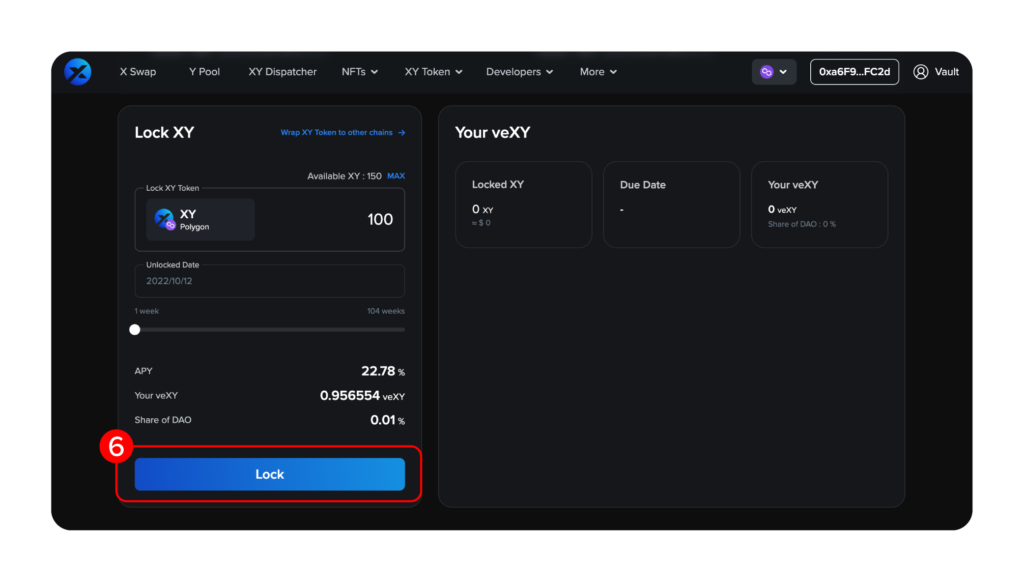 ⓺ Lock $XY
After confirming the transaction, continue by clicking the "Lock" button

⓻ Confirm the transaction
The details of your locked $XY will pop up.
You will need to sign the transaction in your wallet once again.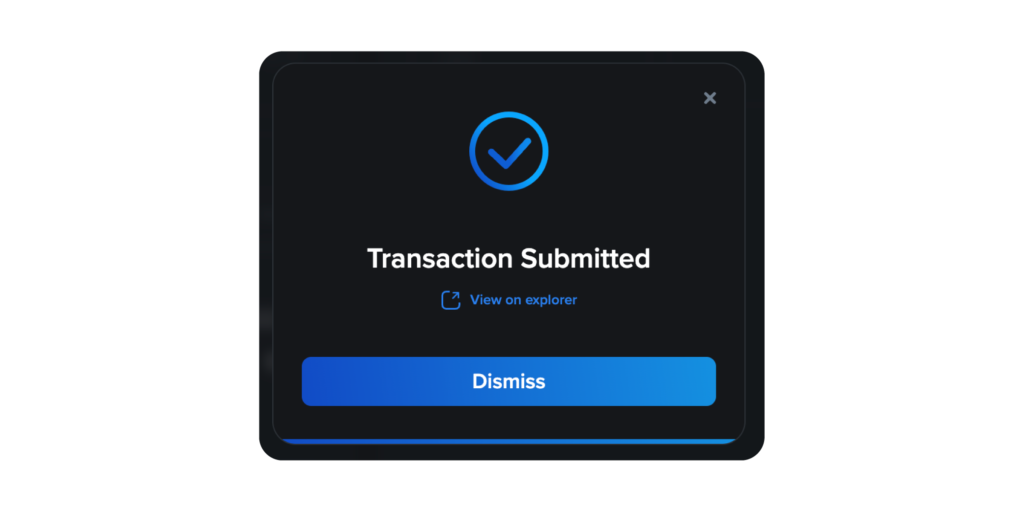 ⓼ Congrats & welcome to XY Finance family!
Once the transaction is confirmed on the Polygon blockchain, your tokens are officially locked and you are officially a member of the XY DAO!
Please note $XY stakers won't actually receive the veXY in their wallet after the successful locking. Our smart contract will record your voting power, known as veXY, and it will calculate your voting power based on our formula written in the smart contract.We are excited to welcome each one of you into the XY Finance family. Locking your $XY proves your long-term commitment to our project and we appreciate that support greatly.
How to Extend Lockup Period of Your Locked XY Tokens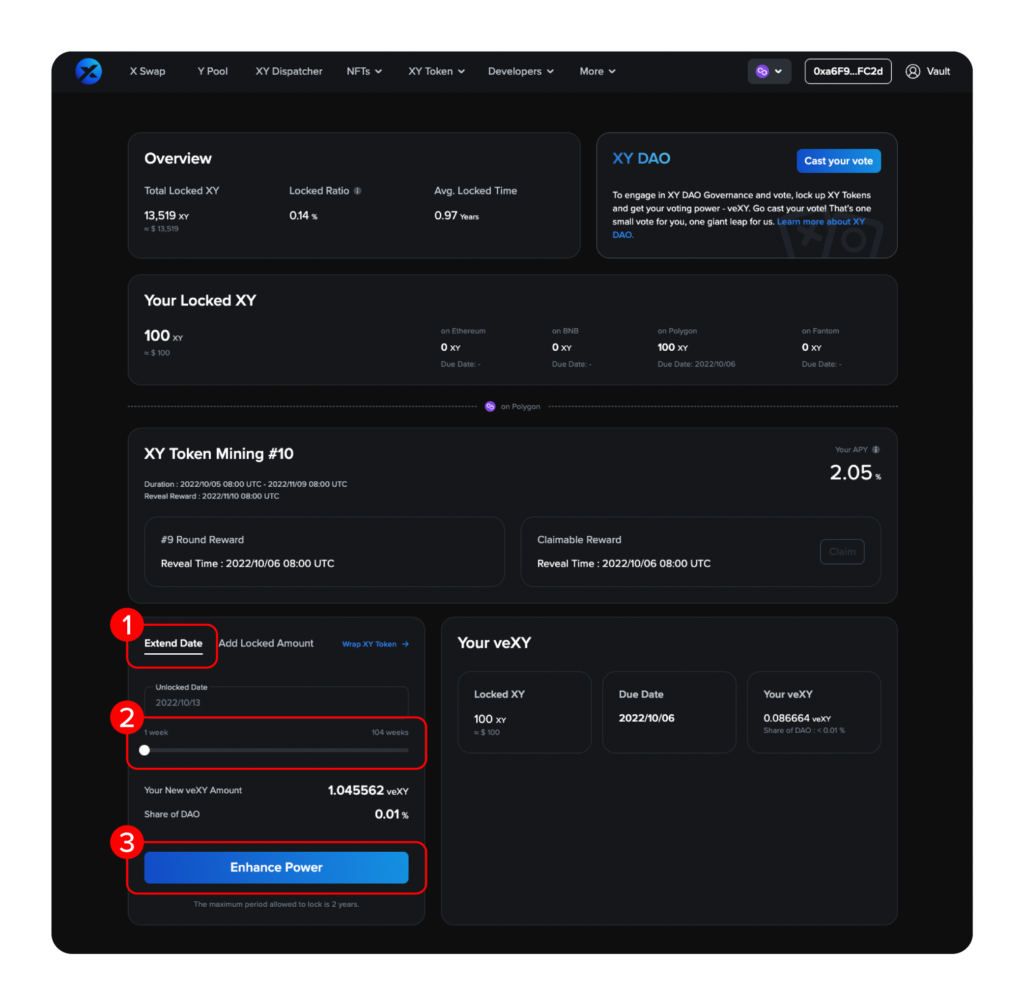 ⓵ Click the "Extend Date" button
---
About XY Finance
XY Finance is a cross-chain interoperability protocol aggregating DEXs & Bridges. With the ultimate routing across multi-chains, borderless and seamless swapping is just one click away.
XY Finance Official Channels
XY Finance | Discord | Twitter | Telegram | Documents | Partnership Form