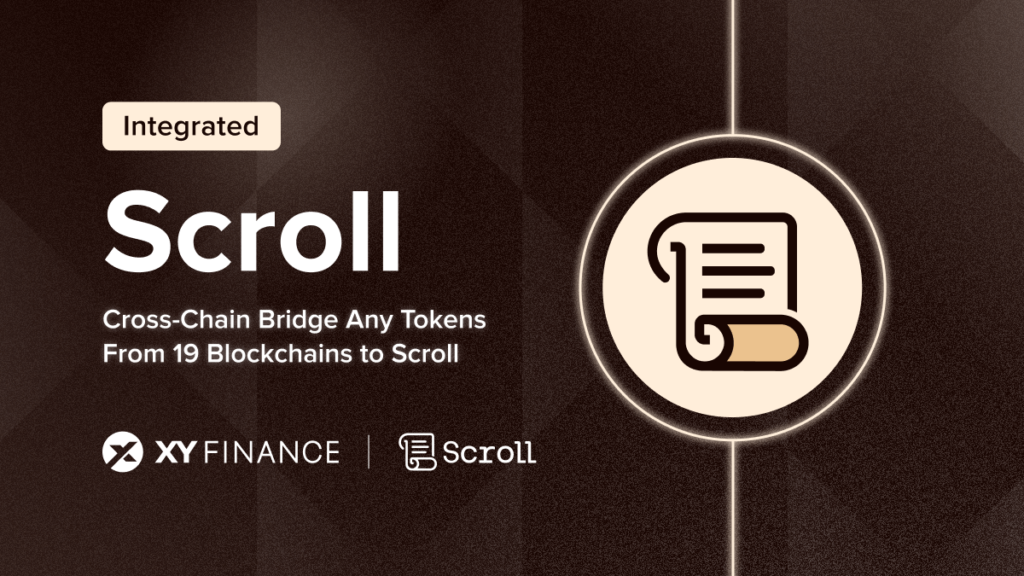 Don't forget to join our two live campaigns on Scroll 🔥


*tips: cross-chain swap once now to complete both campaigns with one transaction 😉
XY Finance Integrated Scroll Mainnet
The Layer 2 game is evolving at an unprecedented pace with constant advancements and innovations. Among the new promising Ethereum scaling solution, Scroll has came into limelight as a strong contestant. After more than two years of building, Scroll has launched its highly-anticipated mainnet on October 17th, 2023, despite its recent launch, Scroll has processed more than 900k transactions, and has experienced a surge in its total value locked (TVL) to $20 million.
XY Finance is excited to share that now, we're gearing up to expand our horizons even further, venturing into the realm of another long-awaited zk-Rollup – Scroll 🔥
Scroll Integration (User)
As part of the integration, XY Finance users stand to benefit immensely:
✅ Single-Chain/Cross-Chain Bridge & Swap: Easily bridge & swap any token across 20 blockchains to Scroll via XY Finance.
✅ Provide Liquidity & Earn: Become a liquidity provider to XY Finance's own bridge and earn more from depositing in ETH and USDC pool.
✅ XY Dispatcher: Batch send any ERC20 tokens across all supported chains, including Scroll, to hundreds of addresses in one transaction.
Bridge & swap your assets to Scroll seamlessly
👉 XY Finance Cross-Chain dApp
Become liquidity provider on Scroll
👉 ETH Pool Now LIVE, Provide Liquidity to Earn More!
Scroll Integration (Developer)
Developers are at the heart of every blockchain revolution. Recognizing this, XY Finance offers an array of services:
✅ Widget/API Integration: Elevate the versatility of your dApp by integrating XY Finance's cross-chain solution, extending interoperability to 20 chains and growing.
✅ Token Listing: Elevate your token's visibility and accessibility by listing it on XY Finance's cross-chain swap, encompassing Mantle Network and other major EVM chains.
✅ xAsset Token Bridging: XY Finance provides canonical token bridge solution that empowers projects to connect with different chains.
For developers who enhance interoperability & enable smooth onboarding of more users
👉 Introducing XY Finance Cross-Chain Widget
👉 xAsset Token Bridging
👉 Widget Integration Developer Document
👉 Partnership Form
About Scroll
Founded in 2021, Scroll's vision is to create an inclusive and infinite ecosystem for Ethereum. Scroll is not just another Layer 2 solution; it's a visionary project developed with Ethereum's best interests at heart. Designed by and for Ethereum developers, Scroll offers a robust, reliable, and scalable Layer 2 blockchain.
Quick Stats:
Ethereum Layer 2 Powerhouse: Scroll's total value locked (TVL) quickly surged to $20 million shortly after its official launch on October 17.
Record-Breaking Transactions: Scroll registered a whopping 900k transactions in just 10 days, showcasing its immense capability.
Growing User Base: With over 126k unique addresses, Scroll is quickly becoming a force to reckon with, giving stiff competition to its peers.
Key Features:
EVM-Compatibility: Scroll offers bytecode-level compatibility, ensuring existing Ethereum apps can be easily migrated.

Advanced Zero-Knowledge Tech: Scroll leverages the latest in zero-knowledge technology to provide unlimited scalability, quick transaction confirmations, and trustless privacy.

Scalability & Boundless Opportunity: Scroll aims to assist leading DeFi projects on Ethereum by reducing transaction fees and enhancing transaction speed. Its rapid growth is also evident in recent trends of increasing protocols joining Scroll's ecosystem.

Security: Being Ethereum-Secured and EVM-Compatible,Scroll ensures utmost security while also allowing the deployment of Ethereum dApps and facilitating the use of Ethereum smart contract development frameworks.
More About Scroll
Website | Twitter | Discord | Blog | Documents
How to On-Chain or Cross-Chain Swap Your Assets to Scroll Tutorial
Currently, XY Finance supports 20 chains, covering nearly 98% of EVM chains, including: Ethereum, Scroll, Mantle Network, Base, Linea, zkSync Era, Polygon zkEVM, BNB, Fantom, Polygon, Arbitrum, Optimism, Avalanche C-Chain, Cronos and more. With just a few intuitive clicks, users can effortlessly bridge and swap tokens from any of these supported chains directly to Scroll!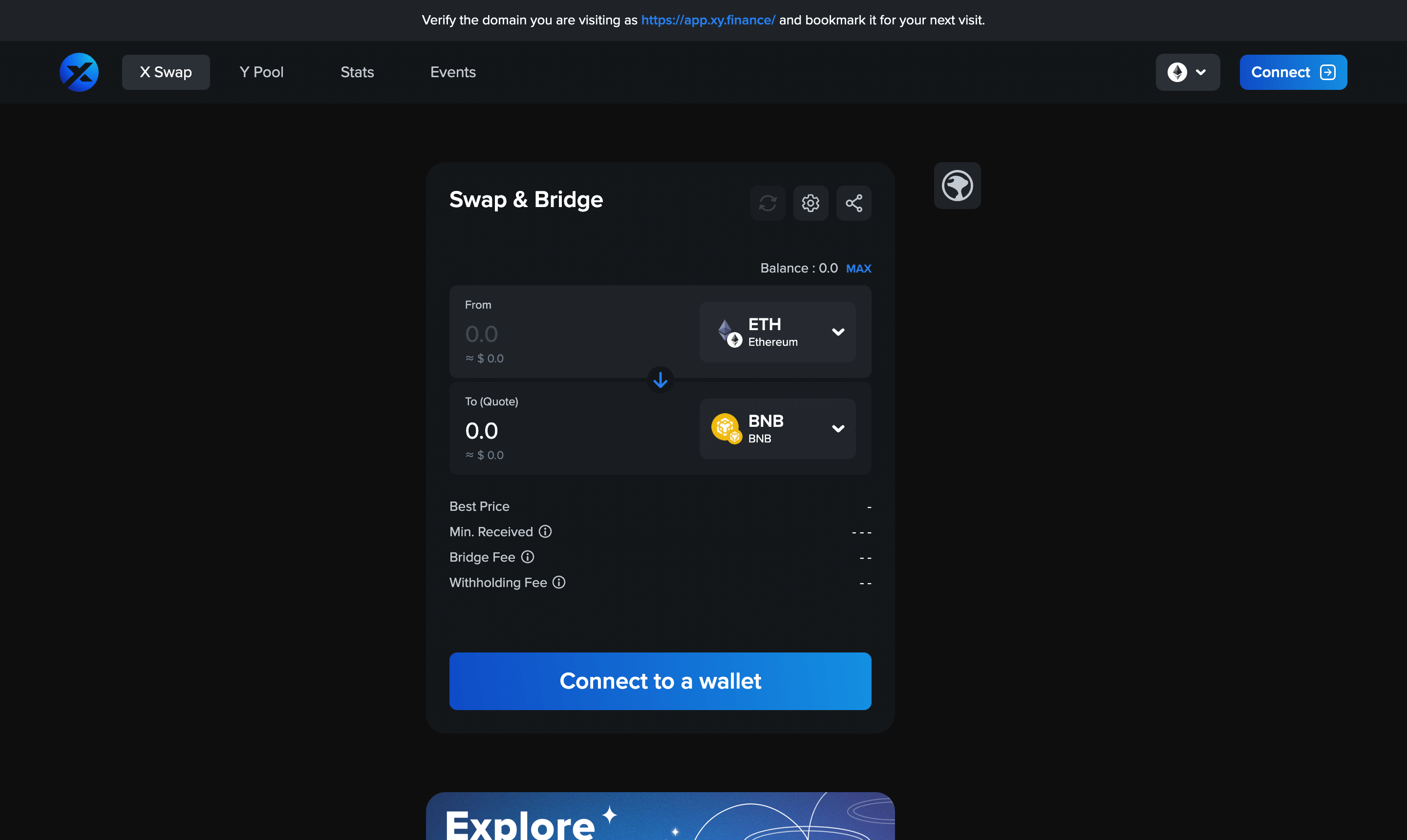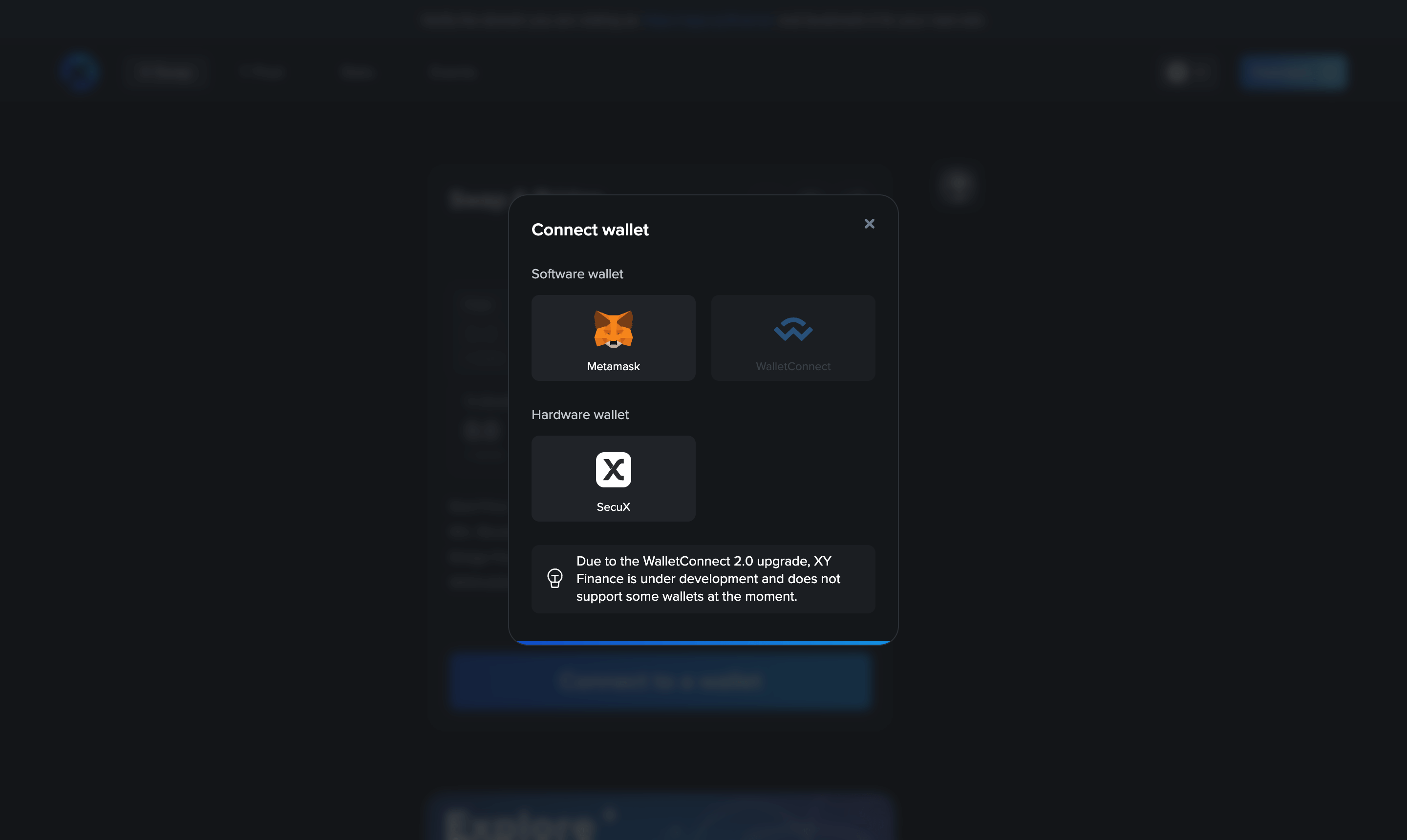 ⓵ Visit X Swap Page & Connect Wallet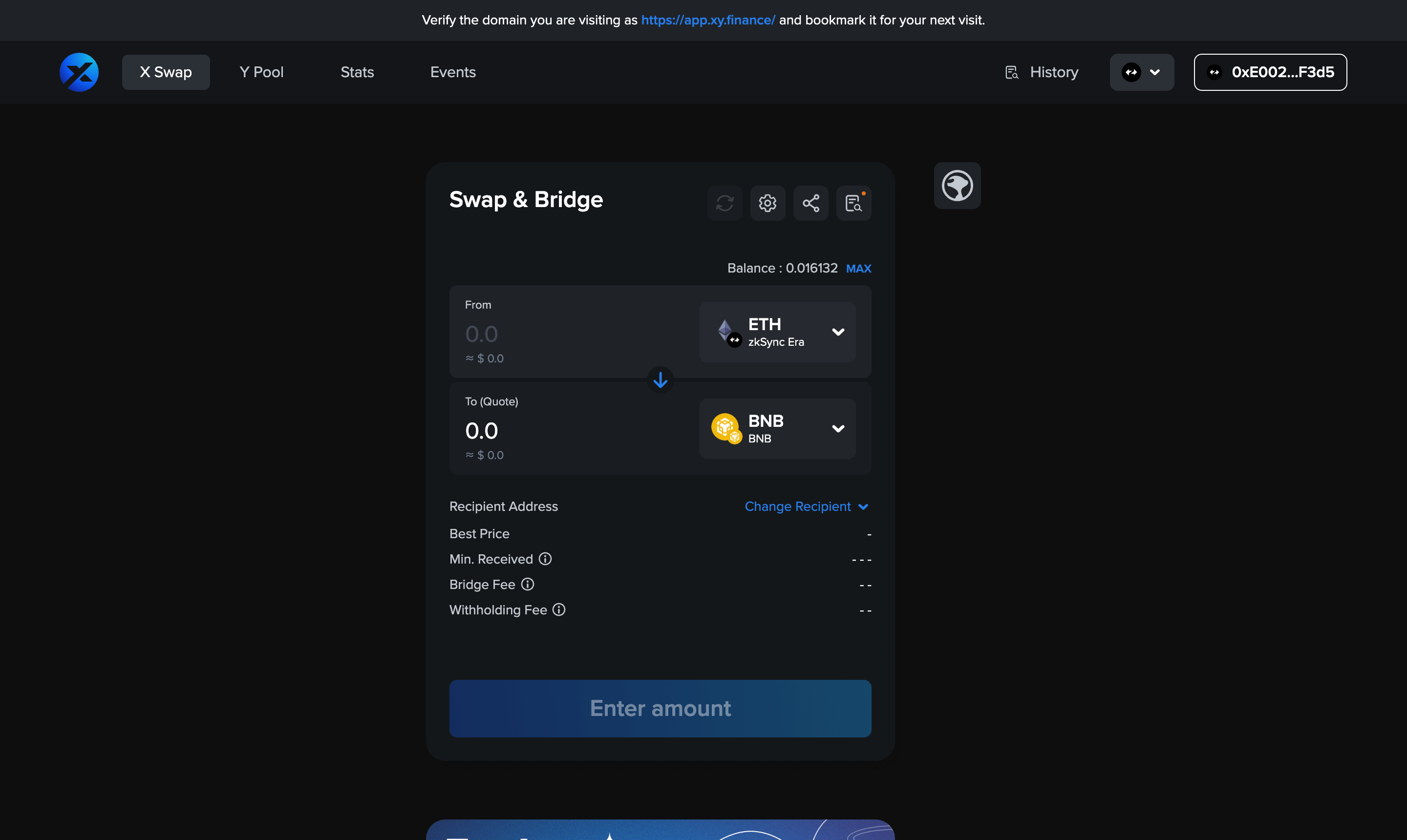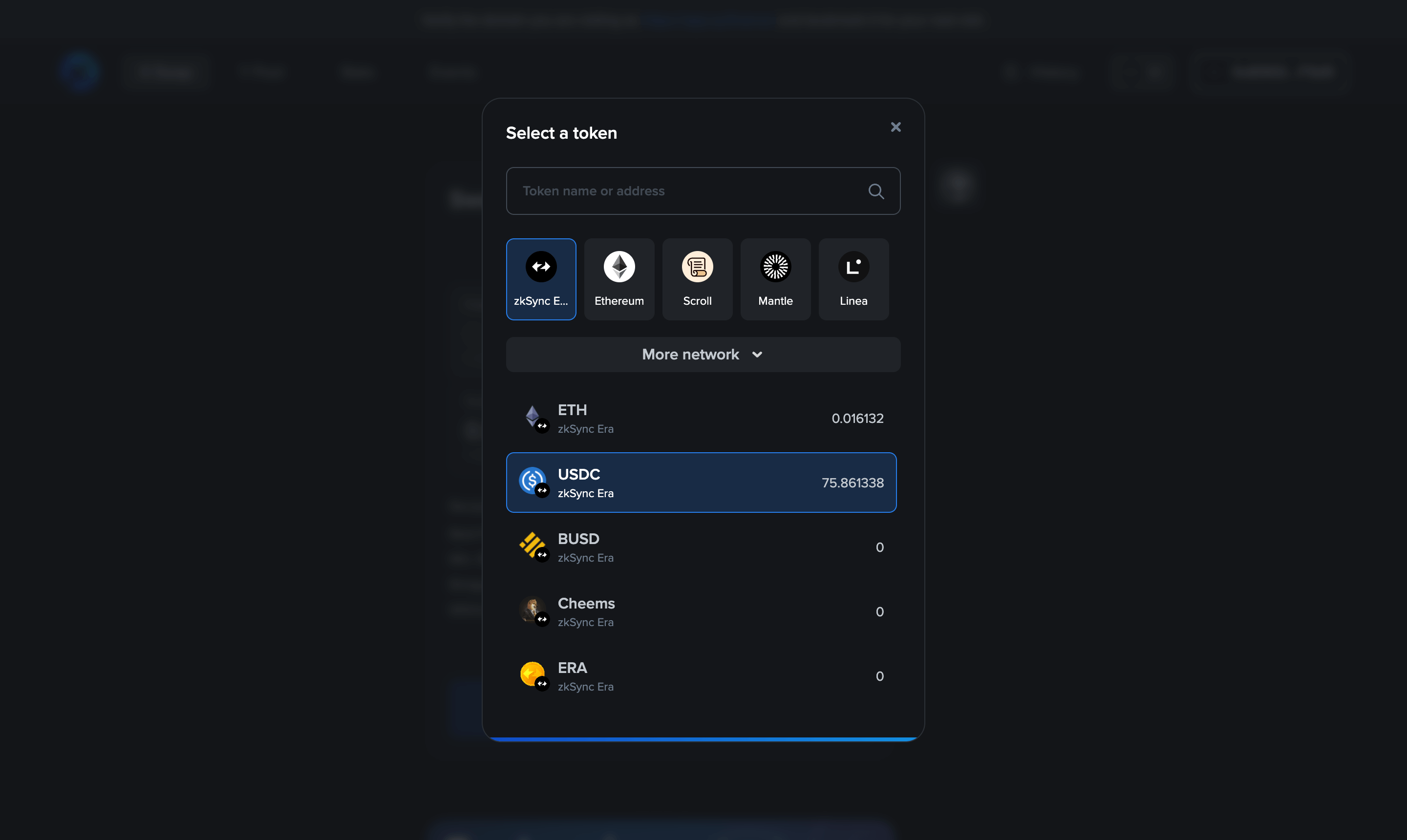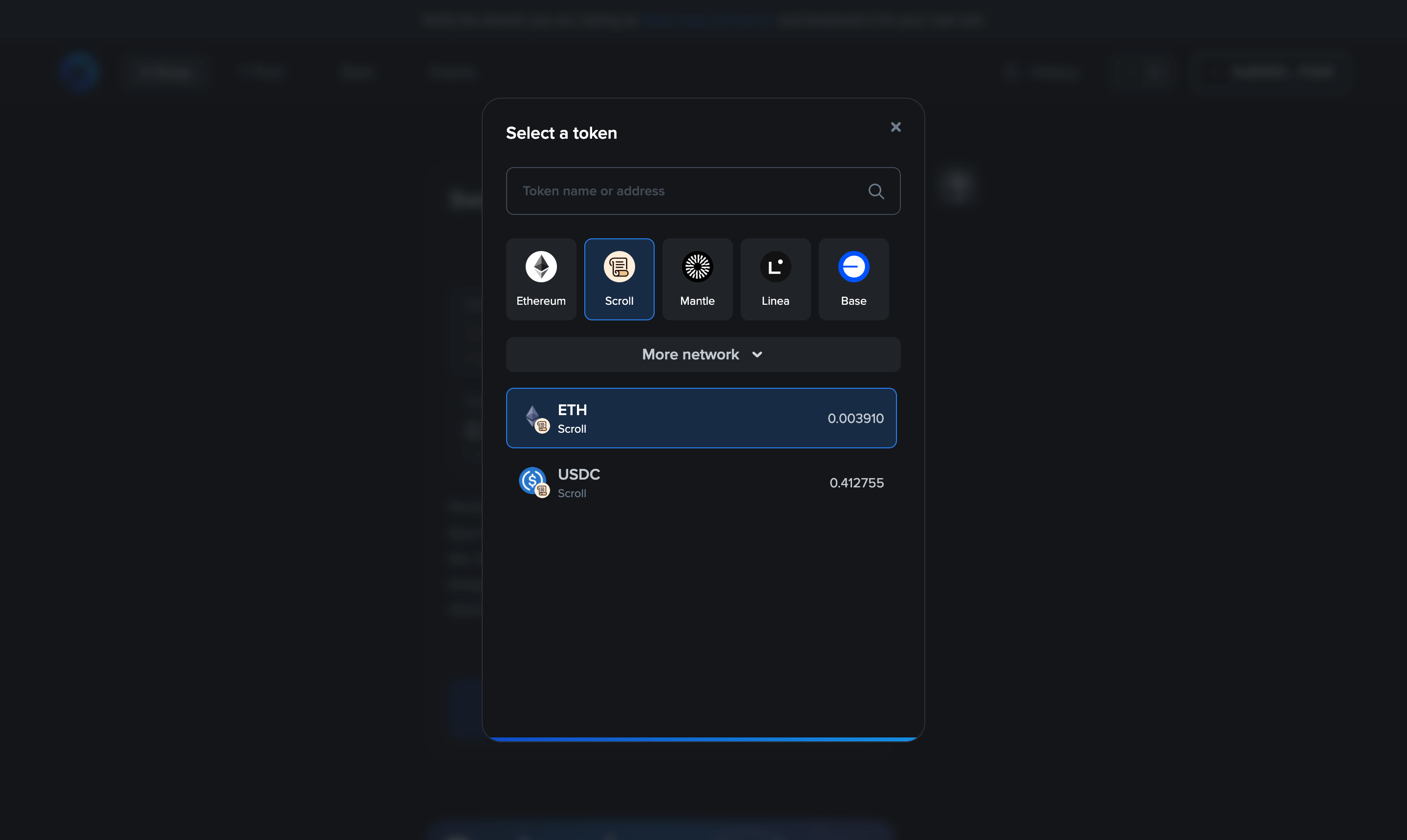 ⓶ Select the Chain & Token
Cross-chain or single-chain swap are both available, in this tutorial, we will be swapping USDC on zkSync to ETH on Scroll.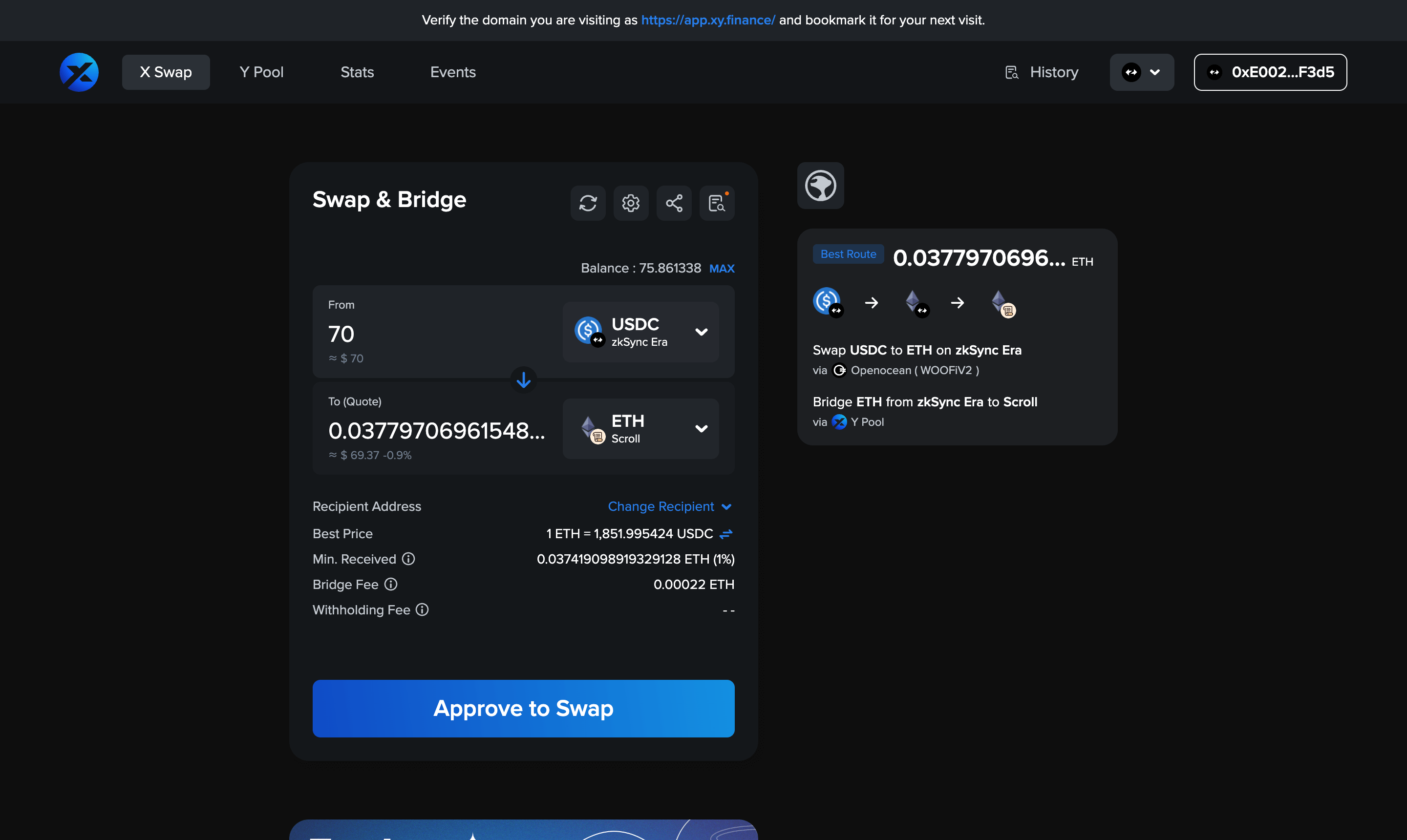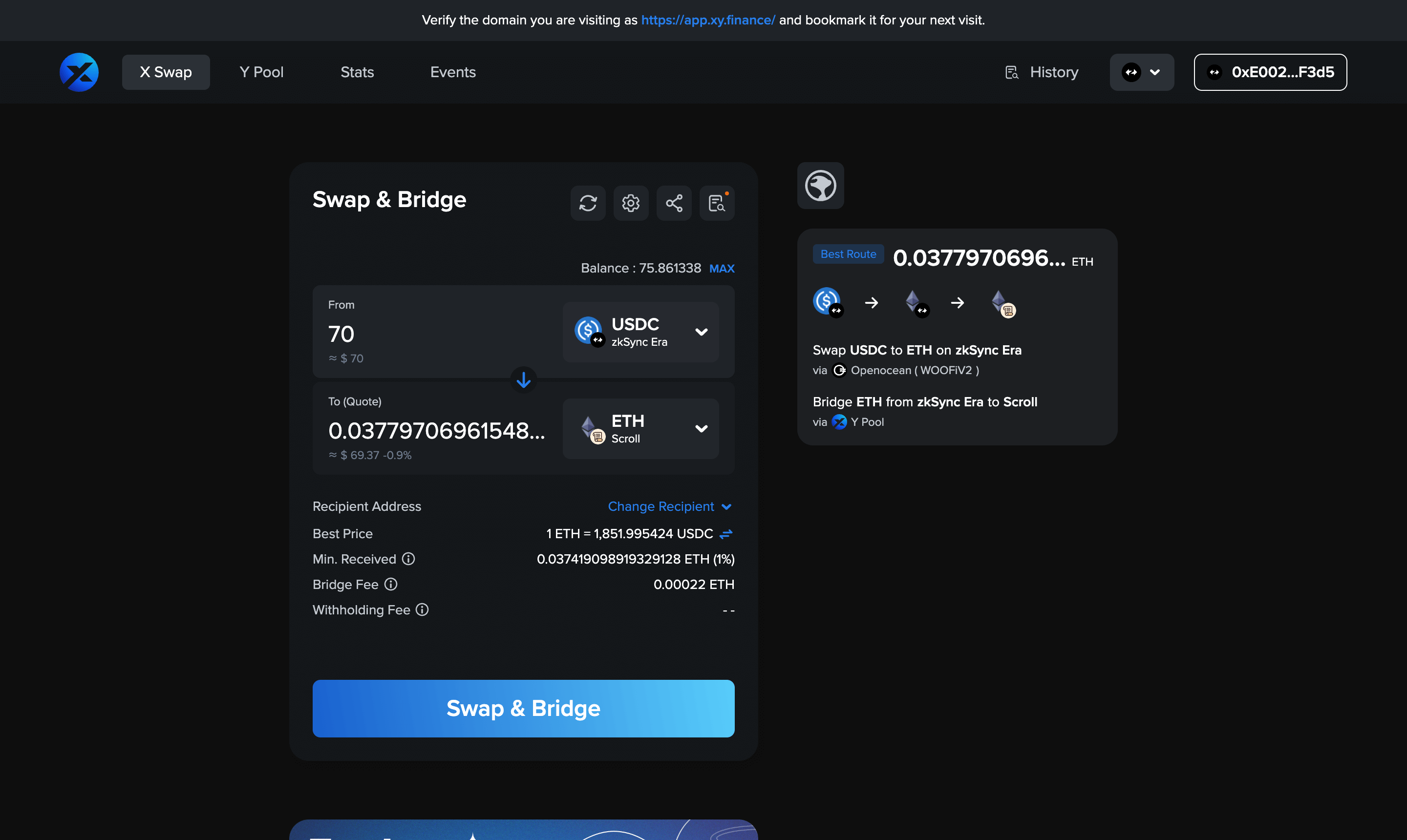 ⓷ Approve to Swap
✅ Check rate & route
✅ Click "Approve to Swap"
✅ Sign the message from your wallet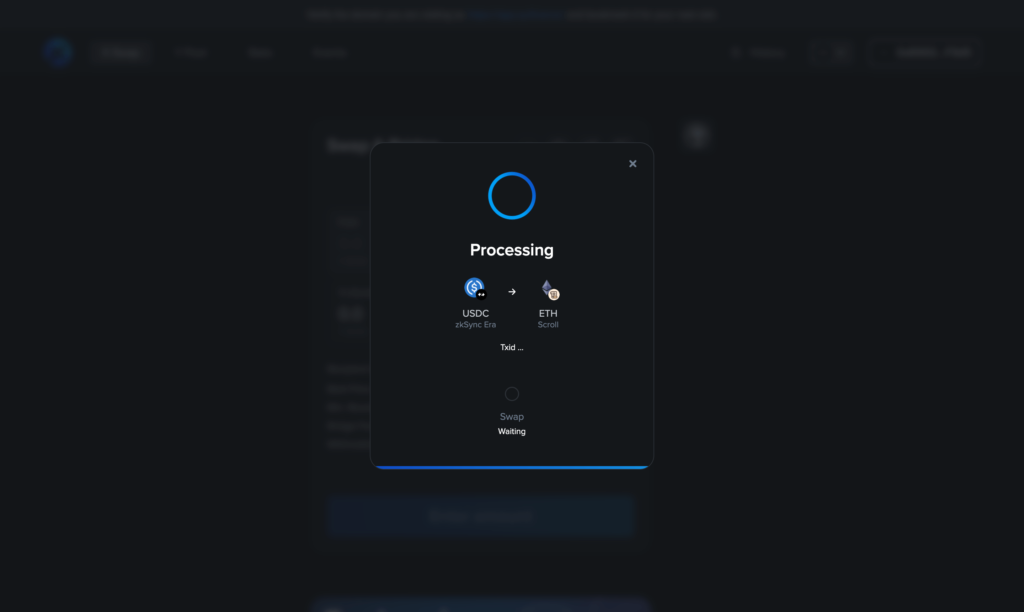 ⓸ Wait For the Transaction to Be Completed
You can also track the process on Scroll's Explorer.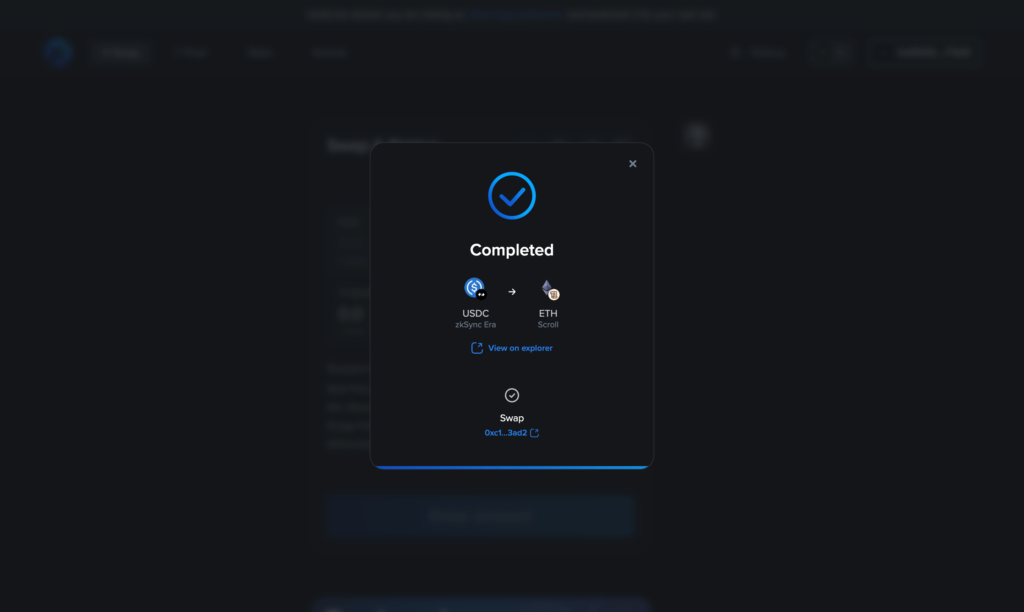 ⓹ Your Transaction Is Completed!
With each swap being completed, you will be notified on whether or not the transaction is successfully executed. Voilà, it is this easy to use XY Finance to bridge your assets to Scroll!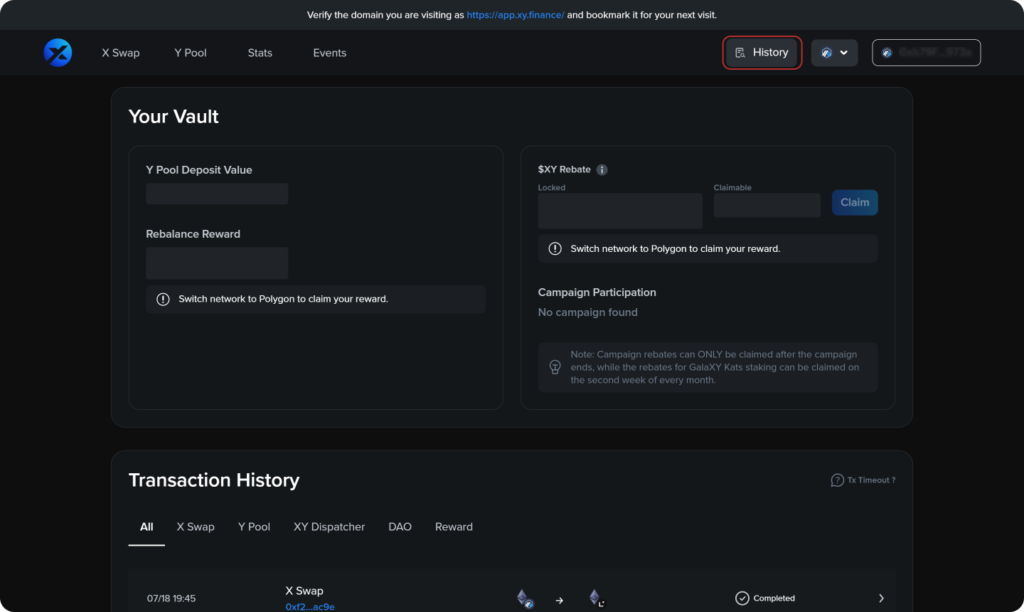 Tips: Check History For All Transactions
You can track all your transactions in the History on the top-right corner of the web page. (As the data is saved in the cache, do note that if you use different devices with the same wallet address, it will only show the transactions completed on the device you completed the transaction with.)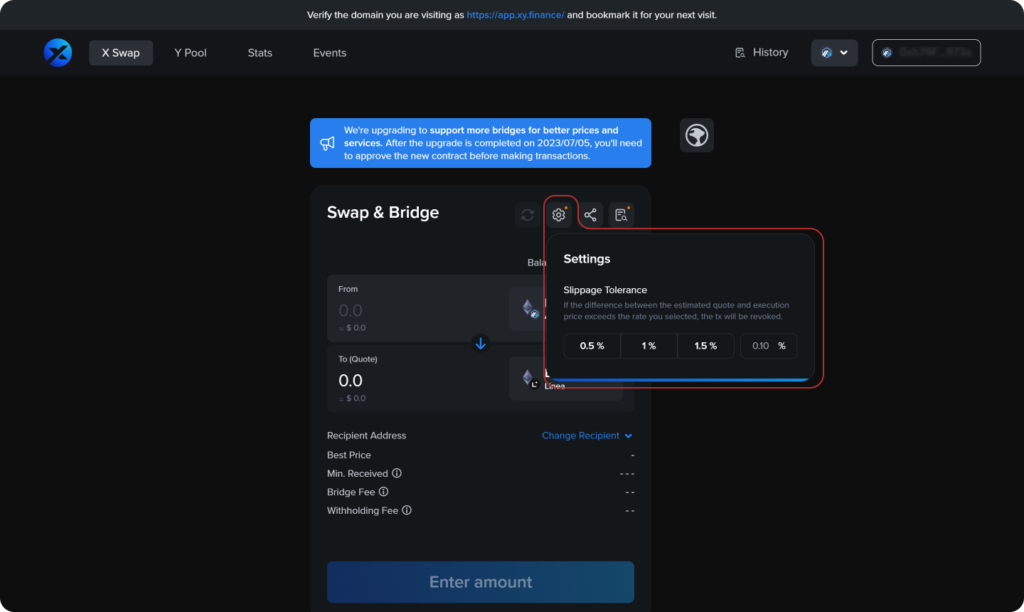 Tips: Customize Slippage Setting
Slippage Tolerance is the price difference between the price at the confirmation time and the actual price of the transaction you are willing to accept when swapping.
If the difference between the estimated quote and execution price exceeds the rate you selected, the tx will be reverted and users will receive pool tokens on the destination chain.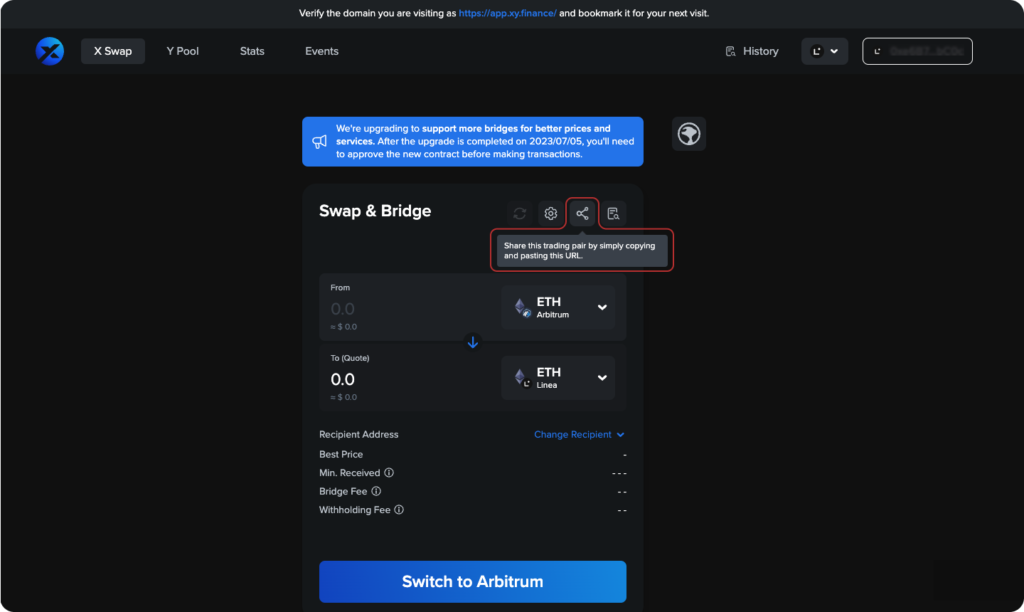 Tips: Copy the link of the trading pair and share it with other people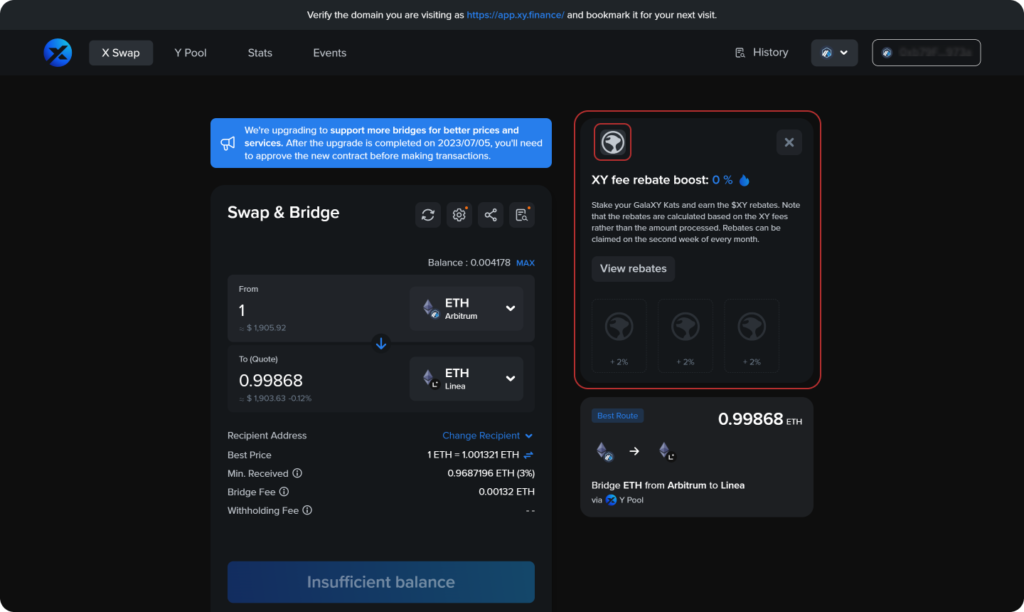 Tips: Stake GalaXY Kats NFT to Get Swap Fee Rebate
Synergising with XY Finance's NFT project – GalaXY Kats, users can stake their NFTs and get DeFi utility such as swap fee rebate while performing cross-chain swaps!
Projects to Check Out in Scroll Ecosystem
Now that you're familiar with bridging your assets to Scroll, let's dive deeper into its ecosystem. We'll explore its standout projects and uncover the potential they offer. Be aware that the information provided here is not financial advice. Prior to involvement, it's essential to DYOR !
SkyDrome Finance is a next-generation AMM designed to serve as Scroll's central liquidity hub, combining a powerful liquidity incentive engine, vote-lock governance model, and friendly user experience. SkyDrome inherits the latest features from Velodrome. SkyDrome NFTs vote to distribute token emissions and receive incentives and fees generated by the protocol.
More About SkyDrome Finance
Website | Twitter | Discord | Document
ScrollNS, an omnichain naming service on the Scroll network, built by Star Protocol, revolutionizes the interoperability of DID & blockchain domains.
More About Scroll Name Service
Website | Twitter | Discord | Medium
NFTs2Me is a generation tool that makes NFTs and Digital Collectibles accessible to everyone enabling users to create their own unique digital assets and claim ownership of their creations on the blockchain. With NFTs2Me, everyone can turn their art, photos, and videos into one-of-a-kind collectibles that can be bought and sold on the market and even showcased in virtual galleries.
More About NFTs2Me
Website | Twitter | Discord | Blog
LayerBank is an universal permissionless on-chain bank designed to thrive across the omni-chain ecosystem. At the heart of LayerBank's mission lies the unification of on-chain liquidity. Aiming to deliver the quintessential cross-chain experience, LayerBank connects the dots, linking various layers and rollup chains to create a comprehensive ecosystem where liquidity flows seamlessly, setting the stage for a new era of decentralized finance.
More About LayerBank
Website | Twitter | Discord | Document
XY Finance is dedicated to delivering premier cross-chain bridge solutions, expanding options for both users and developers to seamlessly transfer assets across leading networks. Looking ahead, we will forge strong partnerships with innovative protocols on Scroll, paving the way for DeFi power users to effortlessly navigate between networks. Stay tuned for exciting updates!
---
About XY Finance
XY Finance is a cross-chain interoperability protocol aggregating DEXs & Bridges. With the ultimate routing across multi-chains, borderless and seamless swapping is just one click away.
XY Finance Official Channels
XY Finance | Discord | Twitter | Telegram | Documents | Partnership Form