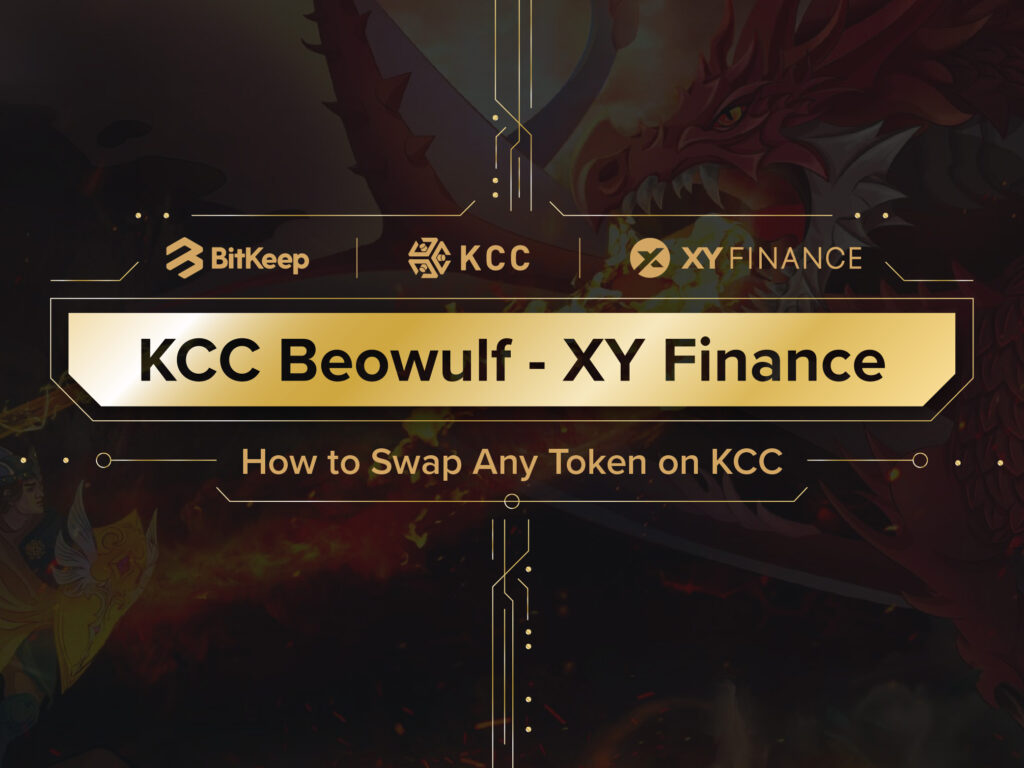 We're delighted to share that XY Finance has now been a part of a brand new cross-chain campaign "KCC Beowulf Campaign" with the whole KCC community and Bitkeep. XY Finance has long been committed to offering our users the best choice on the means of bridging tokens. Bridge to the KCC & share prizes including limited NFTs & $100,000 reward from the Beowulf Campaign, don't miss out on this rare opportunity!
About Beowulf
KCC Beowulf is a 7-week interacting activity. It is divided into 6 parts. During the event, there are 9 categories of NFTs that participants can get by completing the tasks. First, challengers shall all mint an initial character NFT. In the final part, challengers can craft final profile picture (PFP) NFTs and choose a side of two parties. XY Finance will be joining the first challenge Challenger Assembly (Cross-Chain Swap Quest) & The First Fight (Swap Tokens to KCC Quest). In this article, we will be teaching you how to complete The First Fight!
Time: 2022/10/17 10:00 (UTC+0) ~ 2022/10/23 10:00 (UTC+0)
Rewards: Limited NFTs & Chance to win from $100,000 in prize pool
NFT Mint Date: After campaign ends, follow KCC so you don't miss it
Event Rule
During this event, the Challengers have to hold the Beowulf Character NFT to participate in the following activities. If you don't have a Beowulf character NFT yet, you can mint a Beowulf character NFT here.
During this event, users can mint armor NFTs by completing specific tasks. A single address can win up to 2 limited NFTs.
How do we complete XY Finance's token swap task?
Swap at least $20 worth of any token on KCC! To be more specific, participants will need to meet the requirement of swapping tokens equivalent to at least $20 minimum "KCC-related" tokens via our Swap during the campaign to gain the necessary qualifications. You can also do the XY Finance x KCC side-quest via Quest3 👉 here 👈
Eligible trading pairs
All swaps on KCC (source & destination chain need to be KCC) will be included in volume calculations.
Swaps completed during the event period will be eligible.
Note that the following operations on XY Finance will NOT be accounted for the tickets:
The status "Completed" is not displayed for your cross-chain transfers
Swaps that do not happen on the KCC
Transfers made that fall outside the span of the campaign (before the campaign starts or after it ends)
LP operations such as adding liquidity, removing liquidity, or aggregating liquidity before the campaign ends
How to Swap on KCC
In this tutorial, we will guide you through the process for swapping with the best price on KCC so you can complete XY Finance's swap task in just a few clicks!
⓵ Visit XY Finance's Swap page
XY Finance is a one-stop cross-chain swap aggregator, allowing users to directly buy KCS and other tokens on KCC with the best price in one transaction only. Currently, XY Finance supports 14 EVM chains, including Ethereum, BSC, Fantom, Polygon, Arbitrum, Optimism, Avalanche C-Chain, Cronos, KCC, ThunderCore, Astar, Moonriver, Klaytn, and Cube.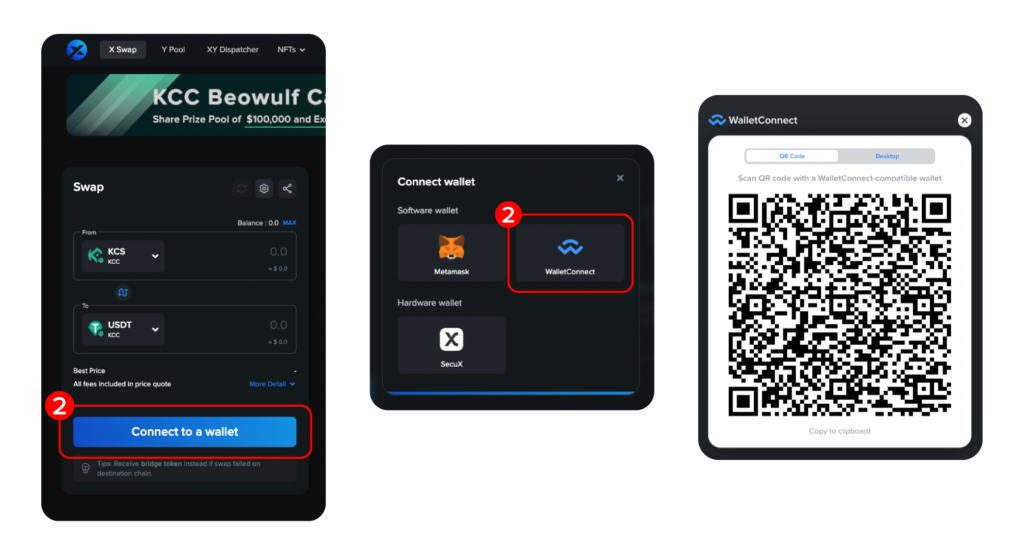 ⓶ Connect Wallet
XY Finance currently supports MetaMask, BitKeep Wallet, WalletConnect, on desktop browsers, with more types of wallets supported on mobile. Here, we're going to use BitKeep Wallet to demonstrate XY Finance's smooth and fast KCC transfer service.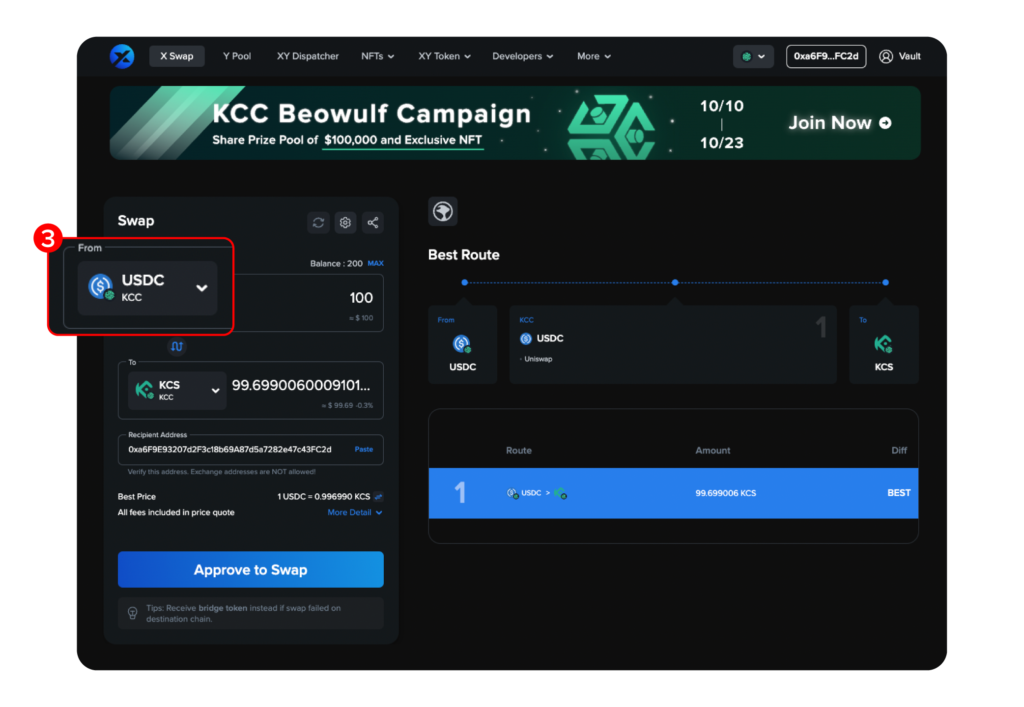 ⓷ Choose the token you want to swap and the token you want to receive on the KCC
Here, we're going to use USDC on KCC — KCS on KCC as example.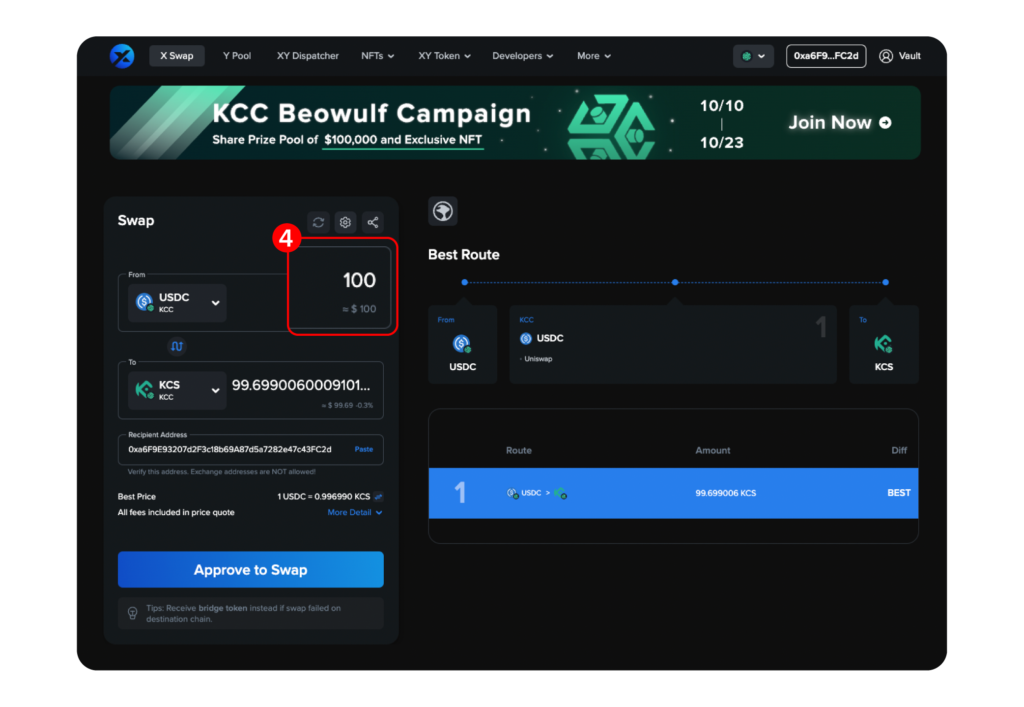 ⓸ Enter the amount of USDT you want to swap.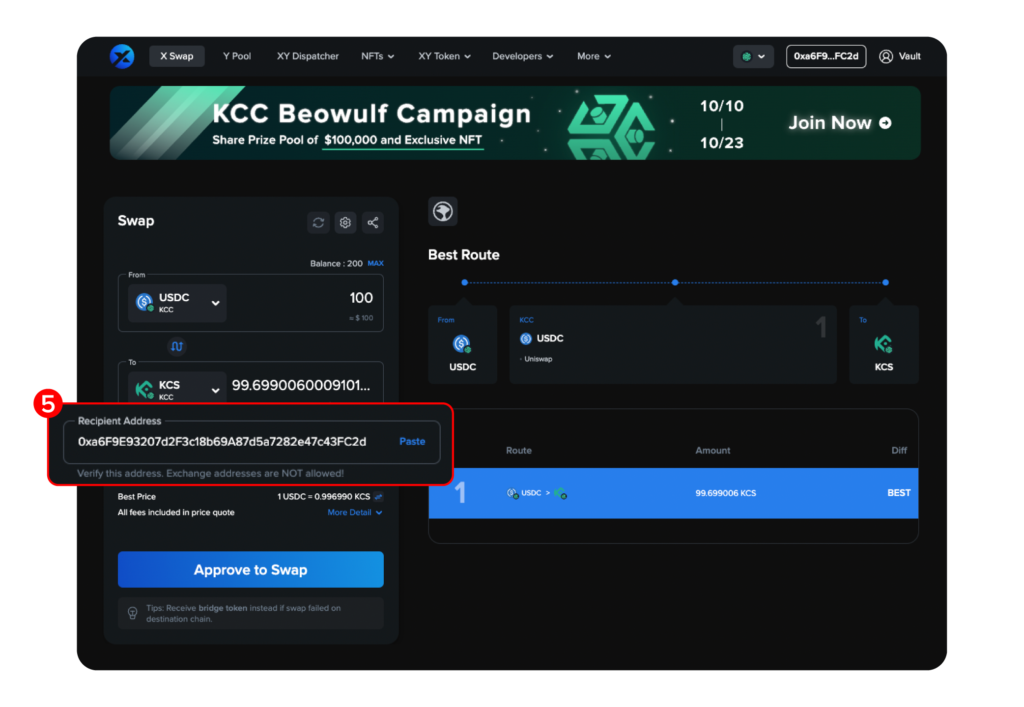 ⓹ Double check the recipient address is correct
XY Finance will display your connected wallet address by default and it also allows you to change the recipient address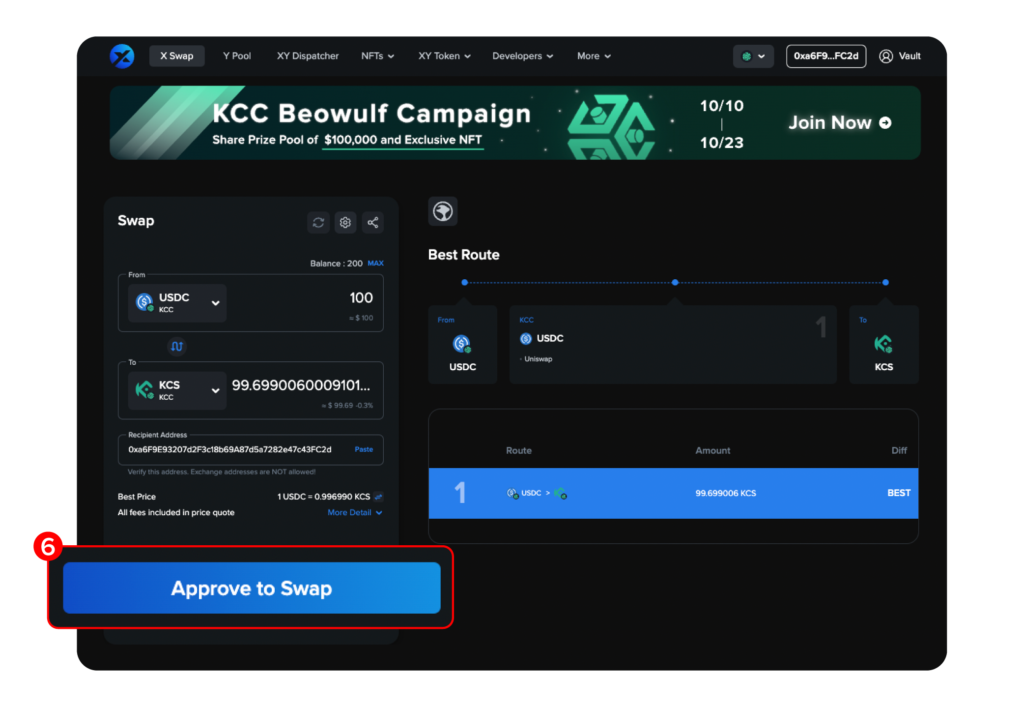 ⓺ Approve to Swap
your wallet will ask you to confirm the action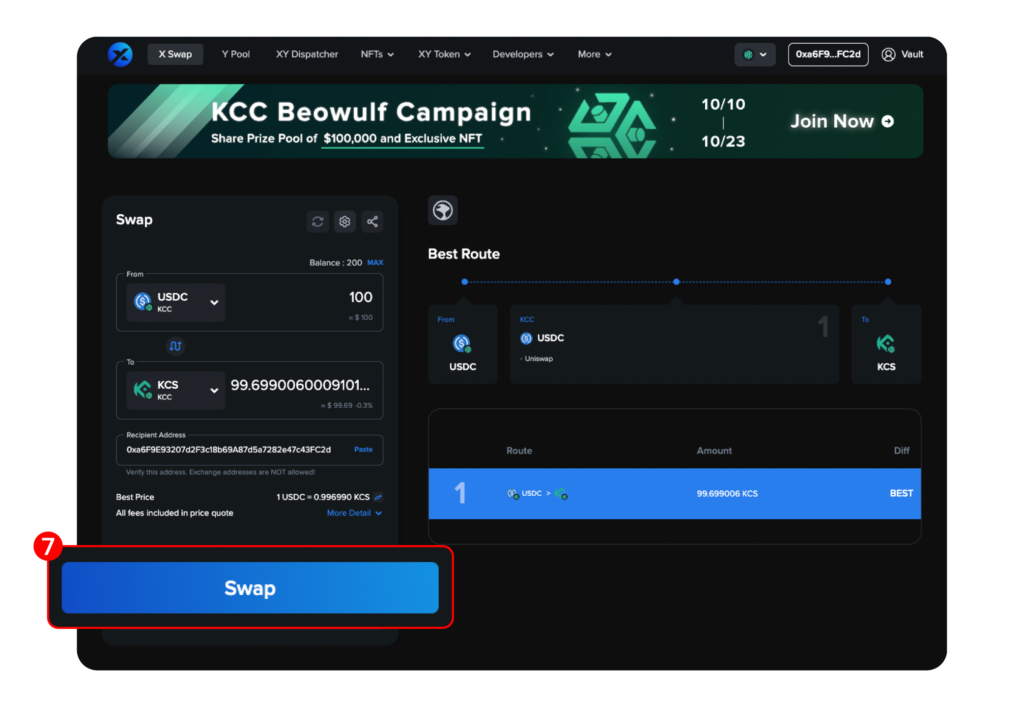 ⓻ Swap!
Confirm your transaction from your wallet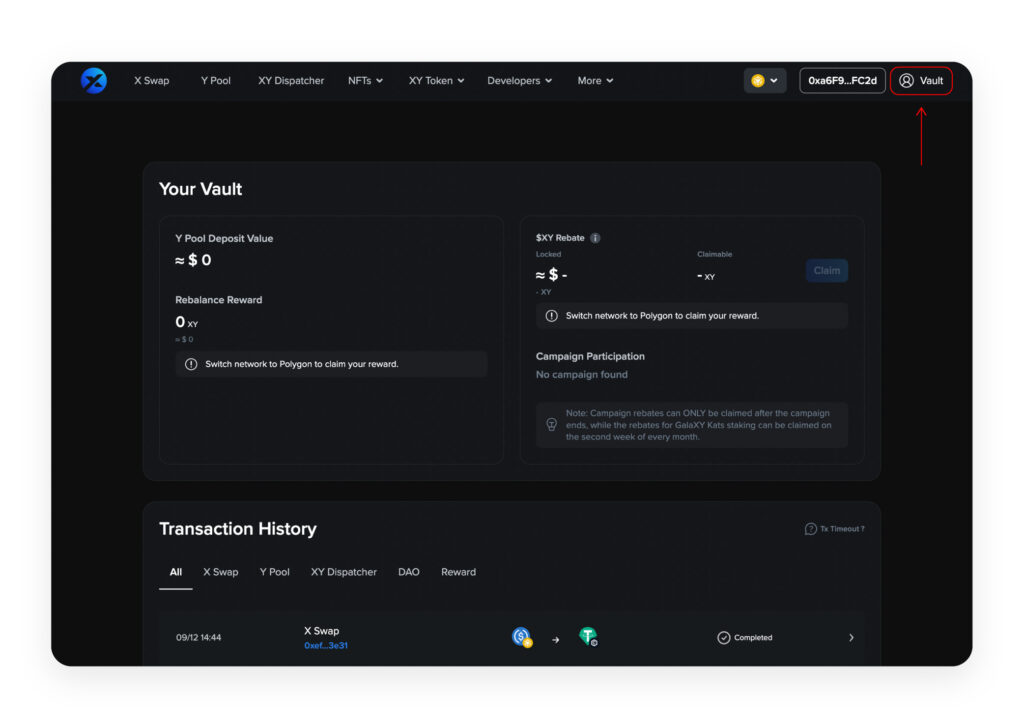 ⓼ Track Transaction History
Soon after, you will receive your KCS in your KCC wallet. XY Finance's cross-chain transfer can take around 2-5 minutes to be completed. You can check all your swap history in XY Vault!
⓽ Visit Beowulf's mission page, connect your wallet, verify & mint your Armor NFT!
How to Set Up Bitkeep for the KCC
To view your assets on the KCC on BitKeep, you'll need to configure the KCC first. Just follow the steps below:

⓵ Log in to BitKeep and click on the Blockchain section at the top of the app.
⓶ Click on "Add A Network" to add KCC's mainnet information.
⓷ Select "KCC".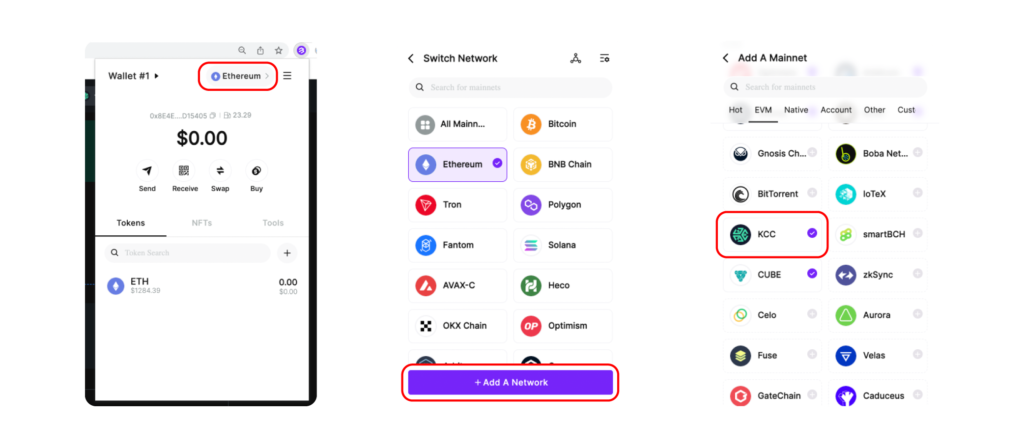 Easy-peasy aight! If you encounter any issues while depositing or withdrawing, you can open a ticket or reach out to us on Discord. Our official Alpha members will give you all the support you need!
About KCC
KCC is a public chain project initiated and built by the developer community of KCS and KuCoin, aiming to solve the network latency and high gas fees of the Ethereum network. KCC is Ethereum-based and compatible with Ethereum Virtual Machine and smart contracts to provide community users and developers with a higher-speed, more convenient and lower-cost blockchain experience.
About Bitkeep
BitKeep is a decentralized multi-chain crypto wallet dedicated to providing safe and convenient one-stop digital asset management services to users around the world. We are now serving nearly 6 million users across 168 countries. BitKeep has forged partnerships with top 30 chains including Polygon, Solana, BNB Chain, ETH, HECO, OKX Chain, TRON, Fantom, Wax, IOST, AVAX, zkSync, Terra, Near, and Arbitrum, and become their official recommended wallet. With 70+ mainnets, 10000+ DAPPs and 220,000 cryptos supported, Bitkeep aims to provide the most convenient and easy-to-use decentralized portal to users.
---
About XY Finance
XY Finance is a cross-chain interoperability protocol aggregating DEXs & Bridges. With the ultimate routing across multi-chains, borderless and seamless swapping is just one click away.
XY Finance Official Channels
XY Finance | Discord | Twitter | Telegram | Documents | Partnership Form