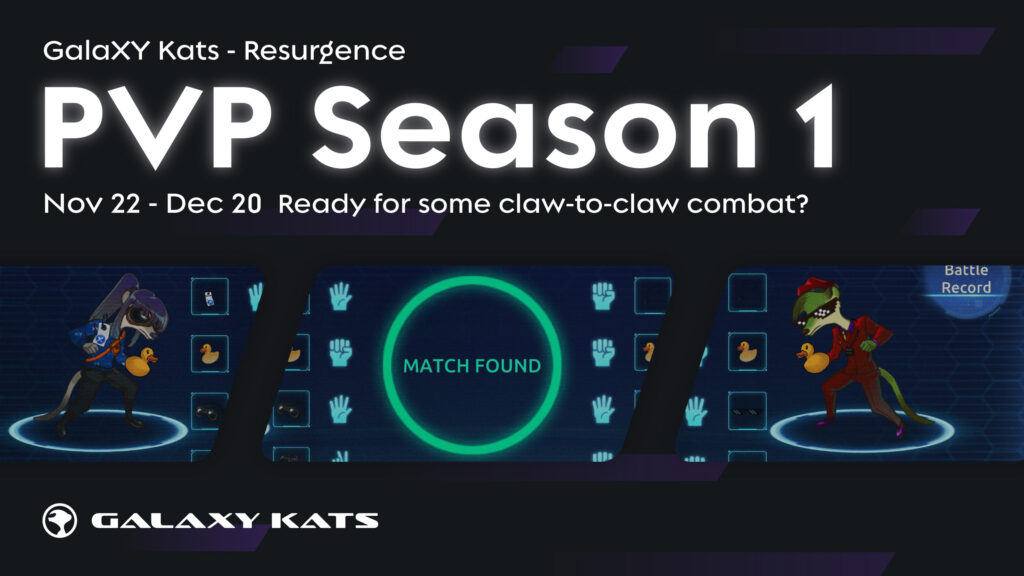 Hope you are enjoying GalaXY Kats – Resurgence so far! As part of the launch, we are introducing the new PVP (Player vs Player) mode where you will match up with another player for the combat. Through thoughtful planning, defeat your opponents in the duel to climb the rank! To celebrate the opening of the first season, we will be rewarding top 100 players on the leaderboard with $10,000+ in the prize pool. Of course the higher your rank is, the fatter your prize is! First PVP season starting soon! ARE YOU READY 🔥
GalaXY Kats – Resurgence PVP Season
🗓 Server Begin: 11/08 08:00 UTC
🗓 Season Begin: 11/22 08:00 UTC
🗓 Season End: 12/20 08:00 UTC
🏆 Prize Pool: $10,000+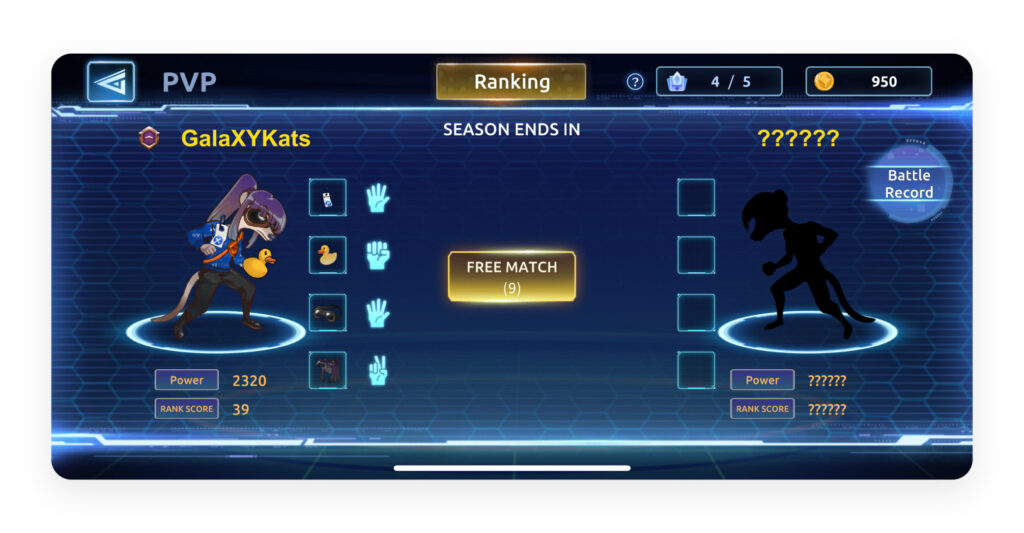 After entering the PVP mode, there are two qualities below the character: Power (combat power) & Rank Score (your score in the ranking system).
You can check out Battle Record to view your previous battles stats.
The blue icon on the upper right corner next to $KAT indicates the number of charges that the player can challenge opponents. One Battle Ticket will be recovered 4 hour.
Players will have 10 free opponents refreshes everyday.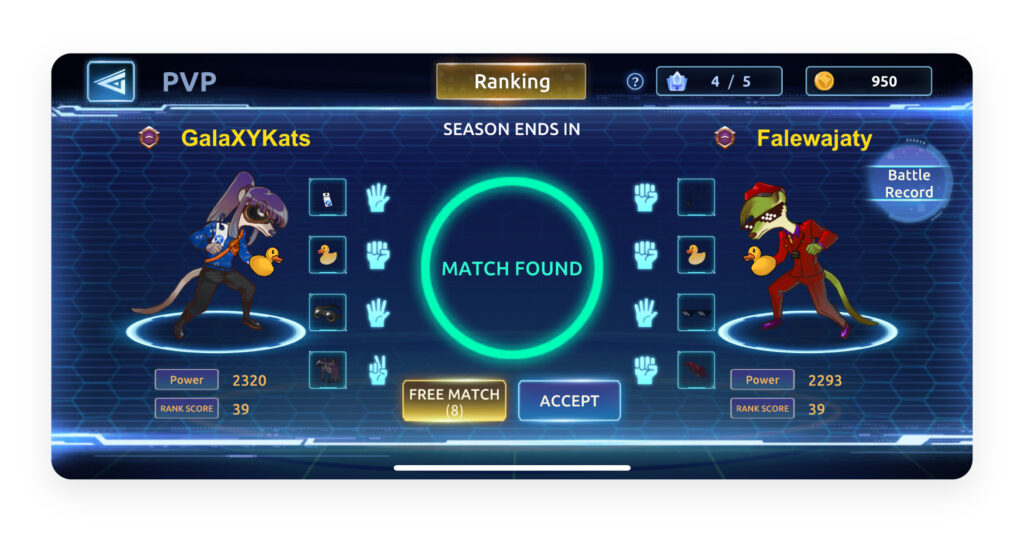 After you are matched with an opponent, you can check out your opponent's combat power & points. As you only have limited Battle Ticket, you can evaluate if you want to accept the match or not to maximize your win rate! Do note that when you are fighting against players with lower rank score, you will receive less score if you win & lose more score when you lost.
The four slots next to Kats are the equipment equipped by Kats, each piece of equipment corresponds to a gesture (rock, paper scissor), and the first two slots (accessory front, accessory back) are the "attack" parts of the character , the last two (Glasses, Head) are "defense" parts. After matching with the opponent, you can change your equipment according to their gesture combo. When the equipment is changed, the gestures as well as stats will also change. Choose your best match to use beat your opponent!
After selecting your equipment slot, click "Accept" and you can enter the automatic battle!
How to Top the Leaderboard
Players can earn $KAT to up their game, improve their level, and acquire excellent equipment in both Story Mode and Infinite Mode. In PVP Mode, each piece of equipment will be given an attribute, and gamers will need to seek combat power/equipment attribute balance to piece together the best combination to defeat the enemy!
You can also try your luck by unboxing Treasure Chest NFT, higher rarity Treasure Chest will have a higher chance to get epic or even legendary equipment. All your GalaXY Kats will be able to share all equipment in the game and you can customize your GalaXY Kats NFT in Kats Base and change the metadata as well as NFT appearance on-chain! Upgrade and diversify your equipment inventory so you can defeat your opponents in all the modes easily, top the leaderboard and take home seasonal rewards. Share with us on Discord if you found any tips & tricks 😉
Let us know if you have any tips & tricks in the game, don't be stingy and share with us on Discord!
About GalaXY Kats
GalaXY Kats is a collection of 10,000 unique meerkat NFTs on the Ethereum blockchain. GalaXY Kats aims to not only fulfill the mission as just an NFT/PFP, but also provide practical utilities to holders. Being a GalaXY Kats holder will allow you to enter our blockchain game with higher stats and even better, holders will unlock DeFi utilities such as swap fee rebate, token airdrops, and more via our XY Finance service.
GalaXY Kats Official Channels
Website | Discord | Twitter | OpenSea| Instagra
---
About XY Finance
XY Finance is a cross-chain interoperability protocol aggregating DEXs & Bridges. With the ultimate routing across multi-chains, borderless and seamless swapping is just one click away.
XY Finance Official Channels
XY Finance | Discord | Twitter | Telegram | Documents | Partnership Form