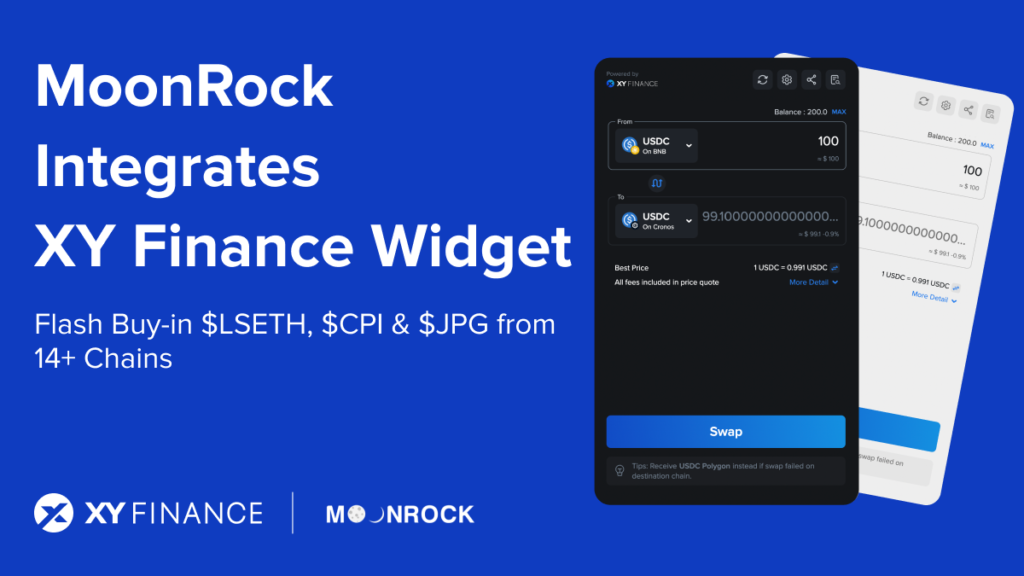 We are excited to announce that MoonRock, an index tokens provider has integrated our cross-chain widget! With this integration MoonRock users can trade $LSETH, $CPI, $JPG across 14+ chains & 120k+ tokens seamlessly on MoonRock's platform. Essentially, with the XY Finance cross-chain widget, we can help projects like MoonRock to inflow liquidity for MoonRock's tokens, attract new users and increase the project's exposure to a wider multi-chain audience!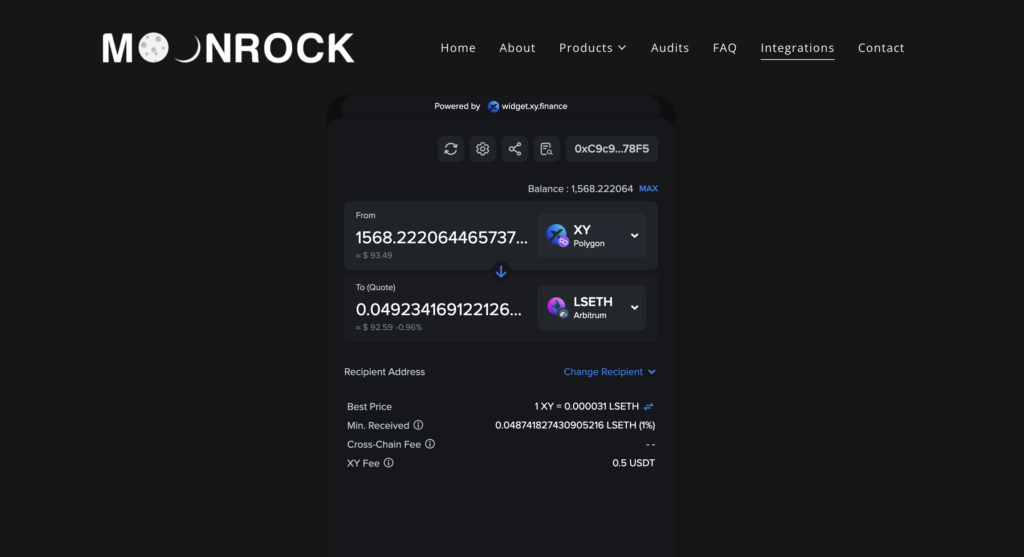 To celebrate this integration, we are launching a QuestN Giveaway 👇
🎁 100U $XY + 100U $JPG + 1 MoonRock NFT
⏰ Now – 5/08 10:00 UTC
✅ Complete all the tasks on QuestN
✅ Tag 3 friends in the tweet thread so they don't miss it!
➡️ https://app.questn.com/quest/766171488121167897
MoonRock provides cryptocurrency index tokens to help users build a diversified portfolio of digital assets. With MoonRock index tokens, users can get broad exposure to a diversified basket of cryptocurrency tokens with the convenience, simplicity and low gas costs of a single token. MoonRock has launched three index tokens – the Liquid Staked ETH index (LSETH), Consumer Price Index (CPI), and the JPG NFT Index (JPG). Their index tokens are built on the TokenSets protocol which is extensively audited.
About MoonRock's Signature Index Tokens
The Liquid Staked ETH (LSETH) index token contains an equal-weighted basket of the leading liquid staked Ether derivatives. Staked ETH tokens provide ETH staking rewards with the added benefit of liquidity. The indexing approach aims to reduce volatility and mitigate underlying protocol risk compared to holding individual tokens.
Consumer Price Index (CPI) is an inflation-adjusted token that tracks US price inflation. The CPI token includes a basket of tokens that track the US Consumer Price Index to reduce volatility from holding individual tokens. Additionally, the CPI token includes a buffer of interest-bearing stablecoins to further reduce volatility.
The JPG index token provides a fully-backed, diversified collection of blue-chip and premier NFT collections through a single liquid index token. All of the components of JPG are fully-collateralized by and redeemable for fungible versions of NFTs and NFT collections. Through a unique curation model, the JPG and Collectooors NFT token holders vote on which future collections to acquire, adding additional value to JPG ownership.
Benefits of MoonRock's Index Tokens:
Simple: Index tokens provide broad exposure to a basket of cryptocurrencies through a single convenient token
Cost effective: Experience lower transaction costs by purchasing one index token as opposed to multiple tokens
Liquid: Index tokens are liquid and readily tradable on a decentralized exchange
Fully Collateralized: All index tokens are 100% backed by the underlying tokens and can be permissionlessly minted or redeemed at any time
Automated Rebalancing: Indexes automatically rebalance without the holder having to pay transaction costs
Audited: The smart contracts have been extensively audited and battle-tested across multiple products
With XY Finance's cross-chain widget, MoonRock users can now trade tokens of their choice from all 14+ chains we supported to MoonRock's index tokens effortlessly and build a diversified portfolio of digital assets with us!
More About MoonRock
Website | MoonRock Widget | Discord | Twitter | Telegram | Medium
What is XY Finance & Cross-Chain Widget?
XY Finance is a cross-chain interoperability protocol aggregating DEXs & Bridges. For users, XY Finance provides cross-chain solutions in which users can bridge and swap any tokens seamlessly across all the chains we currently support. As of the time of writing, XY Finance has integrated 14 chains, 270+ DEXs and 270k+ tokens! For developers, XY Finance's cutting-edge APIs & widgets help power cross-chain bridging and swapping solutions that enable projects to connect with various chains and networks to inflow more liquidity and create more new use cases.
For users, try out Swap to bridge & swap with the most seamless cross-chain experience
👉 XY Finance Cross-Chain dApp

For developers who are ready to hop into the multichain world & engage more users on 14+ chains
👉 Introducing XY Finance Cross-Chain Widget
👉 Widget Integration Developer Document 
👉 Fill this form
Supporting promising projects like MoonRock to expand its outreach to the multi-chain space is what we do at XY Finance and we can't wait to onboard more projects & users to the multi-chain world with XY Finance cross-chain widget!
---
About XY Finance
XY Finance is a cross-chain interoperability protocol aggregating DEXs & Bridges. With the ultimate routing across multi-chains, borderless and seamless swapping is just one click away.
XY Finance Official Channels
XY Finance | Discord | Twitter | Telegram | Documents | Partnership Form