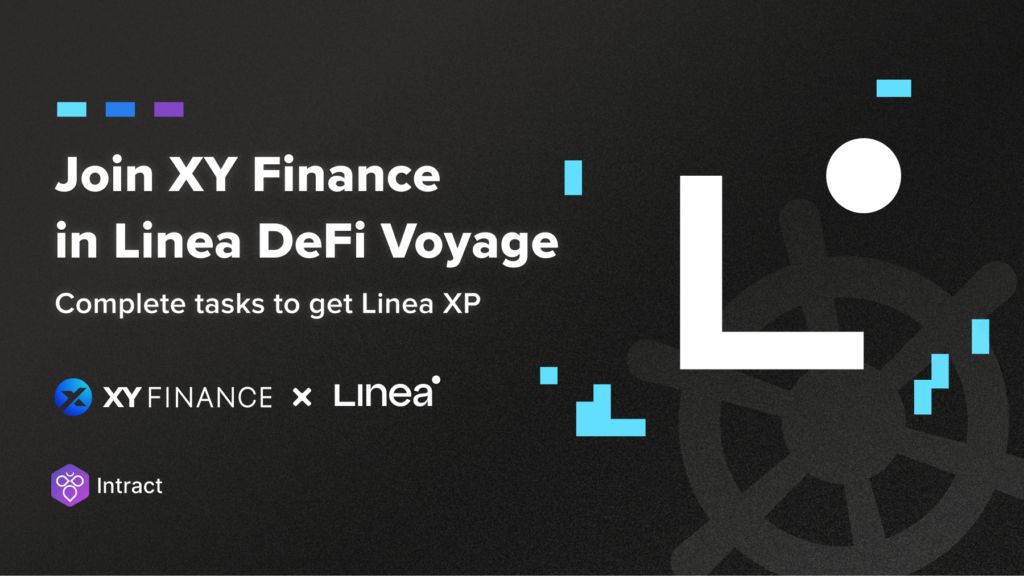 Linea's DeFi Voyage is now live! Ready to join XY Finance on Intract, embark on a journey into Linea ecosystem and get some Linea Voyage XP along the way 😉 Linea DeFi Voyage aims to bring everyone from web3 newcomers to seasoned investors an intuitive, immersive, and educational DeFi experience, don't miss out on this!
Linea DeFi Voyage
As a part of the Linea community, XY Finance is excited to join this Voyage and onboard more DeFi natives into Linea ecosystem. Join Linea's DeFi Voyage Bridge Wave on Intract with XY Finance and get some Linea Voyage XP along the way!

⌛ 2023/12/04 – 2023/12/13 10:00 UTC
🔥 6 weeks, 10 waves, 10 core tasks with more than 80 DeFi dApps
🎁 Collect Linea Voyage XP

Task 1 – Liquidity Provision and Yield Farming
🔸 Provide liquidity of at least $25 in one transaction on Linea via XY Finance. 
Task 2 – Bonus Tasks for Extra XP!
1️⃣ Provide liquidity for a RWA or LST pair (list inside) on supported DEXs (at least $25 deposited finally, in total) in one transaction on Linea
2️⃣ Provide at least $25 liquidity to a ve(3,3) stable pool, promoting the use of advanced AMM models.
3️⃣ Provide liquidity to a single sided LP (list inside) on supported DEXs (at least $25 deposited finally, in total) in one transaction on Linea
4️⃣ Review XY Finance on DappSheriff
💡 Each task is a step towards mastering the Linea network. Embrace the challenge, enjoy the rewards, and solidify your presence in the Linea DeFi Voyage!
Tutorial of Depositing & Withdrawing From Linea Pool on XY Finance
📝 Please note that yBridge utilizes an omnichain mechanism to operate bridge pools on our supported chains. Depositing and withdrawing from the yBridge pool involve two transactions each. Upon initiating a deposit, the first transaction involves sending your deposit to our vault contract. The second transaction our vault contract will issue xyETH or xyUSDC, a yield-bearing deposit certificate to your wallet.
📝 Due to network congestions or other reasons, if your transaction takes longer to be processed, you can monitor all XY Finance's Linea contracts in our doc. All transactions will be completed eventually.
Deposit (Provide Liquidity)
1. Visit XY Finance yBridge page & connect your wallet
2. For Linea, you can choose to deposit in ETH or USDC pool depending on your portfolio & APY.
3. Enter the pool, select the drop down box and choose USDC or ETH on Linea
4. Enter the amount of ETH or USDC you wish to deposit
5. Click "Deposit", confirm deposit and sign the message from your wallet
6. Wait 3 – 5 minutes for the deposit to be completed!
7. You can track the status of your deposit in this History page.
Withdraw (Remove Liquidity)
1. Visit XY Finance yBridge page & connect your wallet
2. Enter the pool and click on the Withdraw button next to Deposit
3. Select ETH or USDC on Linea, enter the amount of xyETH or xyUSDC you wish to withdraw
4. Approve to withdraw and sign the message (approve token) from your wallet
5. Confirm withdrawal and sign the message (approve transaction) again
6. Just have to wait 3 – 5 minutes for your withdrawal to be completed
7. You can track the status of your withdrawal in this History page, you will also get notification with the complete transaction hash once your withdrawal is processed!
Tutorial of Bridging to Linea with XY Finance
Add Linea to Metamask through Chainlist.
Visit XY Finance and connect your Wallet.
Select the network you want to transfer tokens from (Ethereum, Polygon, Arbitrum, Avalanche, Optimism + 15 others).
Select the token you want to bridge from your network to Linea and input the amount.
Review and confirm the transaction. Your tokens will arrive in under 5 minutes.
By joining the Linea DeFi Voyage, you're not only exploring the innovative capabilities of Linea but also increasing your wallet interactions on Linea. It's a journey of learning, building, and reaping the rewards of a growing DeFi ecosystem. Join us on this exciting voyage and become a part of Ethereum's scalable future!
What is Linea Voyage XP?
XP is essentially a measure of that contribution.
By participating in Voyage activations (such as the Testnet Voyage and the Entertainment Festival), and supporting community development, dapps and users both contribute to strengthening the Linea ecosystem, thereby becoming its most important stakeholders.
Apart from being a measure of contribution to building Linea into a robust and secure L2 network, Voyage XP will also make owners eligible for benefits such as
Receiving official community roles
Exclusive Linea swag
More to be unveiled
For more about Linea Voyage XP
🔗 https://linea.mirror.xyz/j7P0U-vNf-OQlb_p0BRjmRNfqmtoqgE-FYOwj3hA8CM
Why Join the Linea DeFi Voyage
Linea is not just about scaling Ethereum; it's also about immersing the community in the DeFi ecosystem. Linea DeFi Voyage is an initiative to engage users and developers in a "quest-like" exploration of Linea and its partner dApps. Participating in the Linea DeFi Voyage is an opportunity to earn Linea XP, gain proficiency in Linea, and enjoy fast, affordable cross-chain experiences provided by XY Finance.
This experience is essential for anyone looking to delve deeper into the DeFi world, from newcomers to experienced investors.
Introducing Linea: A New Era for Ethereum Developers
Linea, powered by ConsenSys, represents a breakthrough in Ethereum scaling solutions. As a developer-friendly zk-Rollup, it paves the way for a new generation of decentralized applications (dApps). Now, developers and users alike are invited to explore the potential of Ethereum's scalability on Linea.
Linea's launch has already seen remarkable progress, with over 1.5 million transactions in just the first few weeks of its private testnet.
More About Linea & the Ecosystem
🔗 How to Cross-Chain Swap From 16+ Blockchains to Linea via XY Finance Bridge Seamlessly
---
About XY Finance
XY Finance is a cross-chain interoperability protocol aggregating DEXs & Bridges. With the ultimate routing across multi-chains, borderless and seamless swapping is just one click away.
XY Finance Official Channels
XY Finance | Discord | Twitter | Telegram | Documents | Partnership Form