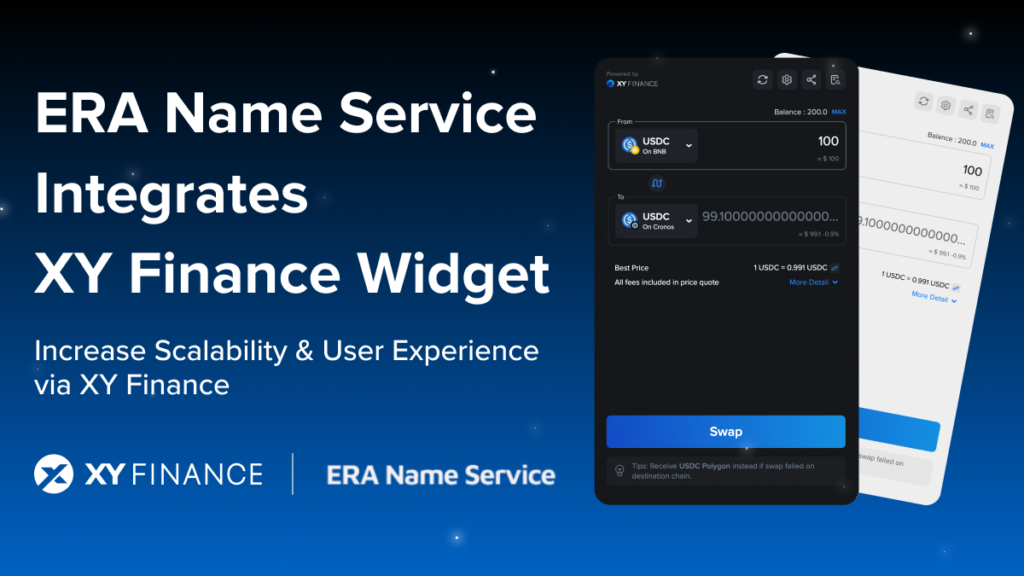 🎉 Celebrating ERA Name Service integrated XY Finance cross-chain widget
🏆 $100 $XY + $100 $ERA / 10 Winners
⏰ Now – 5/29 10:00 UTC
📝 Complete all the tasks on QuestN to claim NFT
✅ Tag 3 friends in the tweet thread so they don't miss it!

We are thrilled to announce that ERA Name Service, a decentralized naming service developed on zkSync Era has integrated our cross-chain widget. XY Finance is now empowering more ERA NS users to be on board to the $ERA ecosystem. With this integration ERA NS users can trade $ERA from 120+ token on 16+ chains seamlessly on ERA NS platform. Didn't receive $ERA airdrop earlier in May 2023? It's fine, get your $ERA via XY Finance now 😉
ERA Name Service is a decentralized naming service developed on zkSync Era. ERA NS aims to provide web3 with an online identity solution that only requires a one-time payment for ownership, fair launch, distribution, and next-gen domain utility. Currently there are more than 50,000 .era owners, if you are zkSync Era fan, get your domain name now with ERA NS!
$ERA was launched by ERA Name Service on 2023/05/21, at the time of writing there are 153,157,385.221 $ERA staked with 365% APY. The current price of $ERA is $0.004018, and the average daily trading volume is $11.8k. Moreover, 50% of $ERA will be distributed through airdrops, highlighting the project's strong focus on community involvement. Users of the ERA Name Service upon receiving these airdrops, can seamlessly exchange $ERA via XY Finance.
$ERA Utilities
✅ Governance and utility token of ERA Name Service
✅ Stake $ERA to earn rewards
✅ Receive a share of the platform fees
To know more about how to use XY Finance to bridge your assets to $ERA, you can check out this tutorial!
🔗 How to Bridge Assets Across 16+ Blockchains via Swap
More About ERA Name Service
Website | Twitter | $ERA Staking
What is XY Finance & Cross-Chain Widget?
XY Finance is a cross-chain interoperability protocol aggregating DEXs & Bridges.
For users
XY Finance provides cross-chain solutions in which users can bridge and swap any tokens seamlessly across all the chains we currently support. As of the time of writing, XY Finance has integrated 16 chains, 280+ DEXs and 270k+ tokens!
For users, try out Swap to bridge & swap with the most seamless cross-chain experience
👉 XY Finance Cross-Chain dApp
For developers
XY Finance's cutting-edge APIs & widgets help power cross-chain bridging and swapping solutions that enable projects to connect with various chains and networks to inflow more liquidity and create more new use cases. Let us do the work so you can sit, relax and on board more multi-chain users!
Ready to hop into the multichain world & engage more users on 16+ chains
👉 Introducing XY Finance Cross-Chain Widget
👉 Widget Integration Developer Document
👉 Fill this partnership form
Supporting promising projects like ERA Name Service to expand its outreach to the multi-chain space is what we do at XY Finance and we can't wait to onboard more projects & users to the multi-chain world with XY Finance cross-chain widget!
---
About XY Finance
XY Finance is a cross-chain interoperability protocol aggregating DEXs & Bridges. With the ultimate routing across multi-chains, borderless and seamless swapping is just one click away.
XY Finance Official Channels
XY Finance | Discord | Twitter | Telegram | Documents | Partnership Form