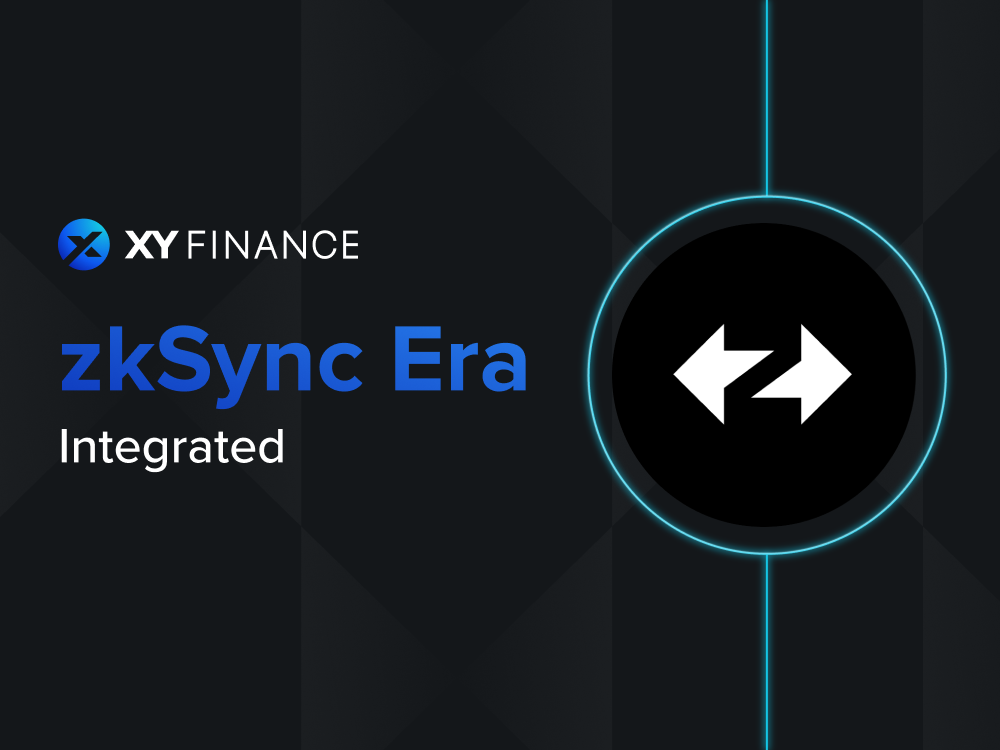 XY Finance x zkSync Era
We're thrilled to announce that XY Finance now integrates and supports zkSync Era! In the first stage, users can:
✅ Easily bridge & swap 120k+ tokens across 16 chains to zkSync Era via XY Finance.
✅ Become a liquidity provider to XY Finance's own bridge (USDC & ETH pool) and earn rewards.
✅ Batch send any tokens following ERC20 standards across all supported chains including zkSync Era to hundreds of addresses in one transaction.
Bridge & swap your assets to zkSync Era seamlessly
👉 XY Finance Cross-Chain dApp
For more information on how to become a liquidity provider & the benefits, you can check out this XY Blog
👉 ETH Pool Now LIVE, Provide Liquidity to Earn More!
This integration opens up a plethora of exciting opportunities for XY Finance users, enabling you to experience lightning-fast cross-chain experience, reduced fees, enhanced security and boundless opportunities in zkSync Era's promising ecosystem. Supporting zkSync Era marked a crucial milestone of XY Finance's effort in stepping into zkRollup game, we will continue to build and offer more cross-chain options for our users! More events with zkSync Era rolling out soon (did someone say Galxe, zkSync, NFT?) stay tuned so you don't miss it!
zkSync Era is a layer 2 scaling solution that utilizes zkRollup technology, offering significant benefits to users and developers within the Ethereum ecosystem. By bundling multiple transactions into a single proof, zkSync Era achieves high scalability, drastically reducing the load on the Ethereum mainnet and lowering gas fees. Moreover, zkSync Era ensures the same level of security as Ethereum, thanks to its use of zero-knowledge proofs. This technology allows users to enjoy fast, and cost-effective transactions without compromising on security.

More About zkSync Era
Website | Twitter | Blog | Telegram

How to On-Chain or Cross-Chain Bridge Your Assets to zkSync Era Tutorial
Currently, XY Finance has supported 16 chains, covering nearly 98% of EVM chains including: Ethereum, zkSync Era, Polygon zkEVM, BSC, Fantom, Polygon, Arbitrum, Optimism, Avalanche C-Chain, Cronos, KCC, ThunderCore, Astar, Moonriver, Klaytn, more zkRollups & Non-EVM chains joining soon!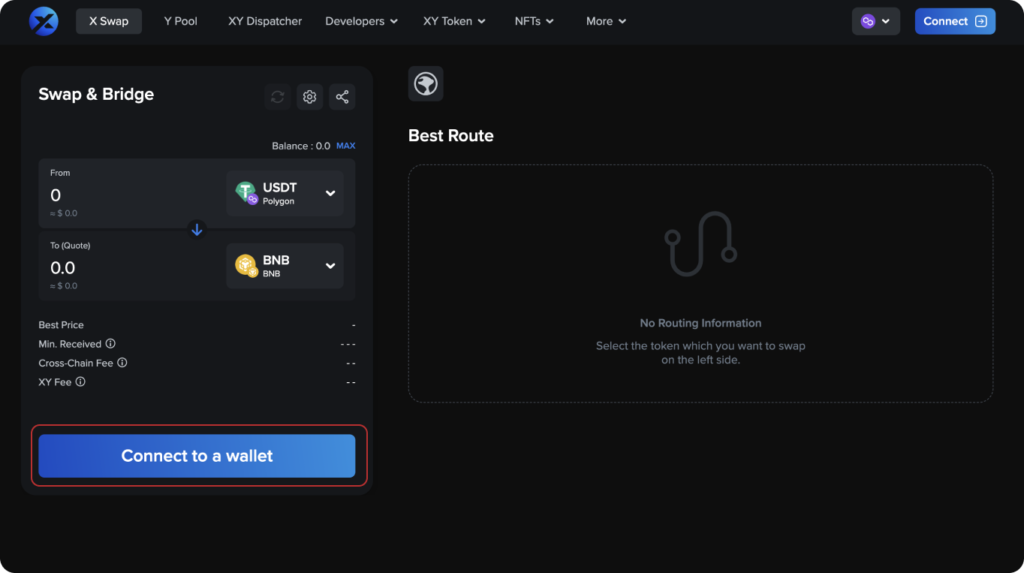 ⓵ Visit Swap Page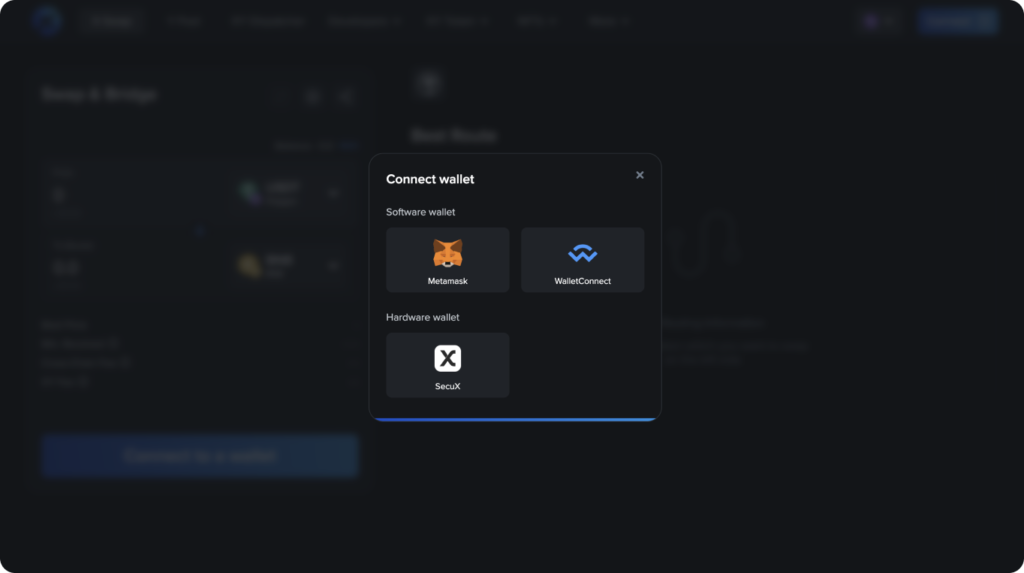 ⓶ Connect Your Wallet
Connect your Web3 wallet through MetaMask 🦊 or WalletConnect 📡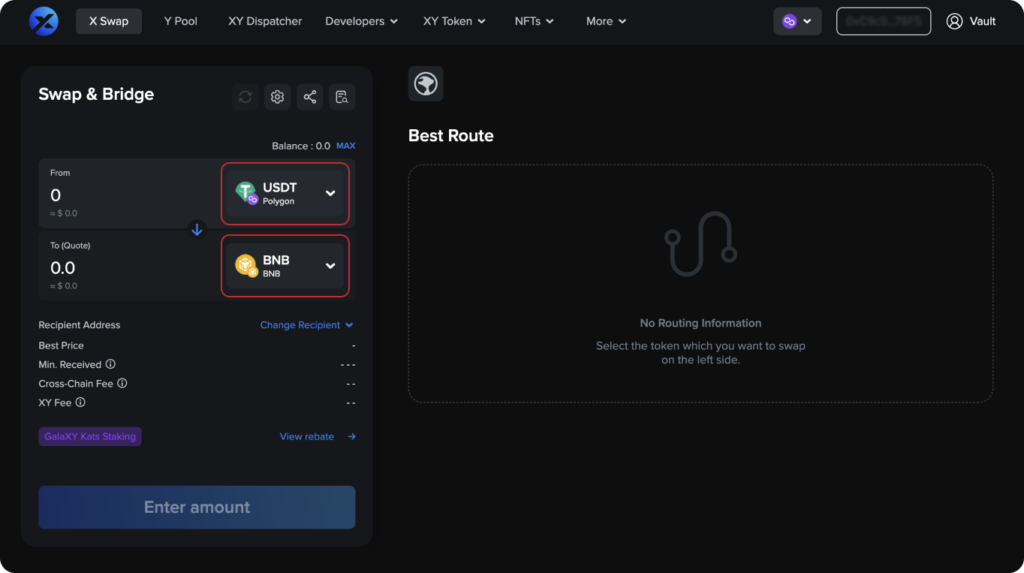 ⓷ Select the Tokens & Chains You Wish to Swap
Cross-chain or single-chain swap are both available, in this tutorial, we will be swapping USDT on Arbitrum to ETH on zkSync Era.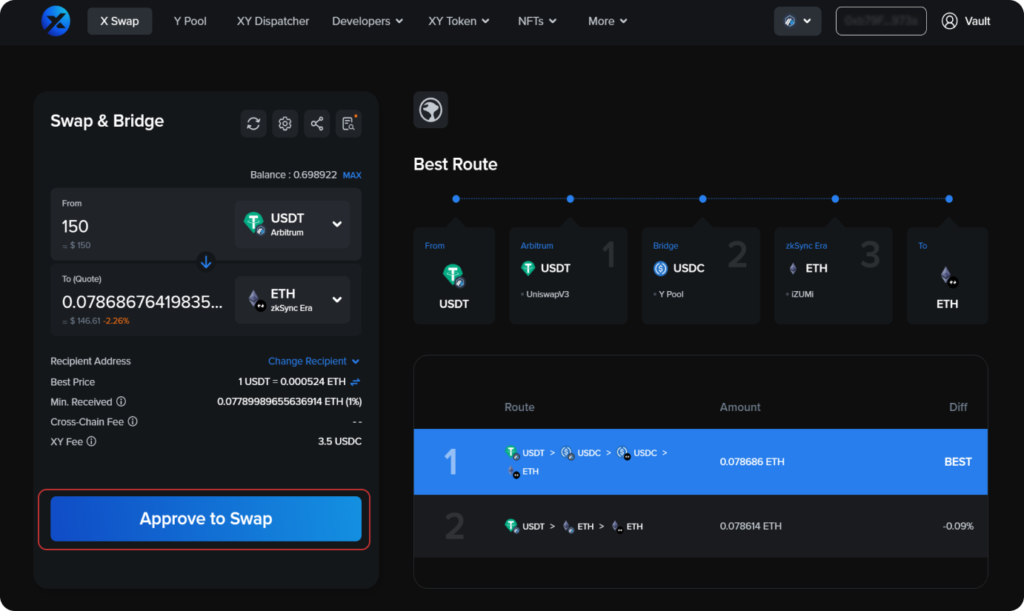 ⓸ Approve to Swap
Upon selecting the tokens on both the source and the target chain as well as the amount you wish to swap, the interface will display the best rate you can get for this transaction and how the token is going to be bridged. XY Finance will display your connected wallet address by default and it also allows you to change the recipient address. Click "Approve to Swap" and sign the message from your wallet.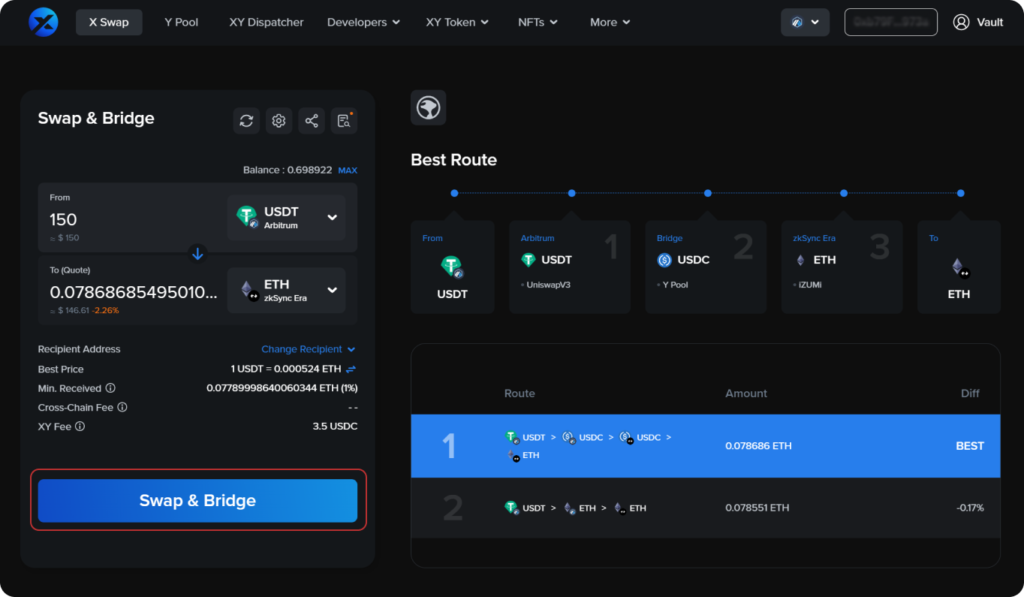 ⓹ Double Check Swap Details & Swap!
Don't forget to confirm your transaction from your wallet again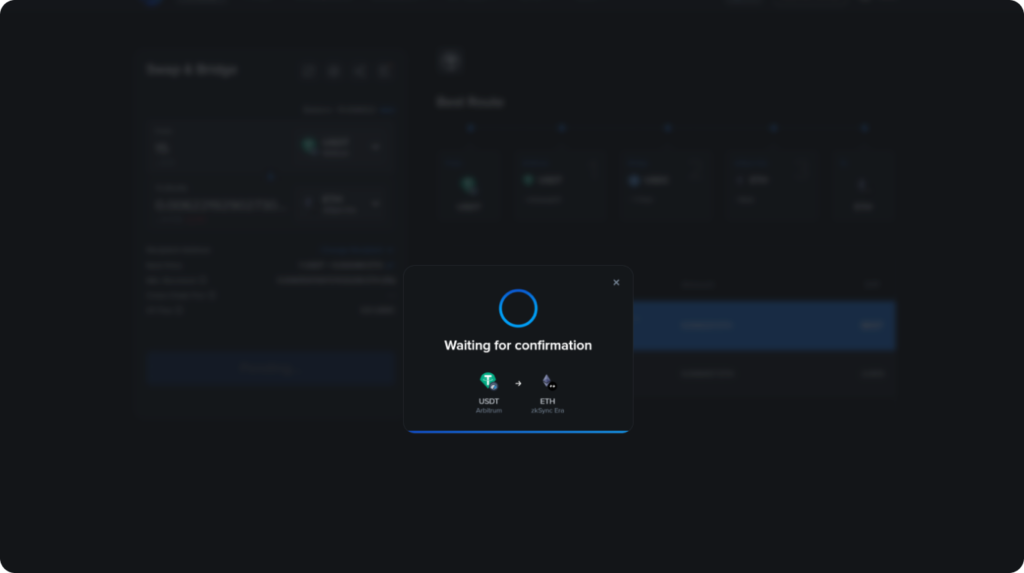 ⓺ Wait For the Transaction to Be Completed
You can also track the process on zkSync Era's scan such as zkscan.io.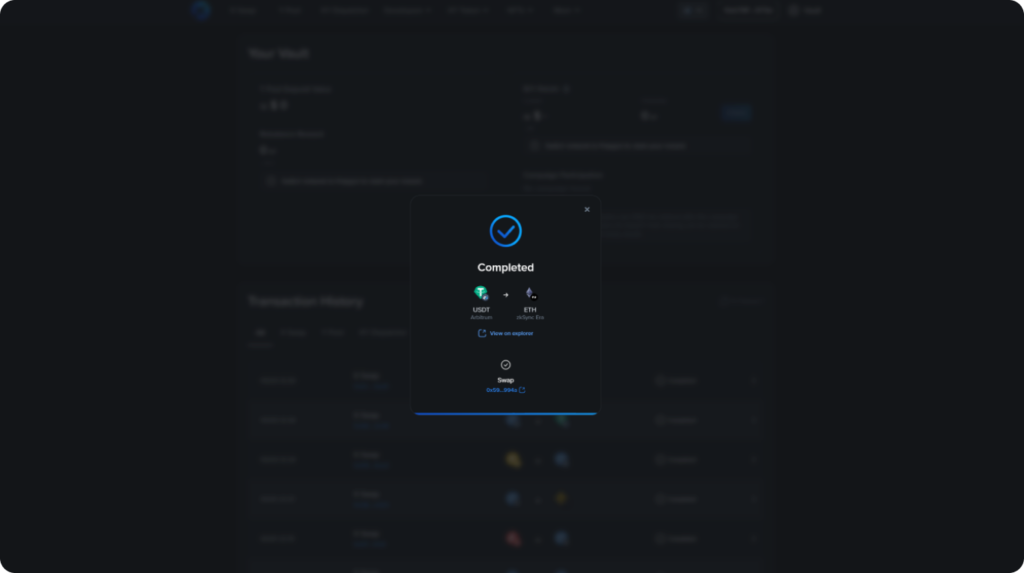 ⓻ Your Transaction Is Completed!
With each swap being completed, you will be notified of whether or not the transaction is successfully executed. Voila, it is this easy to use XY Finance to bridge your assets to the zkSync Era!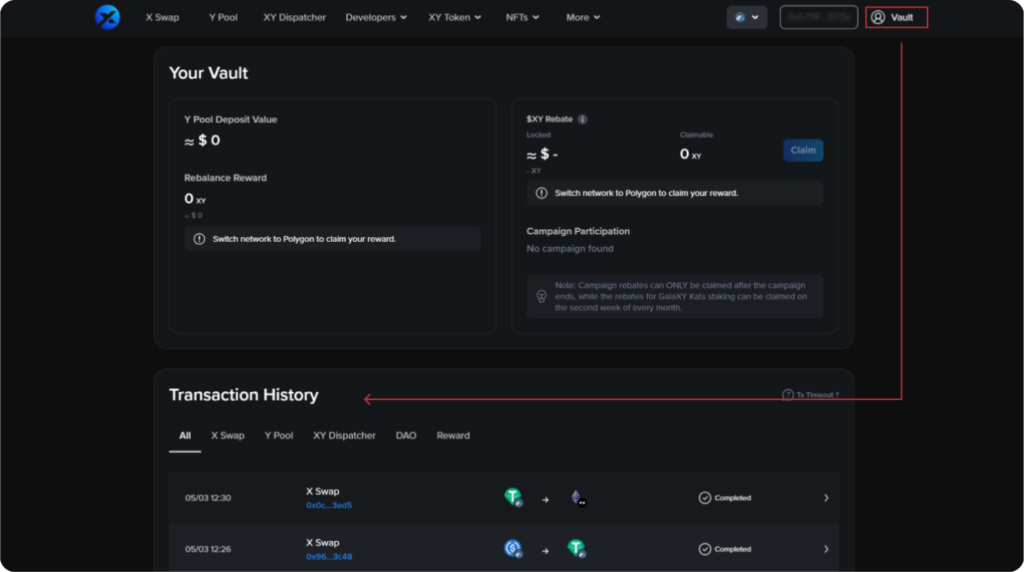 Tips: Check Vault For All Transactions
You can track all your transactions in the Vault on the top-right corner of the web page. *As the data is saved in the cache, do note that if you use different devices with the same wallet address, it will only show the transactions completed on that device.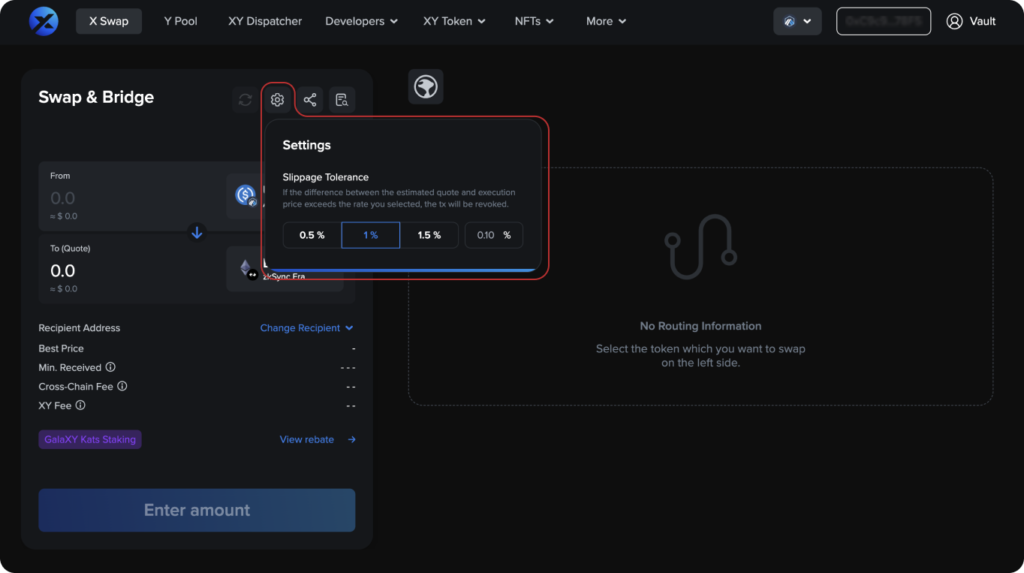 Tips: Customize Slippage Setting
Slippage Tolerance is the price difference between the price at the confirmation time and the actual price of the transaction you are willing to accept when swapping.

If the difference between the estimated quote and execution price exceeds the rate you selected, the tx will be reverted and users will receive pool tokens on the destination chain.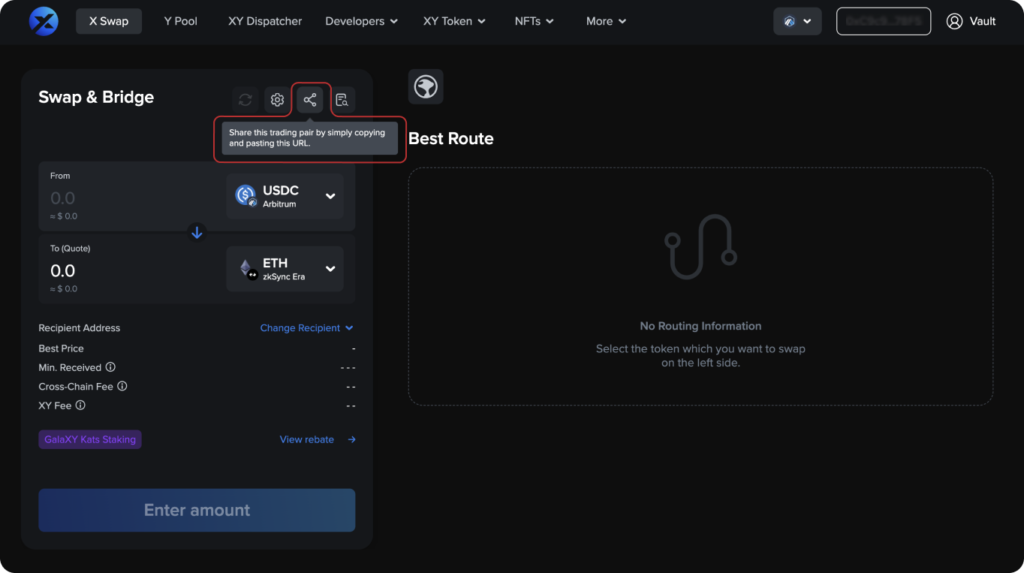 Tips: Copy the link of the trading pair and share it with other people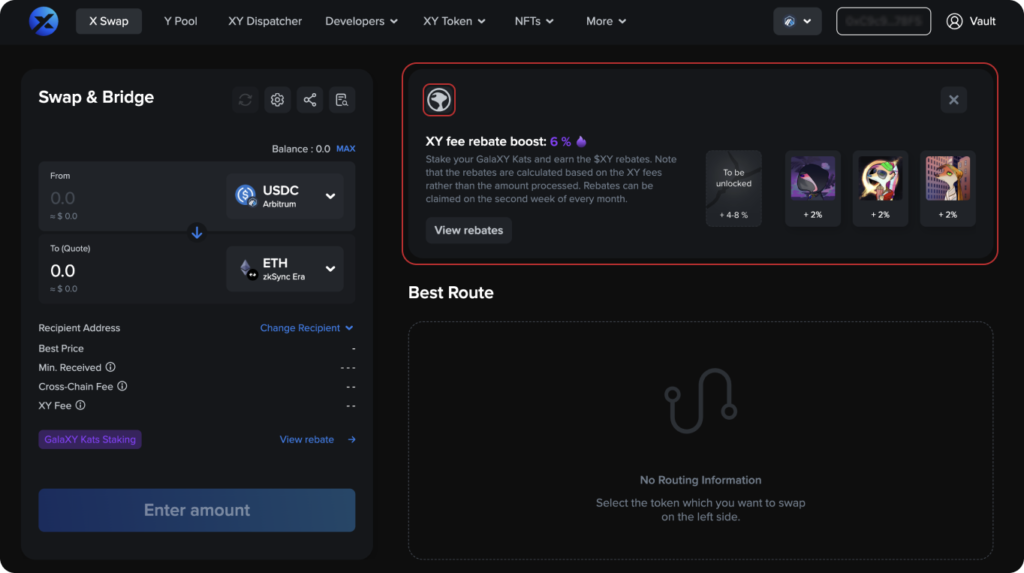 Tips: Stake GalaXY Kats NFT to Get Swap Fee Rebate
Synergising with XY Finance's NFT/GameFi project – GalaXY Kats, users can stake their NFTs and get DeFi utility such as swap fee rebate while performing cross-chain swaps!
Main Players in zkSync Era Ecosystem
Now we know how to on-chain or cross-chain swap your assets to zkSync Era, want to partake in the DeFi opportunities offered by zkSync Era's ecosystem? Let's delve deeper into it, explore the main projects on zkSync Era and what we can do in its promising ecosystem. Please note that the following information is not financial advice, dyor before engaging!
SyncSwap is a seamless decentralized exchange (DEX) and the biggest DEX on zkSync Era. The protocol is designed to be the exchange layer and a solution to liquidity in the zkSync Era. XY Finance has integrated SyncSwap along with our in-house bridge, we can offer more cross-chain routes to provide our users with the best cross-chain rate. Currently on SyncSwap, users can swap assets on zkSync Era mainnet, testnet, Scroll Alpha & Polygon zkEVM testnet.
More About SyncSwap
Website | Twitter | Mirror | Document
ReactorFusion, a native lending and borrowing market in the zkSync Era is based on Compound Finance and offers unique bribe-reward tokenomics. By combining these powerful elements, ReactorFusion paves the way for a clear, logical, and innovative approach to DeFi lending markets in the zkSync Era ecosystem.
More About ReactorFusion
Website | Twitter | Medium | Document
Nexon Finance is building the first native suite of lending products on zkSync Era. Nexon is designed to maximize the capital efficiency of lending & borrowing crypto assets while minimizing the risks associated with the dependency on external liquidity & oracles. The protocol will support almost all the crypto tokens in its P2P money markets.
More About Nexon Finance
Website | Twitter | Medium | Document
Overnight Finance is an asset management protocol offering passive yield products based on delta-neutral strategies, primarily for conservative stablecoin investors.
Overnight Finance specialized in delta-neutral strategies. Core products include
USD+ – a 1:1 USDC pegged token with a daily profit payout
ETS – delta-neutral yield generating strategies
Insurance – reserves allocated to cover the first loss on USD+
More About Overnight Finance
Website | Twitter | Blog | Document
zkBoost is a decentralized launchpad that allows users to launch their own token and create their own initial token sale on zkSync Era. After launching tokens on zkBoost, projects can list their tokens on XY Finance to open up more opportunities enabling trading of the tokens across all the chains we supported.
More About zkBoost
Website | Twitter | Blog | Document
Mint Square is an NFT Platform on Ethereum Layer 2 ZK Rollups. Mint Square is aiming to build the best multi-chain ZK Rollup NFT marketplace, onboarding the next 100 million people to mint and trade NFT assets.
More About Mint Square
Website | Twitter | Discord
What XY Finance Can Offer For Projects & Developers on zkSync Era
XY Finance offers a robust cross-chain bridging and swapping solution that enables projects to connect with various chains and networks, our services include (but not limited to, let us know what you need, we will build!)
1. List Your Token on Our Cross-chain Swap Swap
2. Connect Your Chain/Sidechain/Subnet/Supernet with Major Ecosystem 
3. Bridge Your Token to Different Chains
4. Provide Technical Support for Widget & API Integration
5. Cross-Chain Deposit / Stake / Farm
By integrating XY Finance cross-chain API, widget or listing your tokens, projects can optimize their products or services by:
✅ Trade Limitlessly & Seamlessly: Allows users to trade on-chain or cross-chain the tokens they want via assets across 16 chains along with all DEXs we integrated, yes we do the work for you so you don't have to!
✅ Instant Buy-in and Onboard Users from Any Chain: Helps attract new users and increase the project's exposure to a wider audience.
✅ Optimize User Experience: Users are just a few clicks away from onboarding your project, and it can happen all inside your platform with the best cross-chain rate & route in one swap. This can make trading more attractive to users and can synergize with the service your project offers for a better user flow.
For developers who are ready to hop into the multi-chain world & engage more users on 17+ chains
👉 Introducing XY Finance Cross-Chain Widget
👉 Widget Integration Developer Document
👉 Partnership Form
XY Finance is committed to optimize our cross-chain service and offer more options for users to bridge their assets across the best blockchains in the web3 world. In the future, XY Finance will work closely with promising protocols on zkSync Era to jointly open up more gateways for Web3 users to travel across different networks, stay tuned!
---
About XY Finance
XY Finance is a cross-chain interoperability protocol aggregating DEXs & Bridges. With the ultimate routing across multi-chains, borderless and seamless swapping is just one click away.
XY Finance Official Channels
XY Finance | Discord | Twitter | Telegram | Documents | Partnership Form