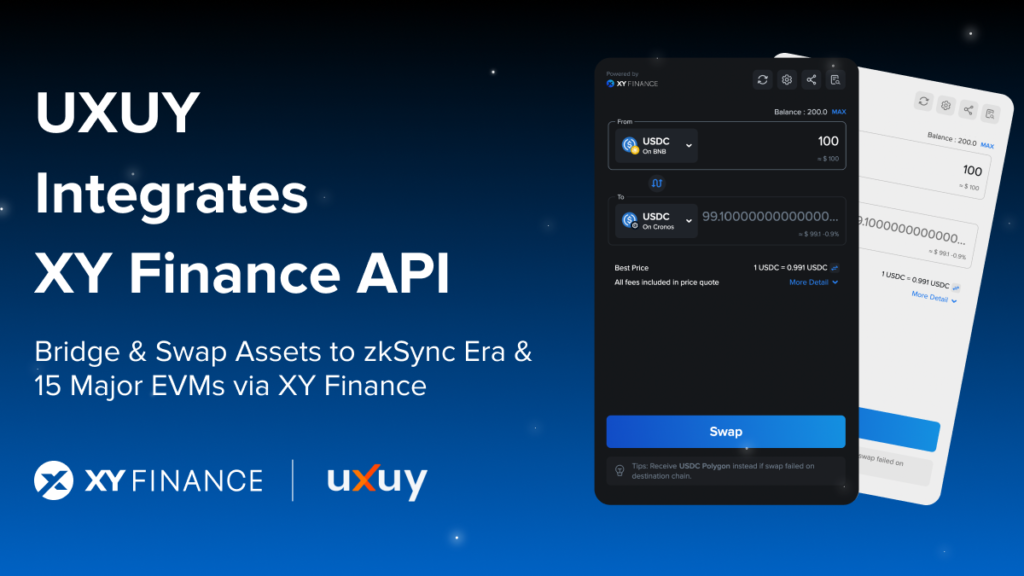 XY Finance x UXUY
We're proud to share that XY Finance is now powering cross-chain solution for UXUY!
UXUY aggregates popular DEXs and cross-chain bridges, allowing users to scan all possible trading routes for the best exchange rates and most attractive prices. UXUY has integrated XY Finance's cross-chain API to optimize routes and offer users the best cross-chain experience. With this integration, users can bridge & swap assets across 7 chains supported by both UXUY & XY Finance – Ethereum, BNB, Arbitrum, Polygon, Optimism, Avalanche, Fantom!
With the help of XY Finance, UXUY provides an extremely fast aggregation time, and trades will be completed in the blink of an eye. Elevate your transactions to a new level with XY Finance & UXUY 🔥
About UXUY
UXUY is a cross-chain trading platform where you can use any cryptocurrency to pay or exchange on any blockchain network. We keep up with the latest industry trends and add the newest public chains and tokens to ensure you stay at the forefront of the blockchain field.
Features offered by UXUY
UXUY aims to provide users with cross-chain trading services for all public chains and digital currencies.
UXUY uses stablecoins as the base currency for cross-chain transactions, ensuring the security of users' assets.
The beta version of UXUY has been running smoothly on the web platform, providing comprehensive cross-chain trading services to more than 8,000 users.
Thanks to the unique UXUY protocol guarantee, UXUY gas fees will be much lower than market prices, allowing you to achieve the best quality trades at the lowest cost.
UXUY will provide smart money tracking and market overview services to make users transactions even smoother.
U-Pool is the decentralized stablecoin-based liquidity pool built for cross chain bridging on all the chains that UXUY supports. It will play a large part in the ecosystem of UXUY to make fast and low-cost cross chain possible. UXUY are working hard to deliver this feature soon
More About UXUY
Website | Twitter | Telegram | Medium
What is XY Finance & Cross-Chain API?
XY Finance is a cross-chain interoperability protocol aggregating DEXs & Bridges.
For Users
XY Finance provides cross-chain solutions in which users can bridge and swap any tokens seamlessly across all the chains we currently support. As of the time of writing, XY Finance has integrated 16 chains, 280+ DEXs and 120k+ tokens!
Try out Swap to bridge & swap with the most seamless cross-chain experience
 👉🏻 XY Finance Cross-Chain dApp
For Developers
XY Finance's cutting-edge cross-chain API & widget help power multi-chain bridging and swapping solution that enable projects to connect with various chains and networks to inflow more liquidity and create more new use cases.

Ready to hop into the multichain world & engage more users on 16+ chains
👉🏻 Introducing XY Finance Cross-Chain Widget
👉🏻 API Integration Developer Document
👉🏻 Partnership Form
Supporting promising projects like UXUY to expand its outreach to the multi-chain space is what we do at XY Finance and we can't wait to onboard more projects & users to the multi-chain world with XY Finance cross-chain solution!
---
About XY Finance
XY Finance is a cross-chain interoperability protocol aggregating DEXs & Bridges. With the ultimate routing across multi-chains, borderless and seamless swapping is just one click away.
XY Finance Official Channels
XY Finance | Discord | Twitter | Telegram | Documents | Partnership Form