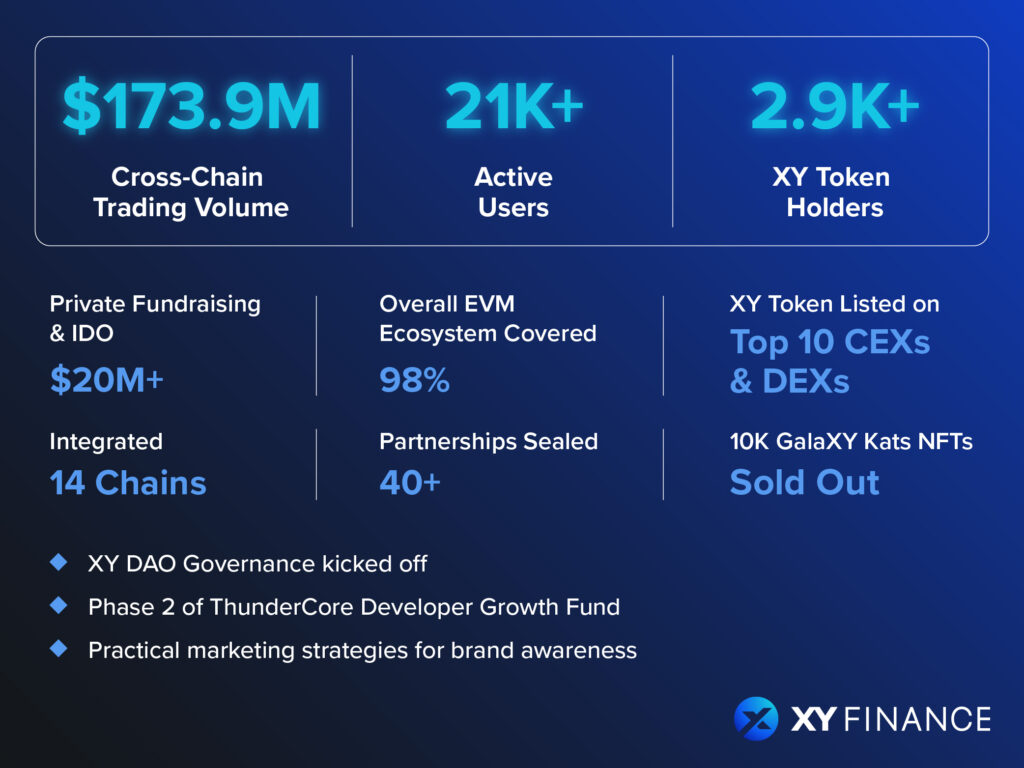 Time flies, XY Finance is now one year old! Happy Birthday XY Finance 💙 It's been a truly productive and exciting journey throughout this year for all of us. We have been through ups and downs and every market condition imaginable, and also have achieved great things in which we take great pride. This 1st anniversary of XY Finance truly marks an important milestone.
XY Finance has integrated 14 chains, covering 98% of Overall EVM Ecosystem
Throughout the year, we've been trying to provide more comprehensive and better cross-chain services, as a result, we have integrated 14 chains, and the expansion work is still ongoing and will be faster. The full list for now includes Ethereum, BSC, Polygon, Fantom, Cronos, ThunderCore, Avalanche, KCC, Arbitrum, Optimism, Astar, Moonriver, Klaytn, and Cube.
According to the data from DefiLlama as of press time, we've covered 98% of the overall EVM ecosystem in terms of the total value locked (TVL). At first sight, 98% seems high enough, but XY Finance won't just stop there. We intend to continue to achieve the incredible coverage of 100% EVM ecosystem and engage in the Non-EVM ecosystem in the near future likewise.
You are allowed to trade tokens across various chains within our scalable network, and we're confident you WILL be constantly thrilled with our full cross-chain DEX aggregation service that delivers advanced composability, interoperability, accessibility and decentralization.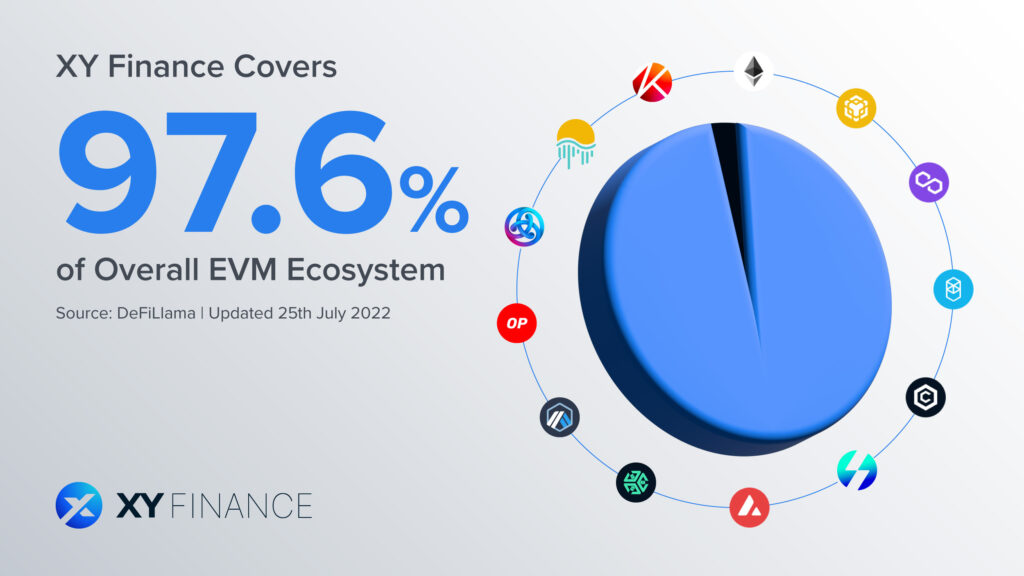 XY Finance has completed our private fundraising and IDO, raising more than $20 million
Last November, we closed private fundraising and gathered $12 million from Circle (Circle Internet Financial), Infinity Ventures Crypto, Mechanism Capital, Morningstar Ventures, YGG (Yield Guild Games), and Animoca Brands. We are honored to see investors from across the core pillars of the industry: exchanges, venture funds, research firms, GameFi, DAOs, and game developers. The list includes MEXC Global, TRON Foundation, gCC (gumi Cryptos Capital), Lemniscap, Evernew Capital, PANONY, Axia8, Looksrare.vc, and whatnot.
After closing private fundraising, we launched our IDO on Copper Launch in early December 2021, aiming to be a decentralized community-first project. Having exceeded all of our expectations, we raised a total of $8.29 million in the Balancer Liquidity Bootstrapping Pool (BLBP) over the course of 72 hours.
Total funds raised: $8,294,012.17
Total volume: $13,443,644.83
Tokens sold: 3,972,836.57 XY (50% of the total 8 million XY allocated)
We listed $XY on numerous CEXs & DEXs, such as Gate.io, MEXC, Uniswap, QuickSwap and more
Since our token launch, we have been in contact with numerous exchanges to expand our XY Universe by having XY Token listed. The premium exchanges on which we decided to list XY Token include the Top 10 CEXs ranked by CoinMarketCap such as Gate.io, MEXC as well as Bitrue. Not only that, to further increase XY trading liquidity and awareness, we also listed our $XY Token on several DEXs, including Uniswap, QuickSwap, and more. Currently, we are working on the remainder of the major CEXs & DEXs and it's estimated that more distinguished exchanges will be involved soon.
With the development of XY Finance, XY DAO Governance came into play as a result. Those who stake XY Token in XY DAO will receive veXY as their voting power to have a say via XY DAO Snapshot and determine the future of the project. In addition, participants will be able to earn their fair share of XY governance token by engaging in the mining campaigns, making the governance more decentralized. A lot more poll questions are underway, and so far we've had 2 DAO voting events regarding integration decisions & fund distribution.
➊ Poll question: Which chain do you expect XY Finance to support next?
Result: Arbitrum is favored by the majority of the XY community, followed by Ronin Network, Moonriver Network, Moonbeam Network, and Optimism.
Action: Arbitrum, along with Moonriver Network & Optimism all become supported chains by XY Finance forthwith.
➋ Poll question: How to utilize the remaining $XY of the exclusive airdrops to GalaXY Kats holders?
Result: Use the funds as our marketing campaign budget.
Action: The extra funds are being budgeted for more events to benefit users.
We collaborated with 40+ protocols & chains, including Argo Finance, KCC, Numbers, Single Finance, Via Protocol, YGG SEA
We've shored up the strength of our network by supporting 40+ protocols & projects and offering more instant cross-chain swap solutions, ranging from projects such as Argo Finance, KCC, Numbers, Single Finance, Via Protocol, and YGG SEA.
To lower the threshold of joining XY Universe, we've also listed our Dapp, XY Token, and GalaXY Kats NFT on imToken Wallet, BitKeep Wallet, ThunderCore Hub Wallet, Qubic Wallet, Brave Wallet, and KuCoin Wallet. It's especially worth noting that with more supported wallets, XY Finance's brand awareness has been boosted markedly to the extent that it's a lot more straightforward and efficient for us to reach out to more users with these gateways.
Significantly boosted our brand awareness in both the Web3 world & in real life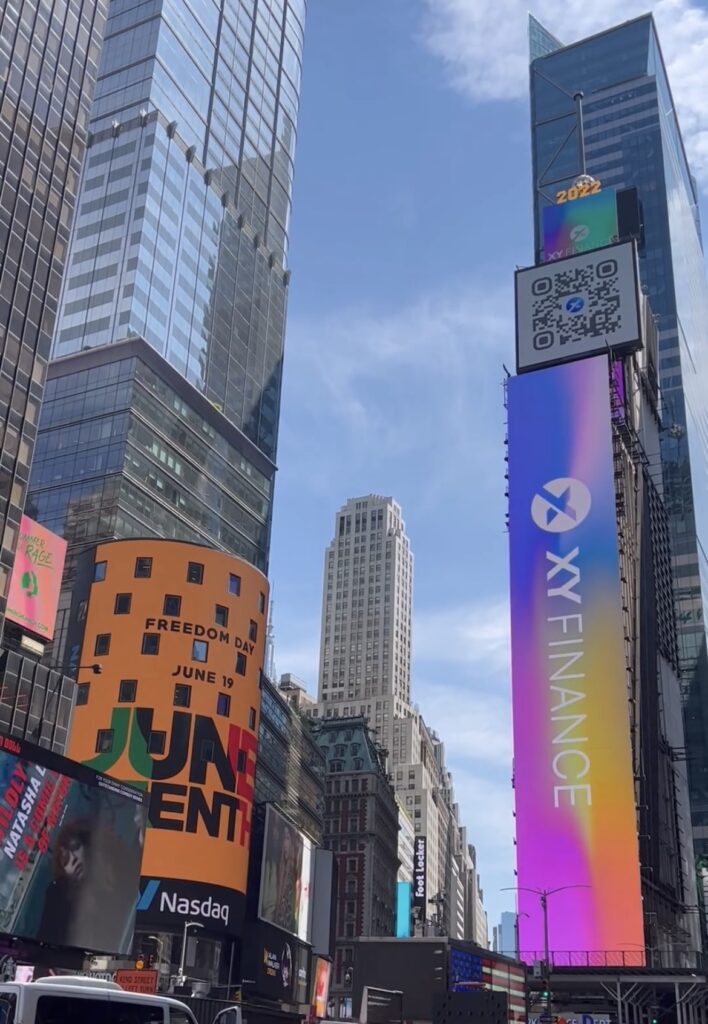 XY Finance's ultimate mission is to provide the best & fastest cross-chain transaction experience to everyone. To achieve this goal, we strive to introduce XY Finance to the world. Our team has opened up quite a few opportunities and vistas for global co-operations, convened/joined meetings around the crypto sector for better brand exposure. Met with resistance caused by COVID, we still boosted our brand awareness with success by taking part in events like Consensus 2022, NFT NYC, IVS Crypto 2022, Korean Blockchain Week, just to name a few. XY Finance will be attending Token2049 Singapore as title sponsor along with Crypto.com, Circle, Polkadot & other crypto giants. Acting as a sponsor and attendee alike to these major crypto events, we've carved a niche for ourselves and gained a lot of exposure to the Web3 population. All the connections made and the inspiration drawn are priceless, serving as a stepping stone on which we build up more profitable collaborations.
We qualified for Phase 2 of ThunderCore Developer Growth Fund
A recent report of DefiLlama indicates that XY Finance is the largest bridge in the ThunderCore ecosystem. On top of that, with the launch of single-chain trading, we are the foremost DEX & bridge aggregator in the lightning ecosystem as well. Being qualified for the ThunderCore Developer Growth Fund not only consolidates our position on the chain but inspires confidence in our network. We aim to leverage the powerful and energetic ThunderCore community, putting more efforts to expand our outreach to become a rooted protocol. Simply put, this qualification has fully justified our technical capacity and competitiveness.
Launched our GameFi project GalaXY Kats, unleashing GameFi & DeFi utilities
We successfully launched GalaXY Kats in late 2021 and received strong support from our community members. GalaXY Kats is XY Finance's loyal member badge to combine NFT, GameFi, and Cross-Chain. Following the roadmap of GalaXY Kats, we have completed a two-week long GalaXY Kats Closed Alpha Test. Over 1,000+ holders, 20 partners, including Lootex, Project Galaxy, and YGG SEA, joined the Alpha Test with us. Utility-wise, we activated the NFT staking function of GalaXY Kats on XY Finance, allowing GalaXY Kats to earn more from swapping via XY Finance.
Prospects & Objectives : What's Next?
We are supporting Solana, Cosmos, Polkadot, Aptos, Sui, and more promising chains to further expand XY Universe
At the time of writing, XY Finance had aggregated & constructed hundreds of bridges to connect 14 EVM-compatible chains, embracing 98% of the overall EVM ecosystem. We're now proceeding to connect other auspicious blockchains to lower the threshold of shuttling between different networks. As one of the topnotch cross-chain bridge & DEX aggregators, it's our bounden duty to support more innovative Layer 1s. To this end, we're gearing ourselves up for an improved aggregator structure to accelerate integrations with more non-EVM chains such as Solana, Cosmos, Aptos, and Sui.
We are supporting more GameFi projects with one-stop cross-chain solutions
XY Finance provides an all-in-one cross-chain bridge & DEX aggregation service, enabling crypto enthusiasts to transfer their on-chain assets across numerous chains. Following the mission, we have prepared open APIs and swap widget to meet user demands in Web3, allowing projects to integrate our cross-chain APIs into their existing front-end sides or directly integrate our instant Swap on their Dapp and website.
With the help of the aforementioned tools, DeFi and GameFi projects can easily leverage our bridge-swapping functions to explore more opportunities in the emerging multi-chain ecosystem. What's more, we have designed well-thought-out cross-chain models for protocols considering customers from different sectors, particularly for the GameFi sector. We have developed a unique bridging solution to help GameFi projects develop their ecosystems in an easier and smoother way. With our solutions, all GameFi projects can easily connect their ecosystems to others. That is to say, XY Finance makes it easy for players to travel between decentralized amusement parks without any barrier.
If you intend your projects to venture across chains, feel free to reach out to us by filling in the form here first. We're happy to make crypto development better jointly with all pioneers out there.
---
About XY Finance
XY Finance is a cross-chain interoperability protocol aggregating DEXs & Bridges. With the ultimate routing across multi-chains, borderless and seamless swapping is just one click away.
XY Finance Official Channels
XY Finance | Discord | Twitter | Telegram | Documents | Partnership Form