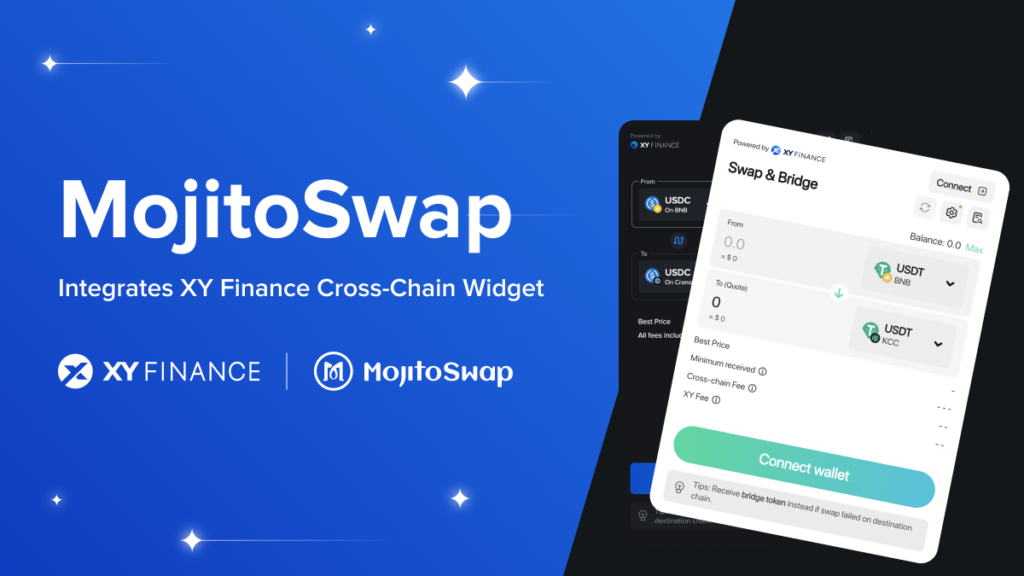 We are thrilled to announce that Mojitoswap, the biggest DEX on KCC has integrated XY Finance cross-chain widget to its dApp. Multi-chain users can now on-chain or cross-chain trade KCC native tokens across 14+ chains and enjoy the robust NFT, GameFi & DeFi opportunities in both MojitoSwap & KCC ecosystem seamlessly!
XY Finance x Mojitoswap
MojitoSwap as the largest DEX on the KCC chain, plays an important role in asset issuance and trading on the KCC chain. By integrating XY Finance cross-chain widget, it provides users with a cross-chain asset transfer method that's simpler, more user-friendly, and offers higher asset circulation efficiency. At the same time, XY Finance can provide cross-chain flash swaps for 14+ chains and 120k+ assets simultaneously, expanding the reach of MojitoSwap and attracting more new users in this multi-chain world.
Supporting promising projects like Mojitoswap is what we do at XY Finance and we can't wait to onboard more projects & users to the multi-chain world with XY Finance cross-chain widget!
MojitoSwap is the biggest DEX running on KCC with an automated market maker mechanism. It provides all-in-one solutions for on-chain assets with swapping, farming, pools, launchpad, NFT Marketplace and GameCenters. MojitoSwap aims to provide users with an efficient and low-cost token exchange. At the same time, users can have their token value added while using MojitoSwap. It also provides a safe, easy-to-use, high-liquidity and basic decentralized finance protocol for KCC developers. 

MojitoSwap IDO
MojitoSwap has successfully hosted IDOs for many projects and recently MojitoSwap is about to host an IDO for PlayZap.The IDO is aiming to raise $300,000 for the gaming platform token(PZP).PlayZap is invested by KuCoin Labs.Other investors that had joined the round included Arcanum Capital, Oddiyana Ventures & Prime Block Ventures.The price of PZP during the IDO is $0.12 with 2,500,000 PZP available for purchase.The tokens will be released 20% directly, the remaining tokens will be locked 1 month and later linear vesting over 6 months.After the IDO , MojitoSwap will provide a liquidity mining pool for PZP, which means PZP token's holders can earn a high APR with PZP LP tokens.
More About Mojitoswap
Website | Whitepaper | Twitter | Telegram
What is XY Finance & Cross-Chain Widget?
XY Finance is a cross-chain interoperability protocol aggregating DEXs & Bridges. For users, XY Finance provides cross-chain solutions in which users can bridge and swap any tokens seamlessly across all the chains we currently support. As of the time of writing, XY Finance has integrated 14 chains, 270+ DEXs and 270k+ tokens! For developers, XY Finance's cutting-edge APIs & widgets help power cross-chain bridging and swapping solutions that enable projects to connect with various chains and networks to inflow more liquidity and create more new use cases.
For users, try out Swap to bridge & swap with the most seamless cross-chain experience
👉 XY Finance Cross-Chain dApp

For developers who are ready to hop into the multichain world & engage more users on 14+ chains
👉Introducing XY Finance Cross-Chain Widget
👉Widget Integration Developer Document 
👉Fill this form
---
About XY Finance
XY Finance is a cross-chain interoperability protocol aggregating DEXs & Bridges. With the ultimate routing across multi-chains, borderless and seamless swapping is just one click away.
XY Finance Official Channels
XY Finance | Discord | Twitter | Telegram | Documents | Partnership Form