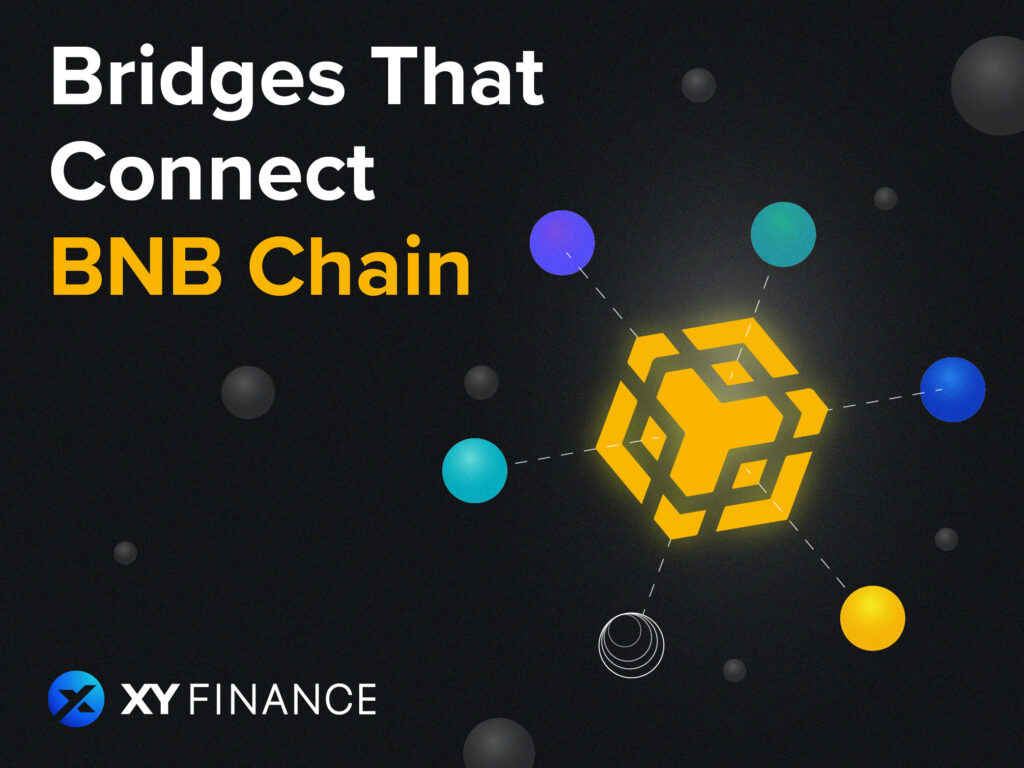 BNB Chain Brief Intro
As of February 15, 2022, Binance has officially announced that Binance Chain (BC) and Binance Smart Chain (BSC) will be integrated into one under a new brand name called BNB Chain.

The purpose of the rebrand is to extend the true potential and utility of the protocol's native token, BNB, making it transcend Binance itself. This move indicates the business' long-term strategy to scale its own products from a single chain to a multi-chain ecosystem so as to further decentralization & accessibility.

According to reports of Cointelegraph, the BNB Chain is composed of two parts:
➊ BNB Smart Chain, which is compatible with the Ethereum Virtual Machine (EVM) and leverages staking-based consensus

➋ BNB Beacon Chain for BNB Chain governance (i.e. staking & voting).

BNB is expected to not only strengthen interoperability but also build "the infrastructure powering the world's parallel virtual ecosystem". Upon the merger, it has then become more empowered to host extensive Dapps and more efficient in handling larger workloads, fostering novel blockchain-based ecosystems under the umbrella of Metaverse spanning DeFi, GameFi, Web3, and NFTs: the sky's the limit!
Web3 Wallets for BNB Chain
Binance is, without doubt, one of the crypto heavyweights, so choosing and setting up a proper wallet to access BNB Chain is crucial. Whichever blockchain address (wallet) that supports BNB can be viewed as a BNB wallet.

MetaMask and TrustWallet are the two most favored web3 wallets to consider besides Binance's native wallet. While the former was created to support ERC20 token standards, the latter seems more versatile and flexible as it supports interaction with assets on manifold chains and tokens in addition to that of ETH. This distinction is essential as it will determine which sorts of tokens you can store and which wallet best suits your needs.
Connect MetaMask to BNB Chain 🦊
MetaMask is an open-source, non-custodial hot wallet that interacts directly with the Ethereum network without requiring any intermediaries, giving full power to its users to manage their funds, which is absolutely decentralized.

As noted earlier, the cryptocurrencies available on MetaMask have to be Ethereum-based tokens such as ETH (of course), AVAX, BNB, MATIC, etc. In addition, MetaMask is compatible with hardware wallets, Dapps, and DEXs (like BNB), making it the most widely used and downloaded wallet to store digital assets. Below is a step-by-step guide as to how to connect MetaMask to BNB.
5 Steps to Set Up Your MetaMask
Head over to MetaMask's download page via the link.
Select the device you're using– Chrome, iOS, or Android.
Get set up by clicking Create a Wallet as per instructions.
Set up your new password then hit "confirm".
Jot down your Secret Recovery Phrase somewhere safe to secure your MetaMask wallet and funds.
5 Steps to Configure Your MetaMask
Click the round icon on the top right & select Settings at the bottom of the drop-down menu.
Hit Networks on the Settings page.
Press the Add a network button.
Now you'll see a new interface pop out. This is precisely where you add the info to connect to BNB Chain. Enter exactly the details as follows:
Click save, and on the main screen page you'll see the green box on the bottom right that reads "Smart Chain was successfully added!"
Connect TrustWallet to BNB Chain 🛡
TrustWallet seems to play second fiddle to MetaMask, but it is still popular among many, and unlike MetaMask, it supports Bitcoin and is the official decentralized hot wallet of the Binance exchange. As an open-source multi-crypto wallet, it supports ERC20, ERC 223 tokens, NFTs, and you can even access lots of in-browser Dapps and employ them to approach popular DeFi platforms like SushiSwap, PancakeSwap, CurveFinance, etc.
4 Steps to Set Up Your TrustWallet
Download the TrustWallet app via the link.
Select the device you're using– App Store, Google Play, or Android.
Click "Create a new wallet" and follow along with the basic set-up as instructed.
Write down your Secret Phrase (normally 12-14 words) and hit Continue.
4 Steps to Configure Your TrustWallet
Click the blue toggle icon on the top right of the opened tab.
Locate and tap on "BNB Smart Chain".
Choose the "Receive" option in the middle to get your deposit address.
Copy the address or scan the QR code to receive BEP20 or BNB tokens.
Bridges on BNB Chain
The advent of blockchain bridges breaks the silos between isolated ecosystems. They can be categorized into 2 types by the level of centralization. Centralized (aka custodial or trusted) bridges are commonly known as exchanges, often requiring users to put their trust in a central entity. Decentralized (aka non-custodial or trustless) ones, however, are held by protocols and depend on smart contracts to manage the crypto locking and minting without having to trust an authority.
Binance Bridge v.s. Binance Bridge 2.0 🪙
Binance Bridge is a project of Binance that provides a cross-chain bridging service to boost inter-chain interoperability. With their interface, users will be able to convert the selected coins into the wrapped version or pegged tokens for utilities on Binance Chain or BSC. Furthermore, Binance Bridge is applicable to non-Binance account holders as well.

Now, Binance Bridge 2.0 is live on their platform to further blur the boundary between CeFi & DeFi. Its new feature roll-out doesn't require a third-party wallet like MetaMask or TrustWallet. While the listed tokens will be directed to the Funding or Spot Wallet, the unlisted ones will be stored in a new self-custody wallet (SCW) within Binance as wrapped BTokens.

Suppose you're transferring ETH/TRX from Ethereum/TRON network to BNB Chain, the Binance Bridge 2.0 will conduct the cross-chain transfer of Ethereum ERC-20 or TRON TRC-20 to Binance BEP-2 or BEP-20 all by itself without the assistance of other wallets. Compared with its predecessor, Binance Bridge 2.0 is more decentralized and streamlined.
Centralized bridges 🌁
⓵ Binance
Binance is thus far the world's largest crypto exchange by trading volume according to CoinMarketCap. Binance supports 350+ listed cryptos including mainstream coins like BTC, ETH, USDT, BUSD, AVAX, AAVE, MATIC, SOL, and others such as LUNC, OP, DOGE, and CRV. Besides, thousands of trading pairs are supported, making Binance the most trusted exchange of all.
⓶ FTX
FTX is one of the topnotch centralized exchanges that support BNB and is renowned for its volatility products, derivatives, leveraged tokens, and spot markets. Talking of which, FTX currently offers 100+ different spot trading pairs and exposure to key cryptos: ETH, BTC, BNB, LINK, and XRP. Plus, its native token FTT can easily be purchased with the lowest fees anywhere Binance is accessible.
⓷ KuCoin
KuCoin is another prominent crypto exchange that supports projects on the BNB Chain. Binance Coin (BNB) is also available on KuCoin, which currently supports the trading pair BNB/USDT. Like Binance, KuCoin allows access to hundreds of altcoins that are otherwise hard to buy elsewhere, being extremely convenient for both brands' users.
Decentralized bridges 🌉
⓵ Multichain
Previously known as Anyswap as a cross-chain DEX, it has rebranded itself as Multichain (ticker MULTI) and is now well positioned as a cross-chain router, providing bridging services and allowing on-chain assets of all networks to interact with each other. No other cross-chain protocol supports as many token types as Multichain, which currently supports 60+ chains including BNB and 2.7K+ tokens, with its TVL up to 2.53B+.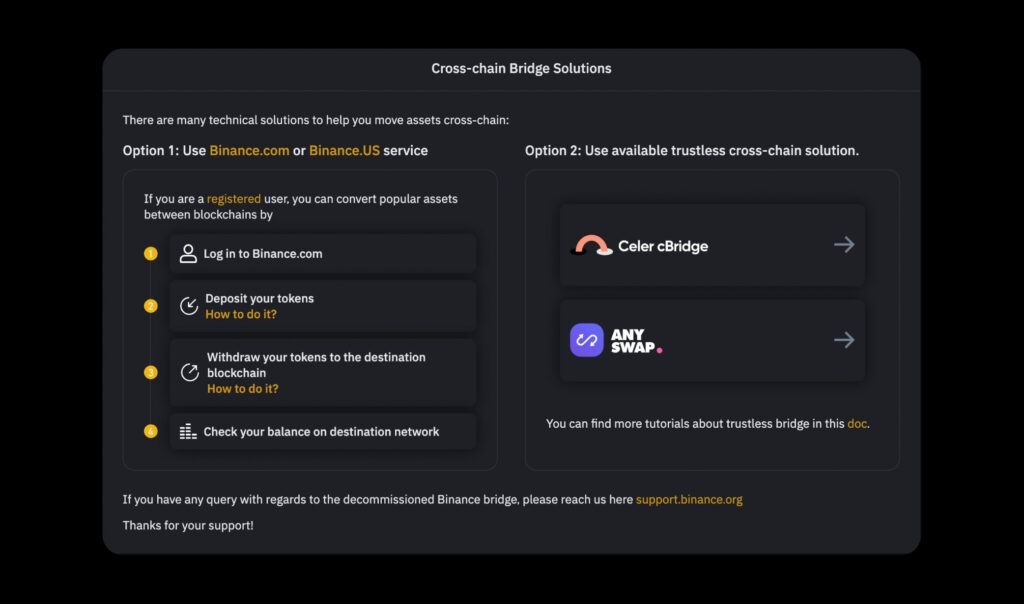 ⓶ Wormhole
Wormhole is a message-transfer protocol that facilitates seamless movement of digital assets across chains. Wormhole lives up to investors' expectations of a fast and cheap token swap via its bridge called Portal, where tokens & NFTs are locked with a smart contract and wrapped in a Wormhole minted token on the destination blockchain. Wormhole covers nearly every major blockchain possible, including Ethereum, Avalanche (C-Chain), Polygon, BNB, etc.
⓷ XY Finance
XY Finance is a cross-chain interoperability protocol that aggregates DEXs & bridges all over. It enables borderless and seamless routing across multi-chains, supporting 20+ top DEXs, 100+ mainstream tokens and covering blockchains such as Ethereum, Fantom, Avalanche, Cronos, ThunderCore, Klaytn, and BNB. To learn more about XY Finance, check this article.
Swap Tokens Using Bridges
When it comes to cross-chain transfers, there are 4 things to take into account – source chain, target chain, bridge, and asset type. Below are 3 examples of transfers using the Binance Bridge (native to BNB), the centralized bridge FTX (an exchange), and the decentralized bridge Multichain (a protocol).
Transfer from BNB to ETH with Binance Bridge
Here we give you an easy guide on how to migrate assets from BNB Chain to ETH and vice versa. Below we'll use ETH for instance.
Transfer Binance-Peg ETH from BNB to ETH Chain
Connect Binance Bridge 2.0 using your desired wallet (e.g. MetaMask).
Access Binance.com to use Binance Bridge 2.0.
Insert ETH in the Asset box.
Select the correct From network (Ethereum Network).
Select the correct To network (Binance Smart Chain Network).
Input an amount (Deposit ETH if you don't have a sufficient amount).
Wait for a couple of minutes for the transaction to go through.
The way you move ETH from the Ethereum Chain to the BNB Chain via the official Binance Bridge is pretty much similar to that of the instructions above, only that the "From" and "To" addresses should be adjusted to receive your assets.
Transfer from Binance to FTX
Transfer USDT from Binance to FTX
Log into FTX and go to Wallet.
Choose USDT from the list of cryptos (sub-accounts) and click Deposit.
Select a network supported by Binance – ERC20 or TRC20. (TRON's network is preferred as the fees are lower).
Click Copy and go to Binance ➜ Wallet ➜ Hit Withdraw on the USDT row.
Click Address Management ➜ Add address ➜ Fill in "FTX USDT" in the Address label box ➜
Select USDT in the Coin box ➜ Paste the copied address in the Address box ➜ Binance will
automatically identify the network as TRX ➜ Select the exchange wallet FTX Exchange in the
Address origin box ➜ Tick the Whitelisted box ➜ Click Save.
Enter verification codes ➜ Click Submit.
Click Wallet ➜ Find USDT and click Withdraw on that row again.
Choose the address directly from the Address box & insert the amount.
Click Withdraw ➜ Continue ➜ Insert verification codes ➜ Withdrawal completed.
Transfer USDT from FTX to Binance
Log in to Binance and click Wallet ➜ Overview ➜ Deposit.
Select Crypto Deposit.
Specify the coin USDT and ensure Tron (TRC20) as your network ➜ Copy the address.
Log into FTX and click Wallet ➜ Hit Withdraw on the USDT row.
Fill in the amount to be transferred ➜ Insert the previously copied address & codes from the
phone or Google Authenticator ➜ click on Withdraw.
Transfer from BNB to FTM using Multichain
You can bridge assets from BNB to Fantom Chain and vice versa with multiple bridging protocols, Multichain, Synapse, Allbridge or Spookyswap can all be your ideal choices. Below we'll use Multichain.xyz bridge to showcase how to transfer BNB from BNB Chain to FTM.
Transfer BNB from BNB Chain to FTM
Go to AnySwap or Multichain router.
Connect AnySwap/Multichain to your desired wallet, say, MetaMask.
Ensure a sufficient balance of BNB in your wallet.
Select BNB Chain mainnet as the network & BNB as your token in the From section.
Select Fantom mainnet as the network & still BNB as your token at the To section.
Click Swap ➜ Hit Confirm as the MetaMask browser extension pops out.
As to how to move BNB or other Multichain-supported tokens the other way round, simply change the transfer details in the From and To sections.
Transfer from BNB to Polygon using XY Finance
Finally, as the first article to familiarize you guys with the practical know-how around DeFi, we cannot miss XY Finance, which helps power the interoperability in the digital assets space. Below is a simple how-to guide on the way to transfer USDT from BNB Chain to MATIC on the Polygon network.
Transfer USDT from BNB Chain to MATIC on Polygon Chain
Go to Swap of XY Finance
Connect your Wallet (MetaMask)
In the From section, select "BNB" as the source chain, and choose USDT.
In the To section, select "Polygon" as the destination chain, and choose MATIC.
In the From section, enter the amount you wish to transfer across. XY
Finance will help collect the best routes for you to consider.
Click "Swap".
Swap is possibly one of the most convenient and efficient tools you can bridge your tokens across between most of the EVM-compatible chains!
Closing thoughts 💡
This write-up gives you an overview of Binance so it'll be easier for you to tell the difference between Binance, Binance Smart Chain, BNB Chain, Binance Bridge, and Binance Bridge 2.0. Also, now you'll be fully equipped with the ideas of the role that "bridges" play in the crypto world. Finally, be sure to compare the fees, transaction speed, and the variety of supported chains and tokens before selecting your cross-chain bridging solutions. After all, better safe than sorry.
---
About XY Finance
XY Finance is a cross-chain interoperability protocol aggregating DEXs & Bridges. With the ultimate routing across multi-chains, borderless and seamless swapping is just one click away.
XY Finance Official Channels
XY Finance | Discord | Twitter | Telegram | Documents | Partnership Form