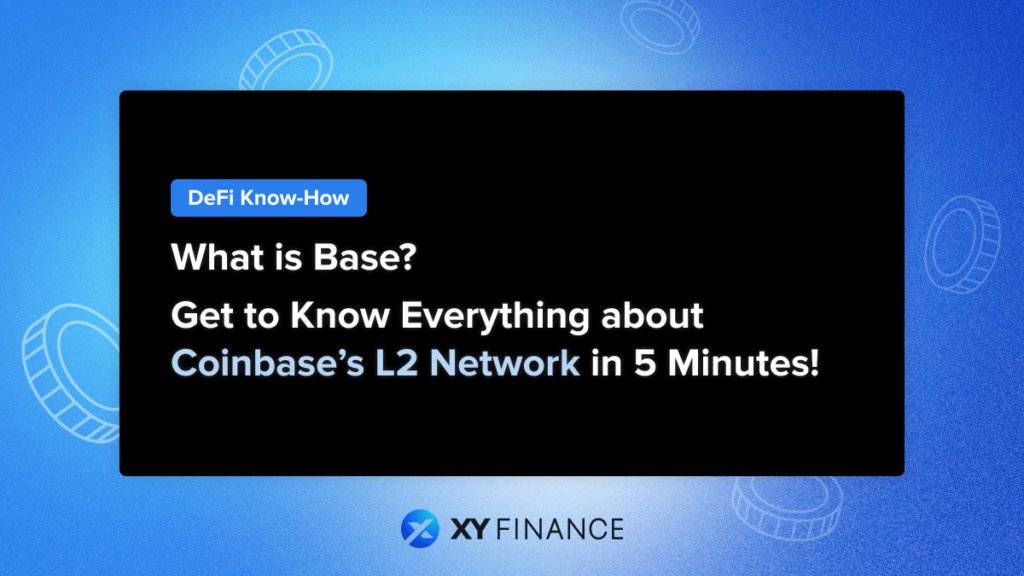 Coinbase, a centralized exchange that you may use on your phone or computer every day, made a splash this year by partnering with Optimism to launch an L2 solution, Base. This article will give you a comprehensive understanding of the features and advantages of Base, and step-by-step guide you into the Base ecosystem!
What is Base? From Online to "On-chain"
Coinbase, the leading cryptocurrency exchange in the United States, launched its Layer 2 (L2) solution, Base, in August 2023. Base is built on Optimism's OP stack and aims to achieve Coinbase's mission: creating an open financial system that increases economic freedom globally.

Base, in addition to being the main base for Coinbase's on-chain products, is also an open development ecosystem. Its goal is to accelerate the widespread adoption of cryptocurrencies and lead billions of users into the on-chain world.
As a L2 solution, Base is designed to foster a Secure, Cost-effective, and Developer-friendly ecosystem for constructing dApps. Currently, there are over 150 protocols on Base. While forming a complete ecosystem, Base also plans to gradually decentralize the chain over time.
Base Meets Optimism: A Strategic Move in Layer 2 Development
As a brand that has been around for ten years, Coinbase knows that building a crypto ecosystem cannot be accomplished by a single organization or company alone. Therefore, Coinbase decided to partner with Optimism's development team Op Labs and its community team Optimism Collective to promote the long-term development of Base.
Moreover, Base is also a member of the Optimism Superchain. It will not only provide a portion of its transaction fees to Optimism Collective to fund public infrastructure, but it will also engage in bring Coinbase's on-chain products and users into the superchain ecosystem.
Count Base in! What is Superchain?
Superchain is an L2 multi-chain network project announced by Optimism at the beginning of this year. The goal is to integrate originally isolated L2s into a system with collaboration and composability. Optimistic, as the platform for these chains, will share its OP open-source code, aiming to greatly reduce the difficulty of running an L2 network.
Evaluating Base: A Major Ethereum Scaling Solution?
Here, we'll summarize the pros and cons of Base and evaluate whether it has the potential to become a primary scaling solution on Ethereum in the future.
Base's Pros
Accessible – Base Chain is EVM-compatible, making it easy for users and developers to port over to the network.
Low Cost – Like most optimistic rollups, Base Chain boasts gas fees that only cost a few cents.
Secure and Scalable – Base combines Ethereum's security with Layer-2 transaction speeds to offer a scalable network.
Backed by Coinbase – Coinbase is one of the most trusted businesses in the crypto space, with deep pockets to support the growth and development of Base.
Superchain Integration: Optimism Superchain's continued development will help Base's growth and collaboration between L2s within the ecosystem.。
Base's Cons
Competition – The Layer-2 field is arguably the most competitive niche in crypto, with rivals like Arbitrum and Polygon gunning for L2 dominance.
Centralization – Although Base Chain is committed to progressive decentralization, the fact that it's the brainchild of Coinbase raises concerns about centralization.
No token airdrop – Due to regulatory issues, Coinbase will not be issuing tokens, which has somewhat reduced user willingness to use it. However, user data is also more accurate than other L2s.
Concluding Insights: Weighing the Pros and Cons of Base
It's evident that Coinbase is actively engaged in advancing web3 and Layer 2 technology, aiming to secure a position in the future market. Regulatory concerns have consistently been a challenge for Coinbase, leading them to emphasize that they won't issue tokens. Users should be cautious of tokens named "BASE" as they might not be officially issued.
By foregoing token issuance, Coinbase can concentrate on decentralized technology, enhancing utility in the DeFi space, and attracting more conservative or novice users to the world of DeFi. This aligns with Base's overarching vision of bringing the next million developers and a billion users into the DeFi ecosystem.
Base vs. other L2 solutions
According to the dashboard by L2Beat, Base, as a chain that was launched later compared to other L2 solutions, has already surpassed Linea and Polygon zkEVM in terms of TVL, reaching $591 million. It's evident that the market has a high level of confidence in this blockchain supported by Coinbase.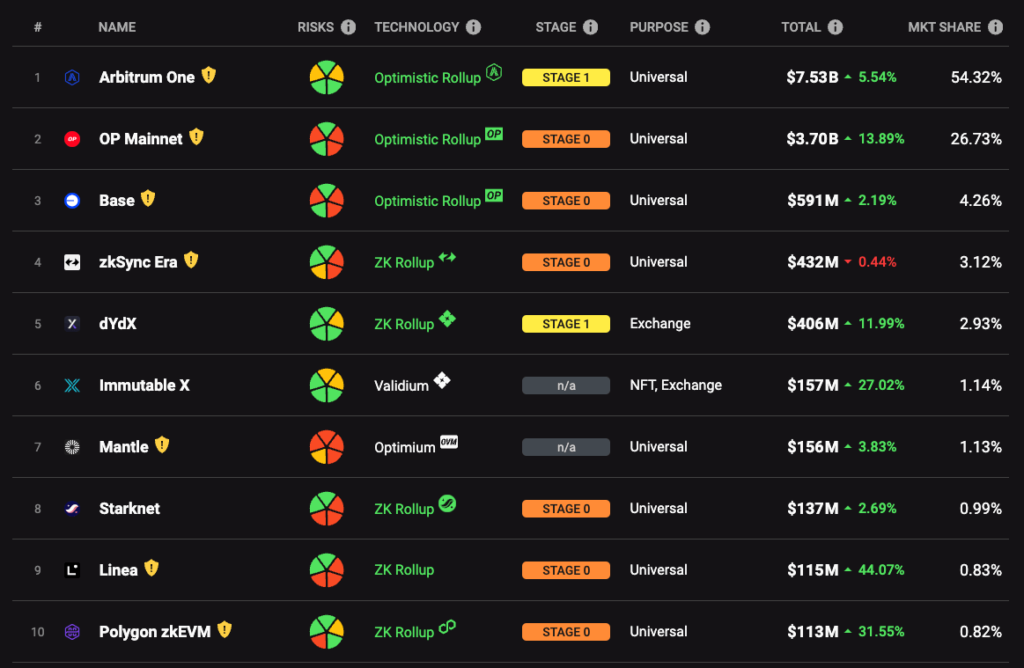 Following Coinbase's original intention, the use of the OP Stack has enabled more developers to deploy their projects in a more favorable environment. According to DeFiLlama, In four months, a staggering 158 protocols have been established on the Base network. This is truly remarkable data.
Comparative Analysis of L2 Solutions
Based on data from L2Beat, Base exhibits commendable statistics in terms of TVL and transaction amount. Although it may lag behind more mature solutions like Arbitrum, OP Mainnet, and zkSync Era, it's notable that Base has significantly outperformed Linea, another emerging blockchain.
| Feature | Base | Arbitrum | OP Mainnet | zkSync Era | Polygon zkEVM | Linea |
| --- | --- | --- | --- | --- | --- | --- |
| Rollup Type | Optimistic | Optimistic | Optimistic | zk-Rollup | zk-Rollup | zk-Rollup |
| TVL | 591M | 7.53B | 3.70B | 432M | 113M | 115M |
| Daily TPS | 2.47 | 8 | 3.51 | 6.38 | 0.57 | 2.59 |
| 30 Day TX Amount | 8.66M | 19.03M | 8.02M | 20.26M | 1.27M | 3.90M |
Ecosystem on Base
Since its introduction in August 2023, the Base ecosystem has undergone swift advancement. We've curated a selection of noteworthy projects for your exploration, showcasing the evolution of these endeavors and spotlighting the standout applications with substantial prospects.
DEX – BaseSwap
BaseSwap is a pioneering DEX based on Base. With a trustless model, it allows direct peer-to-peer swaps, enhancing security.
Social Platform – friend.tech
friend.tech is the most popular decentralized social media platform in 2023, with over 50M TVL accumulated within two months of launch. Its share-like Key mechanism allows users to earn additional income when participating in the ecosystem. It is more of an investment hub than a social platform, where share value rises with group participation and offers returns.
Lending Protocol – Sonne Finance
Sonne Finance is a decentralized lending protocol for individuals, institutions and protocols to access financial services. It is a permissionless and open source protocol serving users on Base and Optimistic mainnet.
Perpetual Exchange – Xena Finance
Xena Finance is a decentralized perpetual exchange, which is designed to operate fully permissionless, allowing for self-custody without the need for account sign-ups.
In addition to the protocols mentioned above, there are hundreds of other protocols on Base that are waiting for users to explore. These can all be found on the official Base ecosystem website!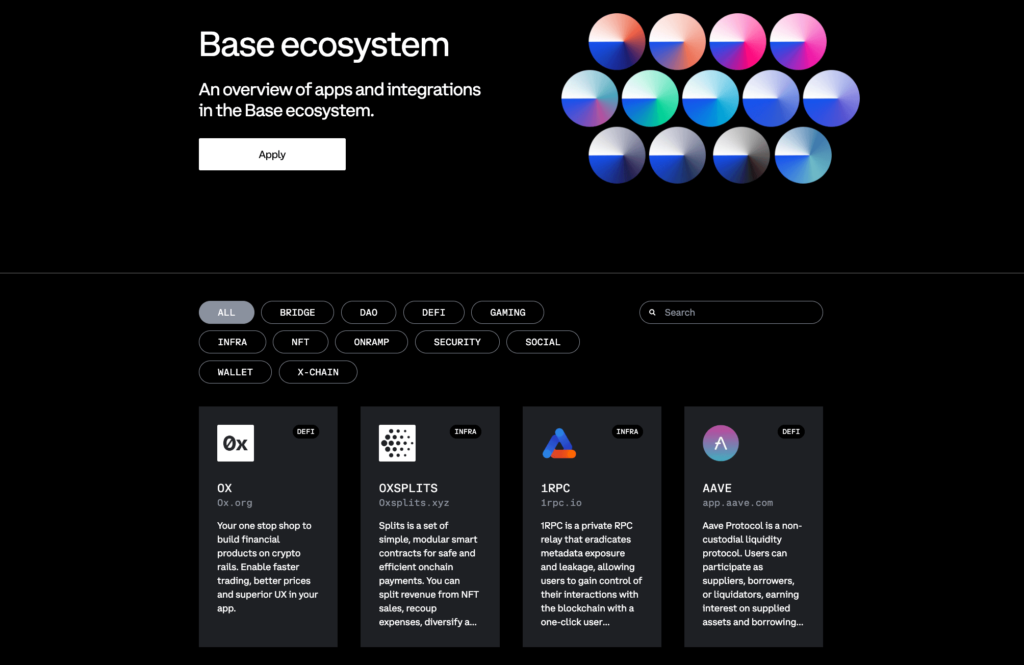 How to bridge to Base?
After you have a basic understanding of Base and its ecosystem, it's time to bridge your assets and explore freely!
Bridging to Base is very simple! We recommend XY Finance because it offers ultimate routing across multi-chains, making borderless and seamless swapping just a click away.
(Fully understand XY Finance: What is XY Finance? The cheapest cross-chain bridge aggregator that operates on 18 EVM chains)
Don't waste your time! You can now bridge tokens to Base with this simple guide:
Visit

XY Finance

and connect your MetaMask Wallet.

Select the network you want to transfer tokens from (Ethereum, Polygon, Arbitrum, Avalanche, Optimism + 15 others).
Select the token you want to bridge from your network to Base and input the amount.
Review and confirm the transaction. Your tokens will arrive in under 5 minutes.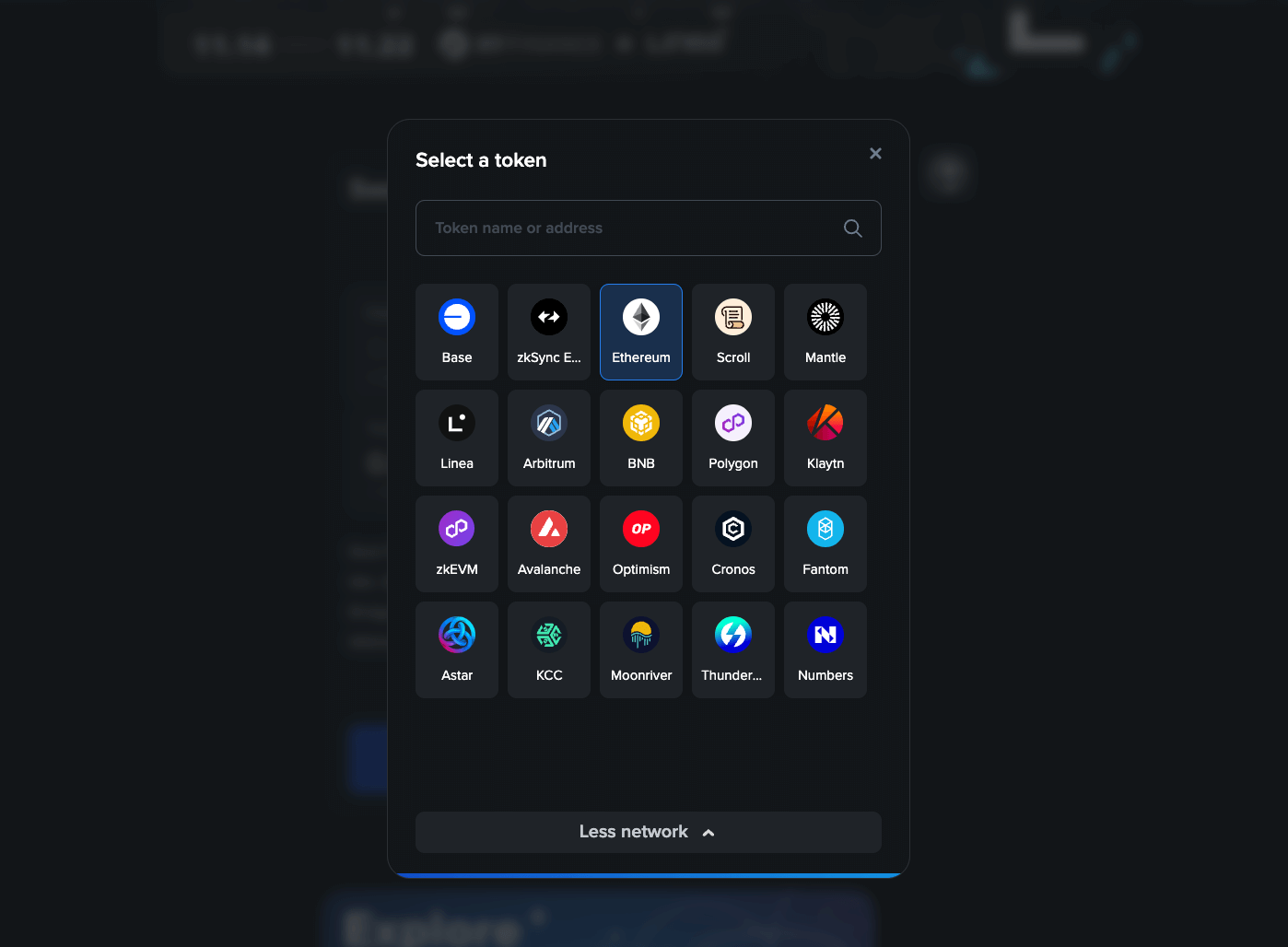 And now, everything is ready! Click the button and enjoy your surfing time in the Base universe!
---
About XY Finance
XY Finance is a cross-chain interoperability protocol aggregating DEXs & Bridges. With the ultimate routing across multi-chains, borderless and seamless swapping is just one click away.
XY Finance Official Channels
XY Finance | Discord | Twitter | Telegram | Documents | Partnership Form