🎉 Celebrating Velocore & XY Finance Partnership
🏆 $100 $XY + $100 $VC / 10 Winners
⏰ 6/12 10:00 UTC – 6/20 10:00 UTC
📝 Complete all the tasks on QuestN to claim NFT
✅ Tag 3 friends in the tweet thread so they don't miss it!
XY Finance x Velocore
Velocore, as the first ve(3,3) DEX on zkSyncEra, plays a crucial role as a liquidity provider. It facilitates ecosystem growth and establishes more user touchpoints, encouraging both users and builders to collaborate in building a better environment for zkSync Era. As a Dex aggregator, XY Finance has integrated Velocore to maximize liquidity, diversify supported tokens and routes on zkSync Era, providing our users with the best cross-chain experience across all 16 major EVMs we currently support.
Velocore has also integrated XY Finance as one of its bridge partners, along with the zkSync official bridge, Symbiosis, and Celer Network. With Velocore's liquidity and XY Finance's cross-chain solution, we can onboard more multichain users to join zkSync Era. We look forward to building with Velocore to deliver more value to users and create mutual synergies as we move forward in the ecosystem!
To know more about zkSync Era and prominent project in its ecosystem, you can refer to this article!
🔗 XY Finance Integrates & Support Cross-Chain Trade on zkSync Era

About Velocore
Velocore is the first ve(3,3) DEX of the zkSync Era, built on the foundations of Solidity and Velodrome Finance. Velocore aims to provide users with an environment where they can trade with low fees and slippage. Velocore has also made several improvements to the Solidly codebase, all of which were thoughtfully chosen to ensure that the protocol would carry out the original intended mechanism of allowing voters to fairly compensate LPs for impermanent loss. Velocore's goal is to integrate various DeFi services into one platform, making them easily accessible and easy to use, thus enriching the DeFi ecosystem of the zkSync Era.
Features
Based on the features and benefits of the Solidly model, Velocore aims to become the leading DEX for major new chains that provide attractive and sustainable solutions for liquidity needs. Velocore has achieved at least $26M worth of TVL till date and they plan to expand this through going multichain.
Swap: Velocore supports swap of multiple crypto assets including ETH, BUSD, USDC, VC, IBEX and more. Velocore provides two liquidity pool types based on token pair needs, stable pools and variable pools.

Liquidity: Velocore's Liquidity / Yield Farming feature provides users with multiple opportunities for income growth. By providing liquidity, users can participate in Velocore's many liquidity pools and receive token rewards.

Launchpad: Velocore's Launchpad is an incubation platform for startups. It aims to help new projects easily gain community support and funding, and provide investors with access to and participation in new projects. ReactorFusion, a native lending and borrowing market on zkSync Era was the first project Velocore introduced on its launchpad!
In addition to the above features, Velocore also includes Governance, Bridge, and Staking functions, and to expand Velocore's capabilities by launching a lending market and supporting more builders.
About $VC
$VC was launched by Velocore on 2023/04/03 (presale) on Velocore's own launchpad, accumulating around 8,600 ETH (~15 million) after Public Sale. The current price of $VC is set at $0.0424, and the average daily trading volume is $212k. $VC is now listed on XY Finance! Upon receiving $VC as reward or need more $VC to to stake & earn more rewards, you can now trade on XY Finance from 120k+ token across 16 chains.
$VC Utilities
✅ Reward token of Velocore (Stake LP to earn $VC)
✅ Lock $VC into $veVc to earn and govern
✅ Vote with $veVc to earn bribes & trading fees
To know more about how to use XY Finance to bridge your assets to $ERA, you can check out this tutorial!
🔗 How to Bridge Assets Across 16+ Blockchains via Swap
More About Velocore
Website | Twitter | Discord | Medium | Documents
XY Finance In A Nutshell
XY Finance is a cross-chain interoperability protocol aggregating DEXs & bridges. With the ultimate routing across multi-chains, borderless and seamless swapping is just one click away. For users, XY Finance provides cross-chain solutions with the most optimal routes, covering various tokens and creating ultra-fast transfers. For developers, XY Finance offers cutting-edge cross-chain API & widget to help broaden the project's connection to all our 16+ supported chains!
Recently XY Finance has integrated the highly-anticipated scaling solutions for Ethereum – zkSync Era & Polygon zkEVM. According to DefiLlama, XY Finance is currently the top bridge on zkSync Era, Polygon zkEVM, Astar & ThunderCore!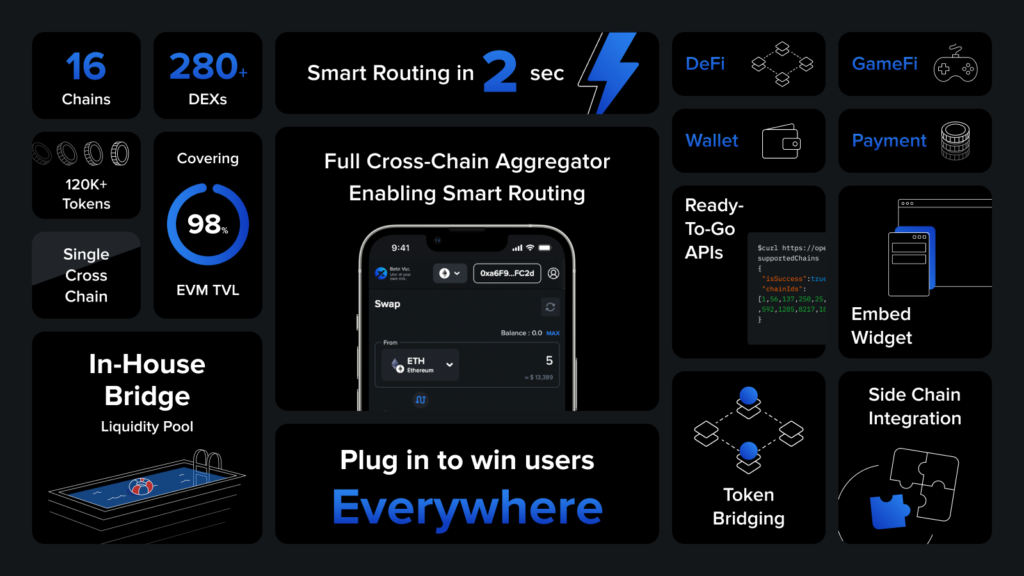 To know more about XY Finance and how to cross-chain swap your assets with us 👇
🔗 What is XY Finance? A Brief Introduction
🔗 How to Bridge Assets Across 16+ Blockchains via Swap
---
About XY Finance
XY Finance is a cross-chain interoperability protocol aggregating DEXs & Bridges. With the ultimate routing across multi-chains, borderless and seamless swapping is just one click away.
XY Finance Official Channels
XY Finance | Discord | Twitter | Telegram | Documents | Partnership Form