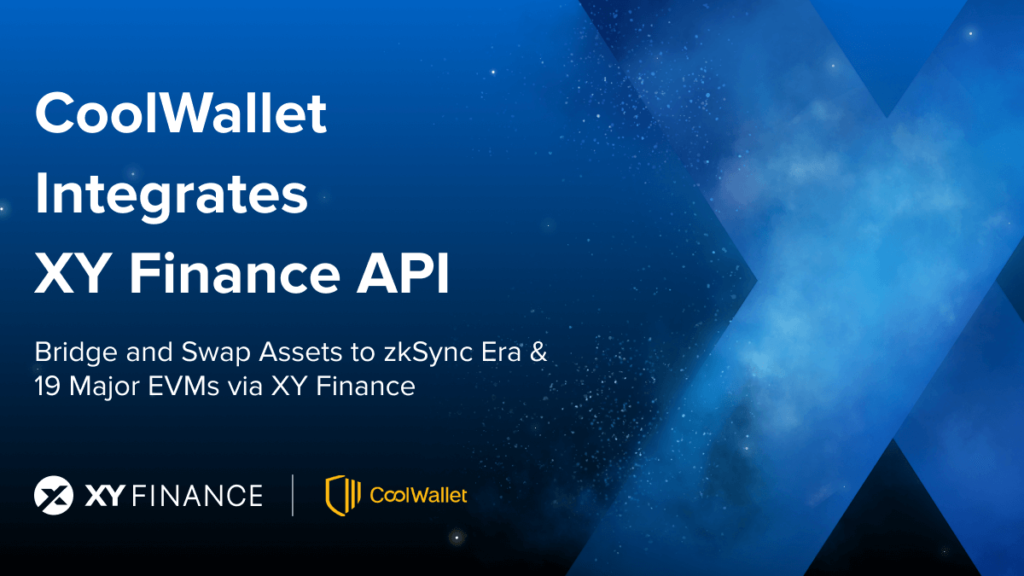 TL;DR
CoolWallet integrates XY Finance cross-chain API, hardware wallet (CoolWallet Pro and S models) and hot wallet users (access through our CoolWallet App) can now bridge & swap assets seamlessly.
XY Finance supports seamless bridge & swap on CoolWallet across Ethereum, BSC, Arbitrum, Polygon, Optimism, Avalanche, zkSync, Cronos, Base & Linea!
CoolWallet x XY Finance Zero Fee campaign kicking off from 2023/11/21 to 2023/11/27, bridge & swap on CoolWallet to enjoy 0 fee!
Join XY Finance x CoolWallet TasoOn campaign with up to $500 worth of $XY to grab!

XY Finance x CoolWallet
In the dynamic world of DeFi, the partnership between XY Finance and CoolWallet marks a pivotal moment. We at XY Finance are thrilled to announce our collaboration with CoolWallet, a prominent player in secure and convenient wallet solutions.
The Power of Seamless Swapping
CoolWallet Pro and S models, as well as the CoolWallet App users can now enjoy seamless bridge & swap experience across major EVMs including Ethereum, BSC, Arbitrum, Polygon, Optimism, Avalanche, zkSync, Cronos, Base & Linea!
This innovation simplifies the process for CoolWallet users, enhancing the security of their assets and circumventing the need for centralized exchanges. An added bonus? It's a cost-effective solution, leveraging diversified routes to save on transaction fees.
A November to Remember: Zero Fees & TaskOn Giveaway
To celebrate XY Finance & CoolWallet's partnership, we are thrilled to introduce CoolWallet's Zero Fee & TaskOn campaign with $500 USD worth of $XY for grab!
Bridge Swap with ZERO Service Fee via XY Finance on CoolWallet App
ZERO Service Fee Period: 2023/11/21 4:00 – 2023/11/27 4:00 UTC+0
During our exclusive campaign period, all CoolWallet App users completing any bridge/swap transaction via XY Finance will benefit from a complete service fee waiver automatically. (Note: On-chain fees are not included.)
For Every CoolWallet User: Whether you're a cold wallet aficionado or a hot wallet enthusiast, this campaign caters to you.
Join TaskOn, Complete Tasks to Win $XY
TaskOn Campaign Period: 2023/11/21 4:00 – 2023/12/04, 2023 UTC+0
Complete the tasks on TaskOn to win the lucky draw!
Important Update: XY Finance Protocol Major Upgrade
Please be advised that a major upgrade is scheduled for the XY Finance protocol. To ensure a smooth transition, we request that users refrain from executing swaps via XY Finance during the following downtime: Downtime: November 22, 2023 14:00 – 20:00 (UTC+8)
Ready to elevate your crypto experience? Join us in this exciting journey and redefine the way you swap and bridge your crypto assets!
How to Bridge & Swap Assets on CoolWallet via XY Finance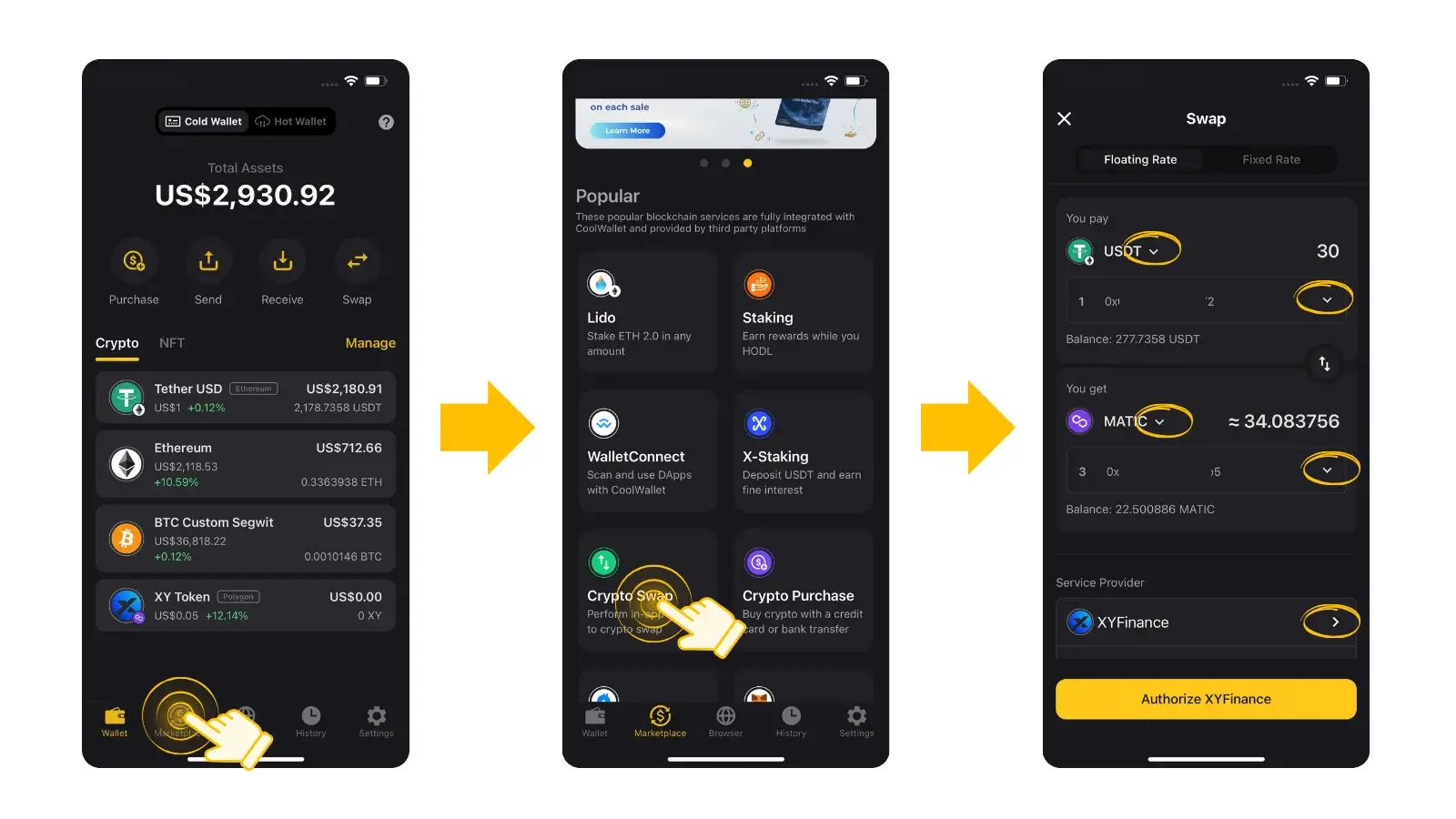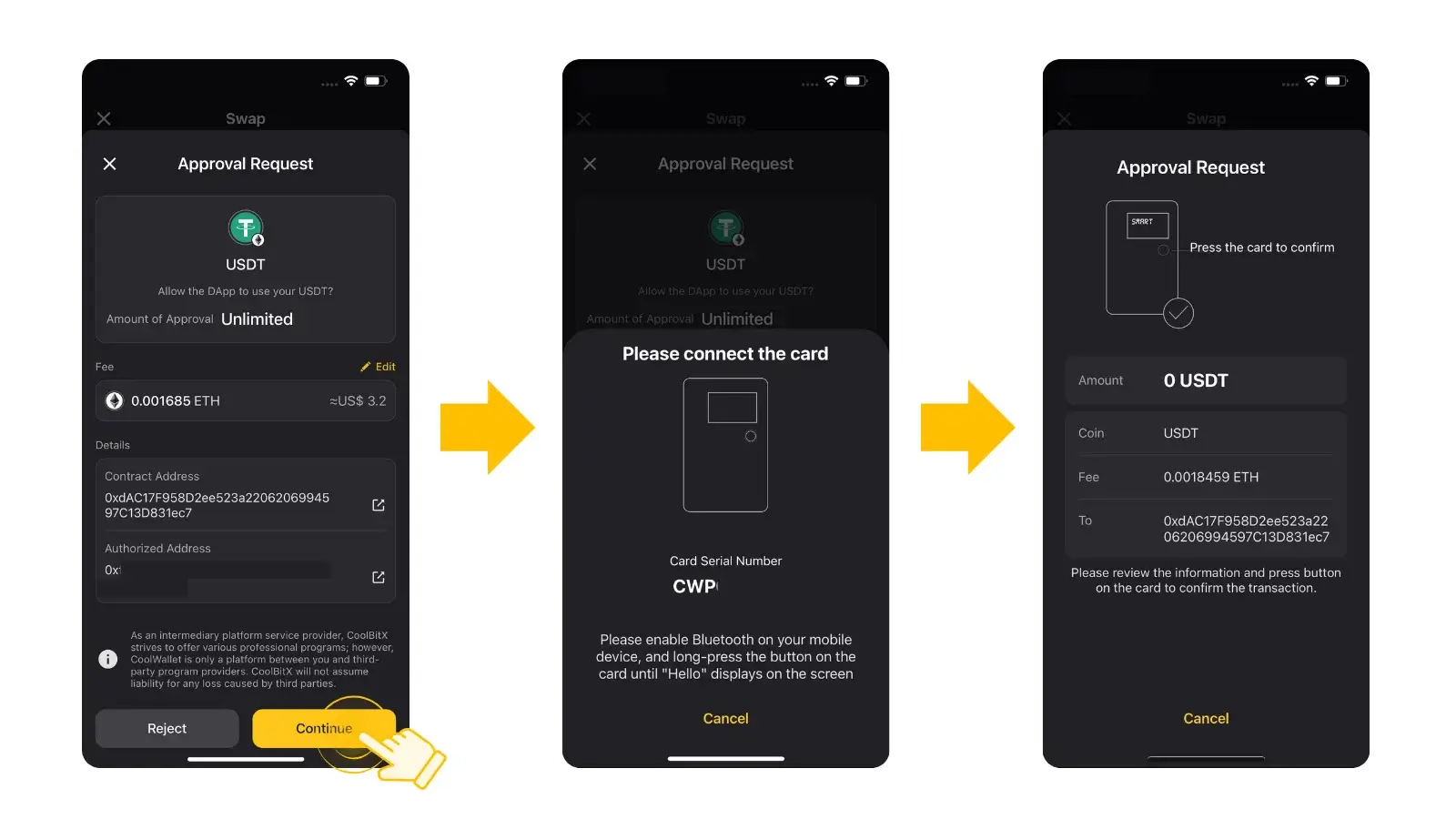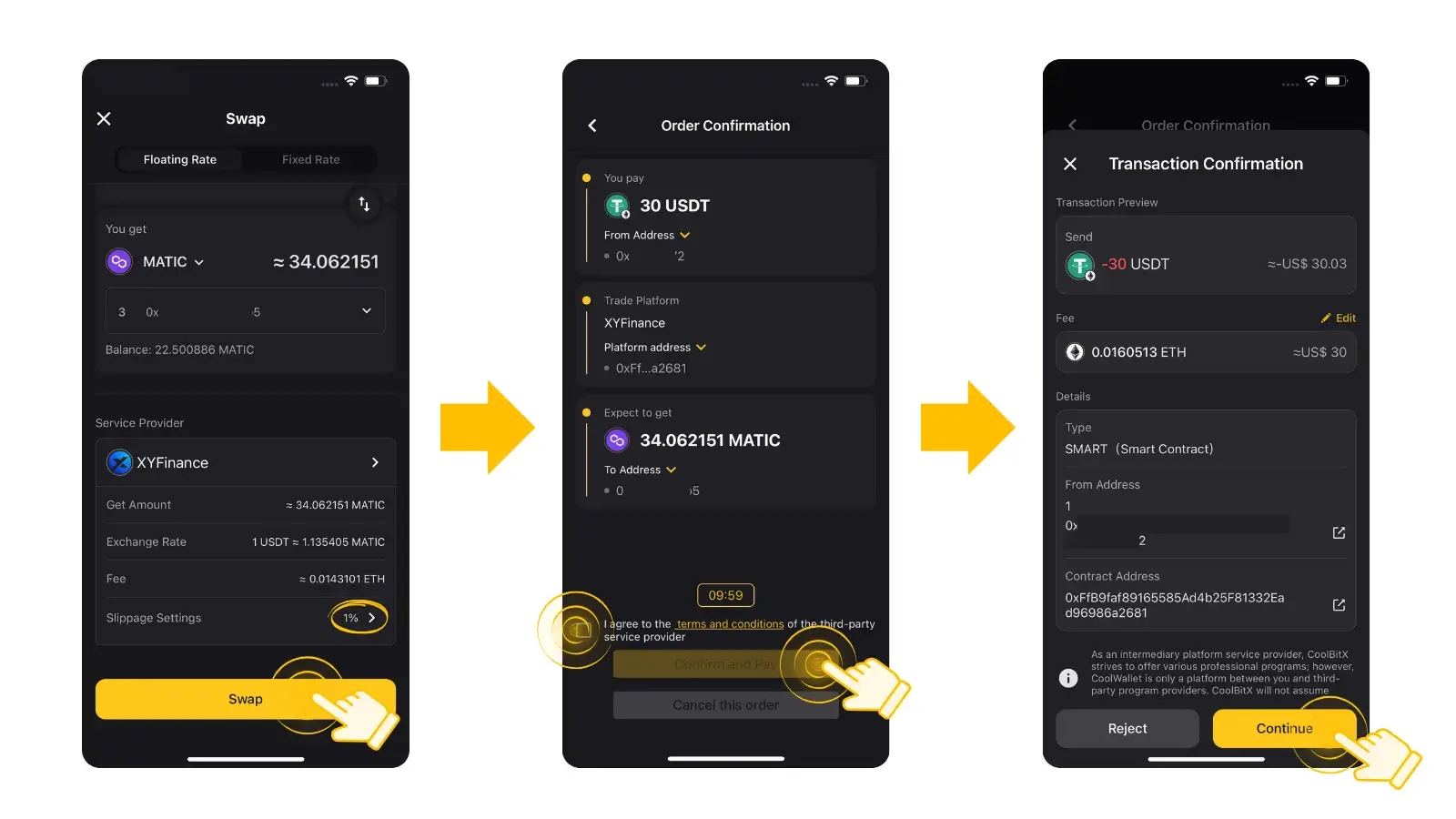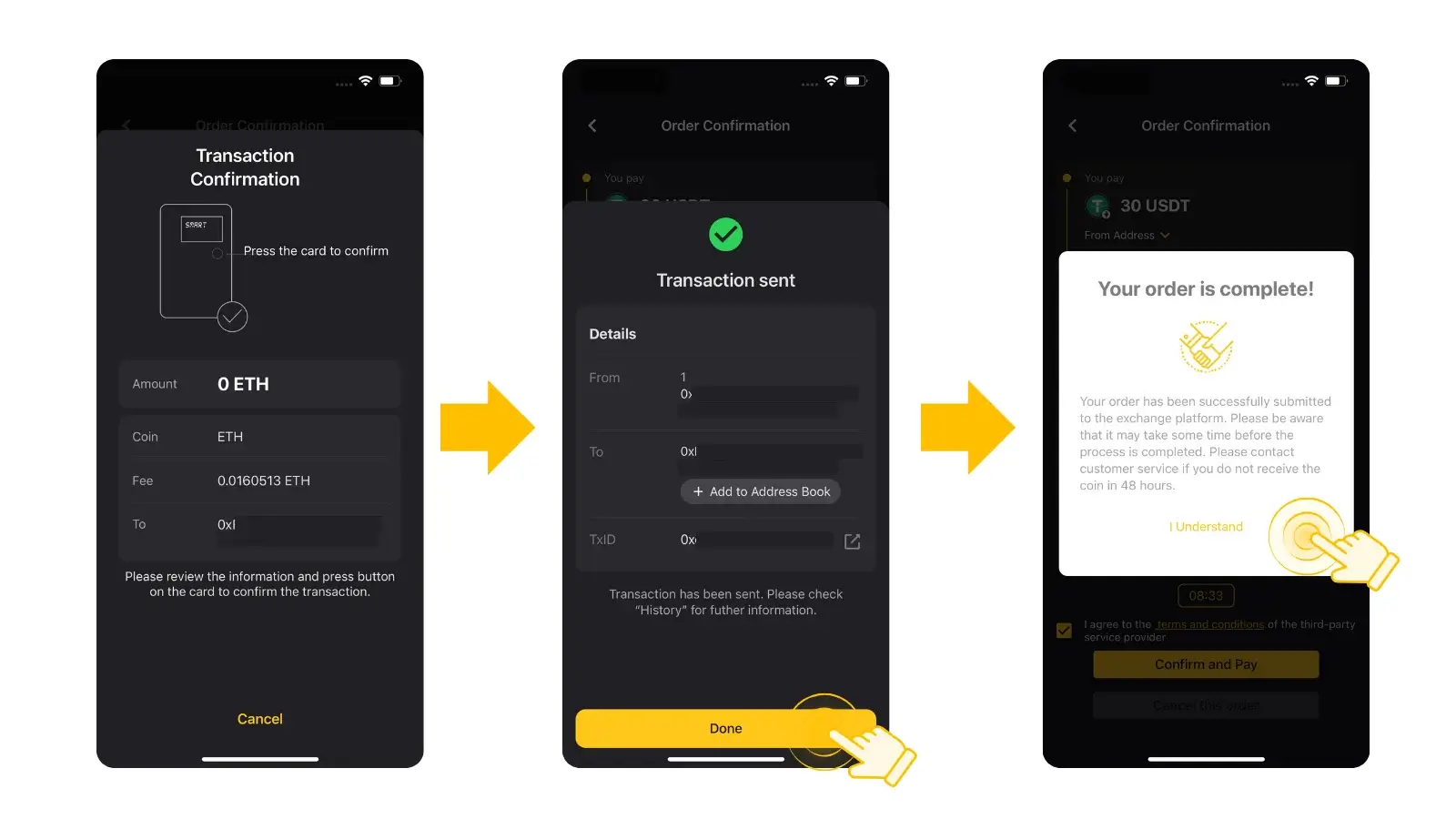 Download CoolWallet & Create your account
Navigate to the Marketplace page and select "Crypto Swap". Choose the tokens you wish to exchange, ensuring the blockchains for these tokens are correctly selected.
If your wallet hasn't already authorized the sending token for use via XY Finance, you'll need to complete a one-time approval process.
Customize your swap/bridge settings by adjusting the slippage according to your preference. On the Order Confirmation and Transaction Confirmation pages, thoroughly verify all details before proceeding.
Finalize the authorization, and your transaction will be successfully completed.
About CoolWallet
Developed by CoolBitX, CoolWallet offers a range products to help crypto natives navigate between cold and hot storage with a single tap. Manage crypto, NFTs and interact with DApps in one App effortlessly.
More About CoolWallet
Website | Twitter | Download | Medium
---
About XY Finance
XY Finance is a cross-chain interoperability protocol aggregating DEXs & Bridges. With the ultimate routing across multi-chains, borderless and seamless swapping is just one click away.
XY Finance Official Channels
XY Finance | Discord | Twitter | Telegram | Documents | Partnership Form