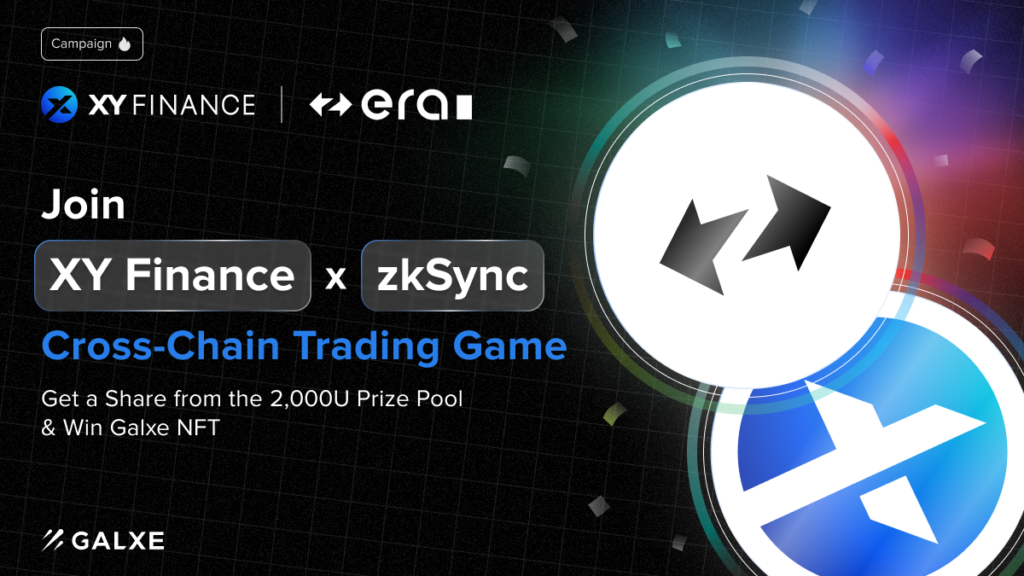 XY Finance is excited to partner up with zkSync and Galxe for a fun trading game celebrating the integration of zkSync Era on XY Finance! If you want to participate in the zkSync ecosystem and win some prizes at the same time, you won't want to miss this 😉 Ready to win exclusive Galxe NFT and a share of the 2,000U prize pool? Let's go (First 200 participants will guaranteed to get the airdrop, chop chop) 🔥
To know more about XY Finance's integration of zkSync & explore the main projects on zkSync Era and what we can do in its promising ecosystem, check out this XY Blog! 👉 XY Finance Integrates & Support Cross-Chain Trade on zkSync Era
Schedule
📅 Event Period: 2023/05/15 10:00 UTC – 2023/05/27 08:00 UTC
📅 Winner Announce: 2023/05/30
📅 Airdrop: 2023/06/01 – 2023/06/07
How to Participate
1️⃣ Cross-chain swap 100U worth of any token from or to zkSync (You will be able to verify 10-15 minute after you completed the cross-chain transaction! patience is virtue 😉)
2️⃣ Complete social tasks
3️⃣ Claim Galxe NFT
🔗 Join NOW on Galxe
What Are the Prizes?
🎁 Exclusive Galxe NFT on zkSync: All participants who completed the tasks can obtain an exclusive NFT on Galxe.
🎁 1,000U $XY: First 200 participants to complete the cross-chain task and claim Galxe NFT will guaranteed to get airdrop
🎁 1,000U $XY: 10 random lucky participants will each take home 100U worth of $XY
*Users who completed the 100U cross-chain swap task and the social tasks will have to claim Galxe NFT before 5/22 10:00 UTC to join the lottery draw (limited time to claim NFT, users will have to claim NFT before campaign ends).
How to On-Chain or Cross-Chain Bridge Your Assets to zkSync Era Tutorial
Currently, XY Finance has supported 16 chains, covering nearly 98% of EVM chains including: Ethereum, zkSync Era, Polygon ekEVM, BSC, Fantom, Polygon, Arbitrum, Optimism, Avalanche C-Chain, Cronos, KCC, ThunderCore, Astar, Moonriver, Klaytn, more zkRollups & Non-EVM chains joining soon!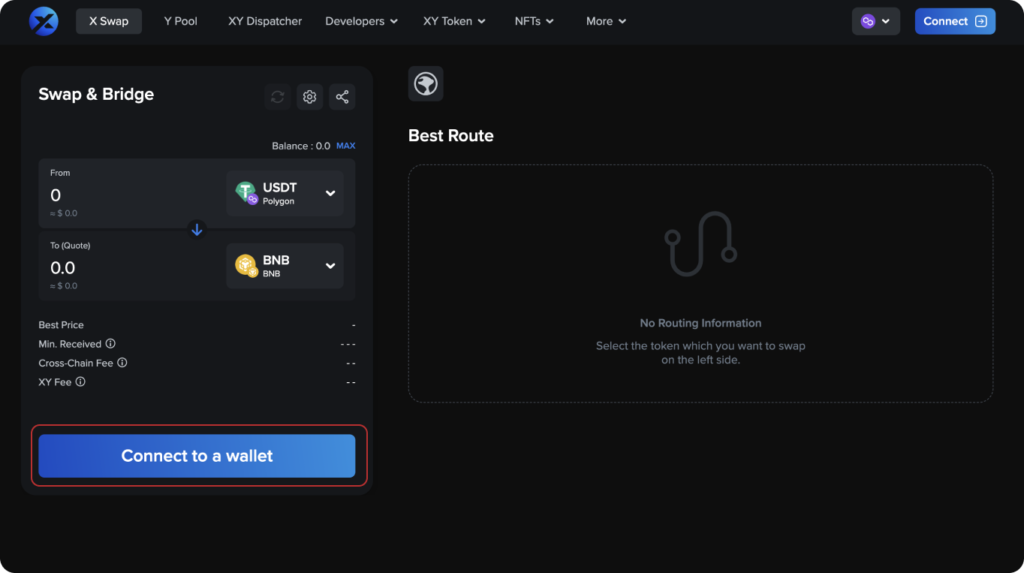 ⓵ Visit Swap Page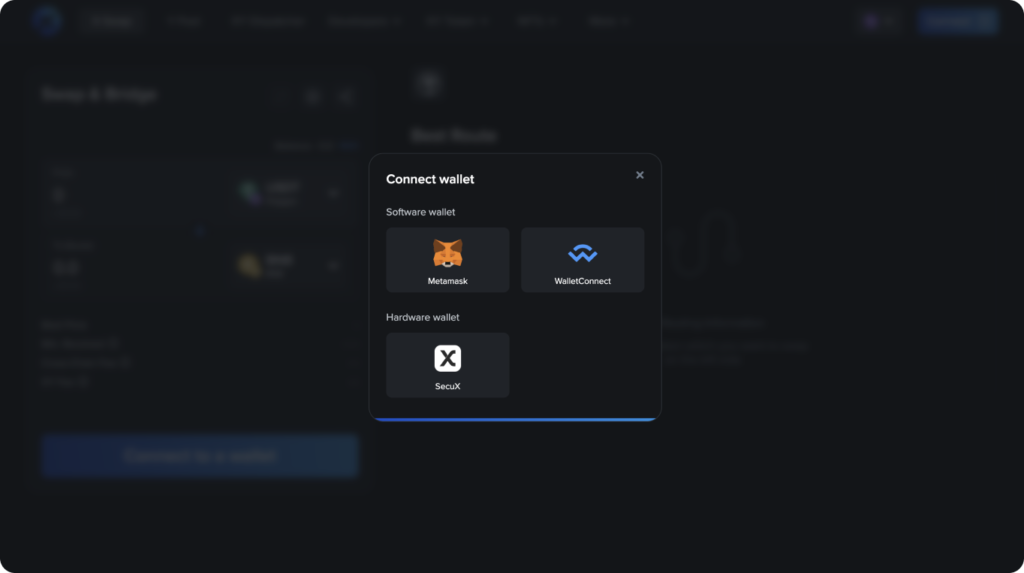 ⓶ Connect Your Wallet
Connect your Web3 wallet through MetaMask 🦊 or WalletConnect 📡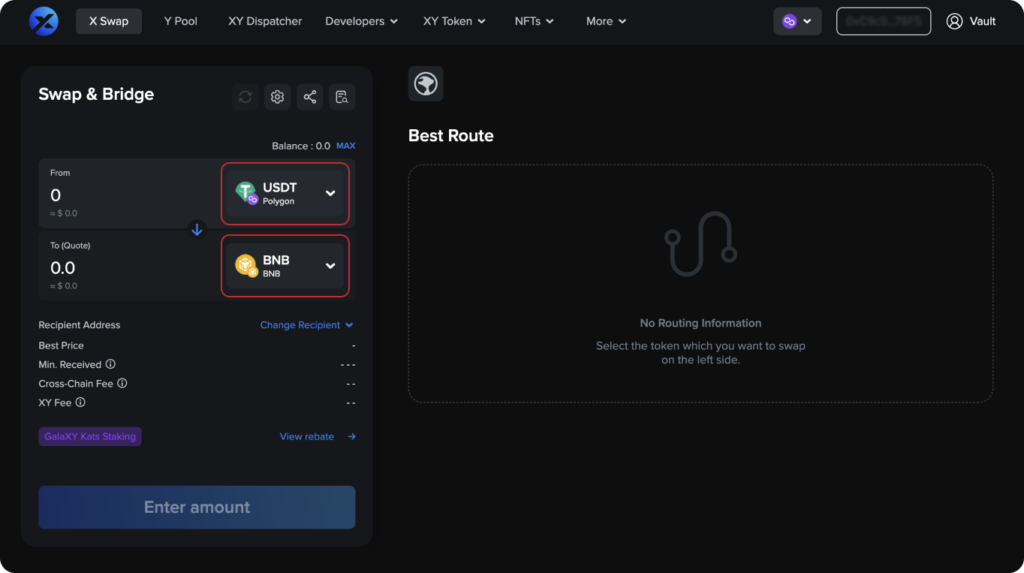 ⓷ Select the Tokens & Chains You Wish to Swap
Cross-chain or single-chain swap are both available, in this tutorial, we will be swapping USDT on Arbitrum to ETH on zkSync Era.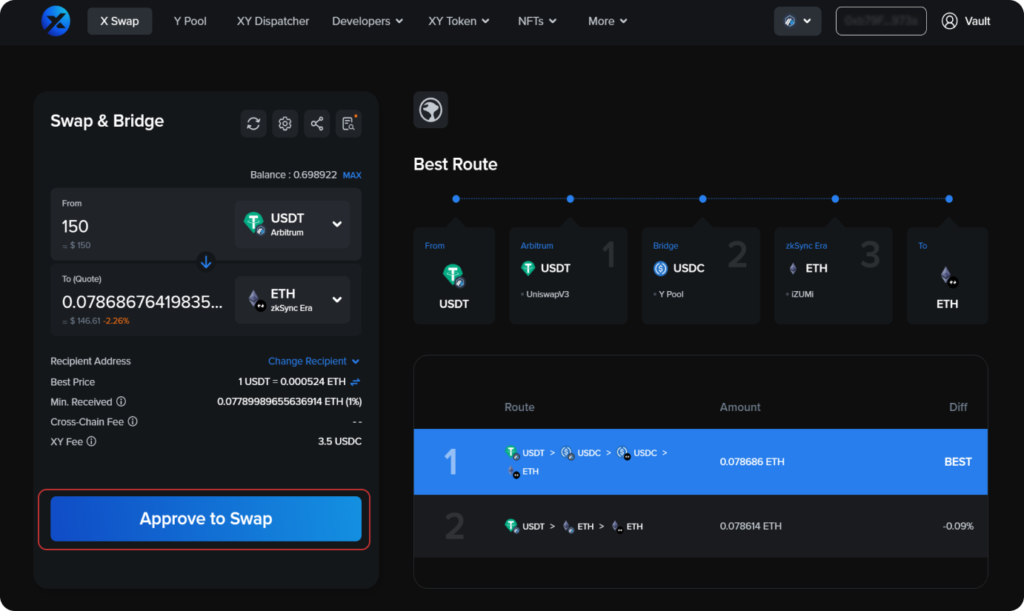 ⓸ Approve to Swap
Upon selecting the tokens on both the source and the target chain as well as the amount you wish to swap, the interface will display the best rate you can get for this transaction and how the token is going to be bridged. XY Finance will display your connected wallet address by default and it also allows you to change the recipient address. Click "Approve to Swap" and sign the message from your wallet.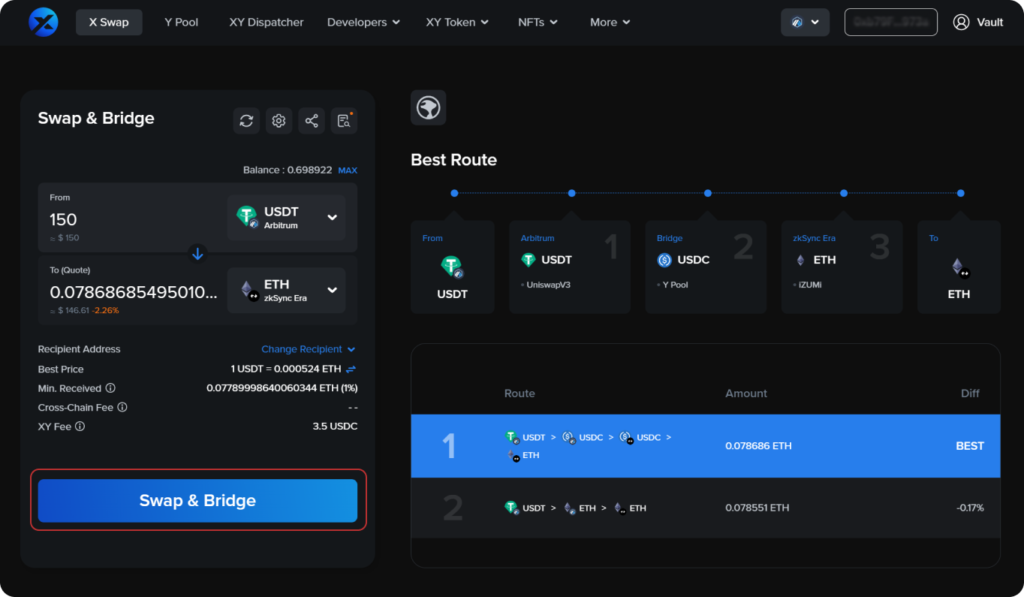 ⓹ Double Check Swap Details & Swap!
Don't forget to confirm your transaction from your wallet again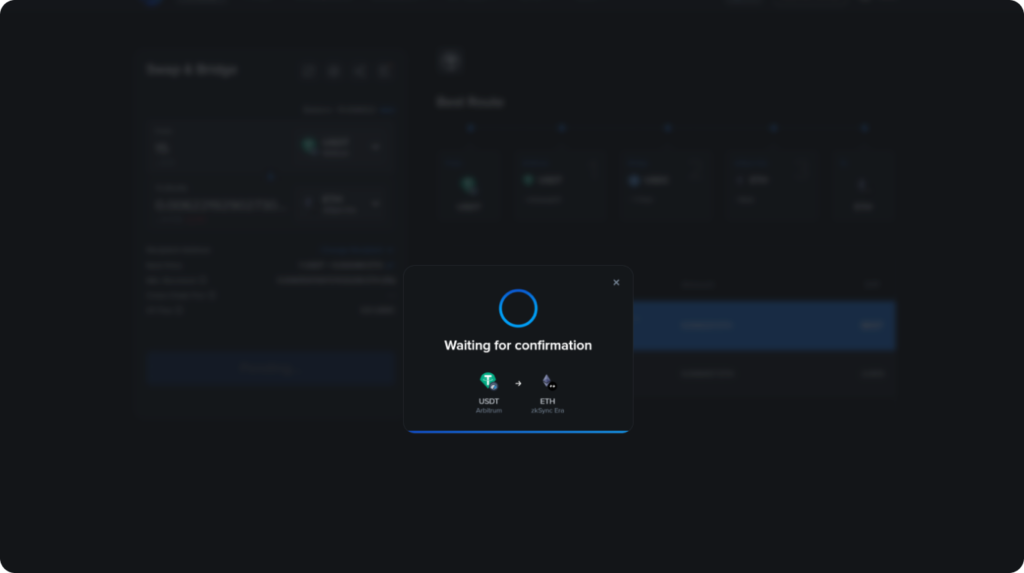 ⓺ Wait For the Transaction to Be Completed
You can also track the process on zkSync Era's scan such as zkscan.io.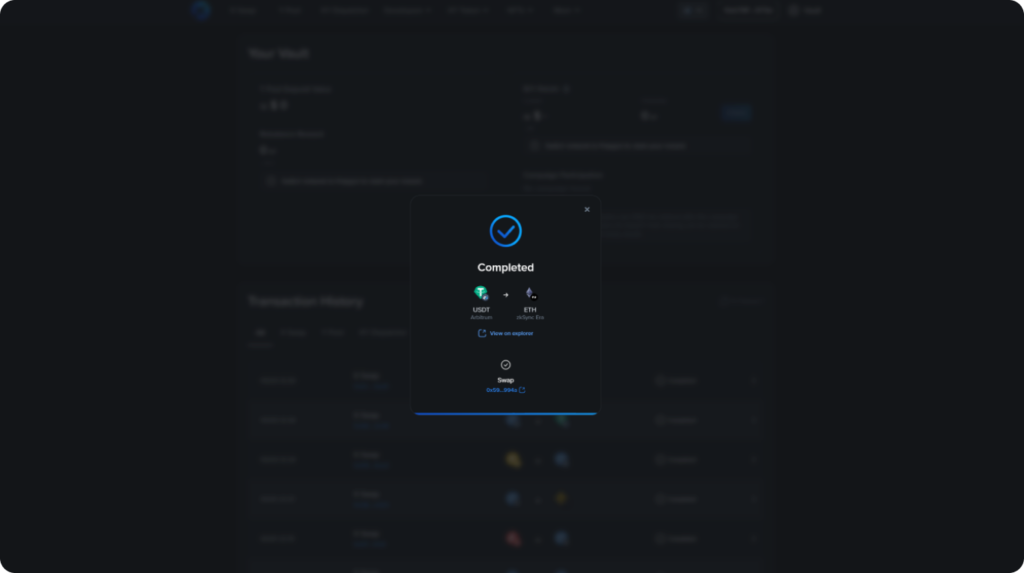 ⓻ Your Transaction Is Completed!
With each swap being completed, you will be notified of whether or not the transaction is successfully executed. Voila, it is this easy to use XY Finance to bridge your assets to the zkSync Era!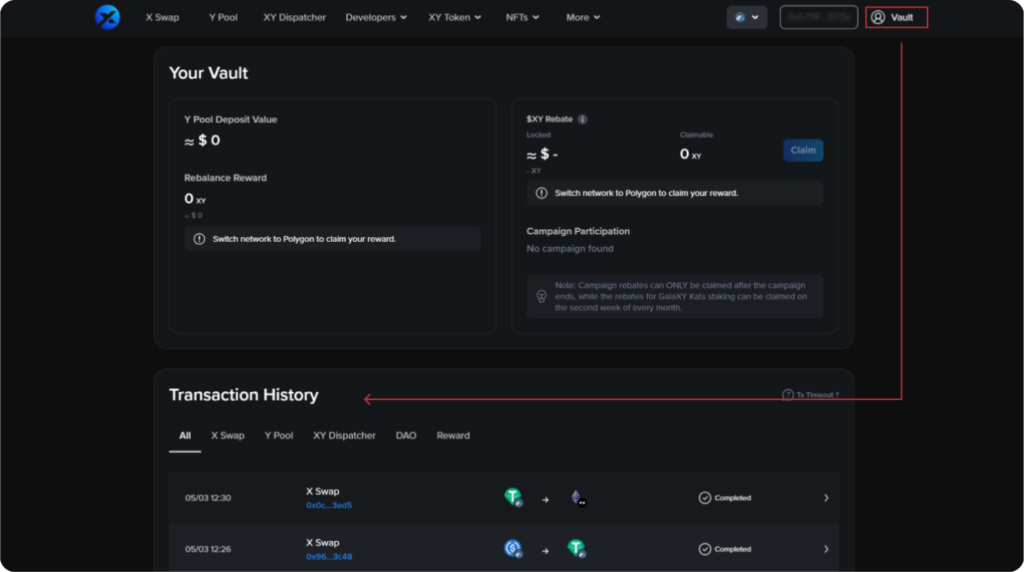 Tips: Check Vault For All Transactions
You can track all your transactions in the Vault on the top-right corner of the web page. *As the data is saved in the cache, do note that if you use different devices with the same wallet address, it will only show the transactions completed on that device.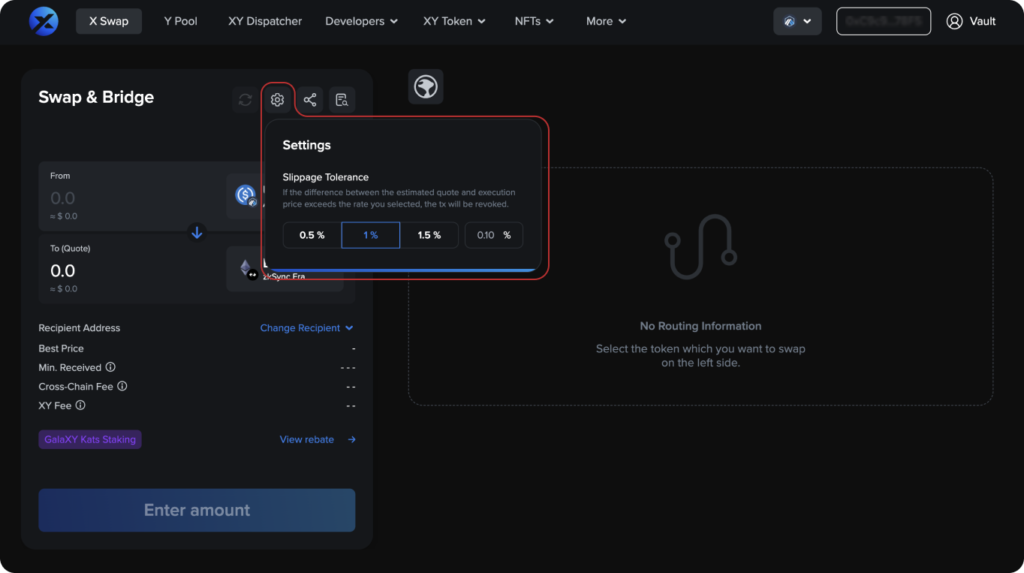 Tips: Customize Slippage Setting
Slippage Tolerance is the price difference between the price at the confirmation time and the actual price of the transaction you are willing to accept when swapping.

If the difference between the estimated quote and execution price exceeds the rate you selected, the tx will be reverted and users will receive pool tokens on the destination chain.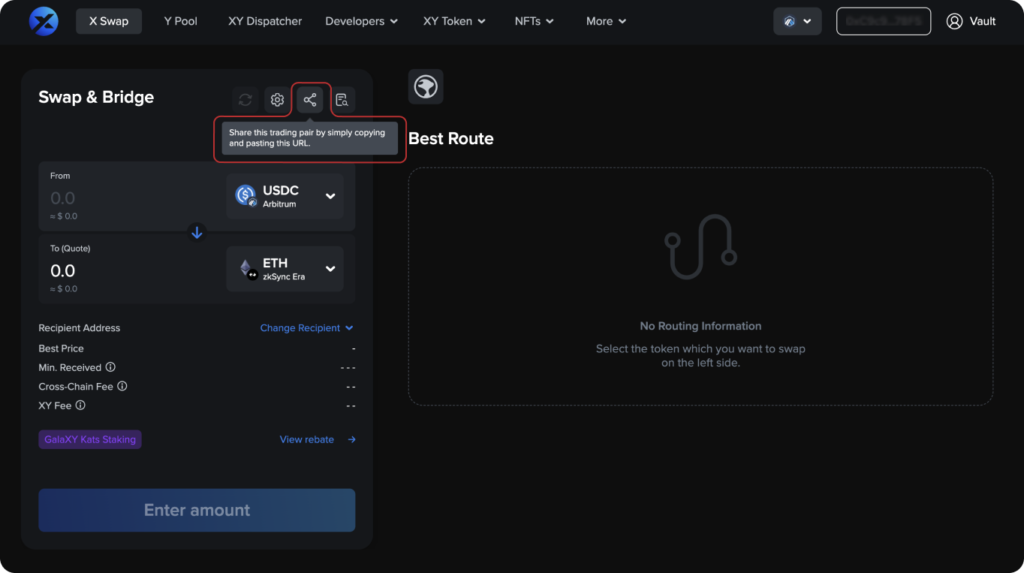 Tips: Copy the link of the trading pair and share it with other people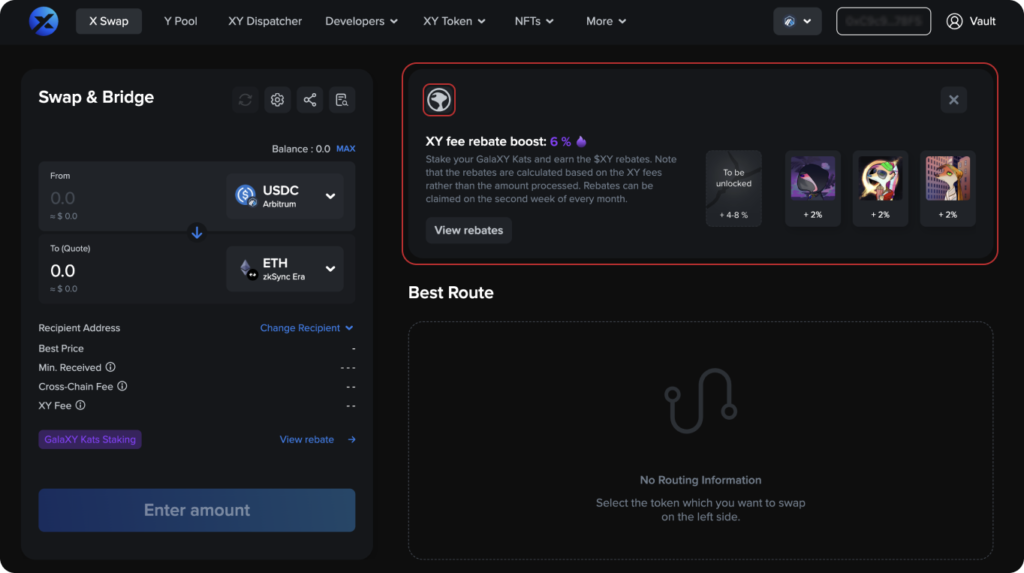 Tips: Stake GalaXY Kats NFT to Get Swap Fee Rebate
Synergising with XY Finance's NFT/GameFi project – GalaXY Kats, users can stake their NFTs and get DeFi utility such as swap fee rebate while performing cross-chain swaps!

Easy-peasy aight! If you encountered any issues while swapping, you can open a ticket to us on Discord. Our official Alpha members will give you all the support you need!
Regulations:
Only cross-chain trades to or from zkSync, including zkSync-BNB, zkSync-Fantom, zkSync-Ethereum, zkSync-Polygon, zkSync-Cronos, zkSync-Avalanche C-Chain, zkSync-ThunderCore, and zkSync-Arbitrum, zkSync-Optimism, zkSync-Astar, zkSync-Moonriver, zkSync-Klaytn & zkSync-KCC will be included in volume calculations.
Only eligible cross-chain transfers that are completed during the event period.
100 USD worth of any tokens supported by XY Finance after the transaction is completed.

Disclaimers
In the event of a disagreement concerning the final winners, XY Finance will have the final say.
XY Finance can and will disqualify specific members that are proven to have taken malicious action or attempt to "cheat" in any way.
---
About XY Finance
XY Finance is a cross-chain interoperability protocol aggregating DEXs & Bridges. With the ultimate routing across multi-chains, borderless and seamless swapping is just one click away.
XY Finance Official Channels
XY Finance | Discord | Twitter | Telegram | Documents | Partnership Form