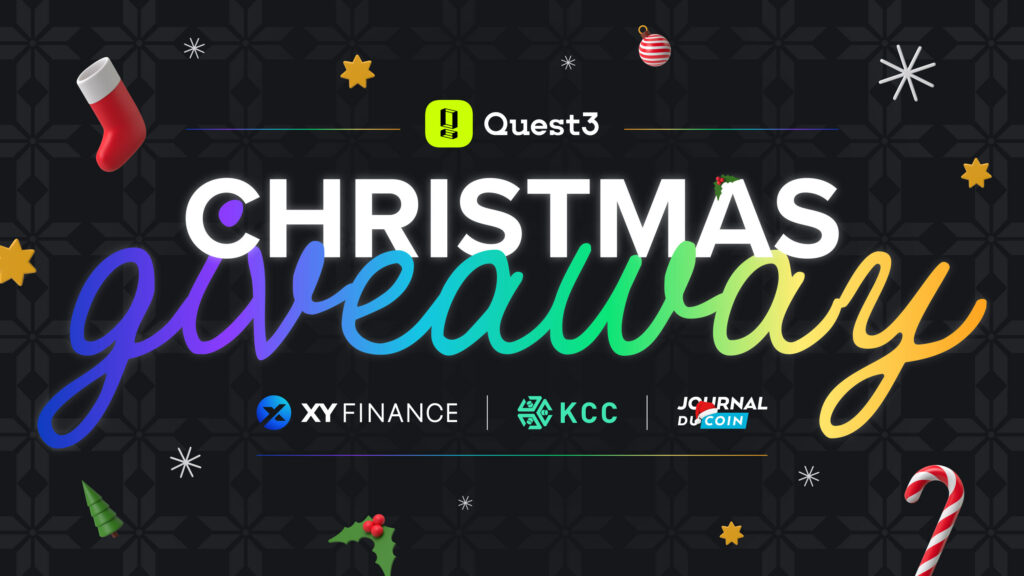 As part of the Journal Du Coin Advent Calendar campaign, we are thrilled to give back a little bit to our amazing community 💚 Join XY Finance, KCC & Journal Du Coin community to get a share from the $100 prize pool and on top of that the best DeFi experience and information!
🔗 Link: https://app.quest3.xyz/quest/714276044652982665
📅 Event Duration: 2022/12/16 5:00 UTC ~ 2022/12/27 5:00 UTC
🏆 Rewards: 100U shared among 10 lucky winners
Happy Xmas everyone, hope in the new year we can foresee a bullish market together 🔥
Dans le cadre de la campagne de calendrier de l'avent mise en place par Journal Du Coin, nous sommes ravis de remercier notre remarquable communauté en leur redonnant une partie de ce qu'elle nous apporte au quotidien.
Rejoignez la communauté de XY Finance, KCC et du Journal du Coin pour obtenir les meilleures informations sur la finance décentralisée (DeFi).
🔗 Link: https://app.quest3.xyz/quest/714276044652982665
📅 Durée de l'événement: du 16/12/2022 à 10h00 au 27/12/2022 à 10h00 UTC
🏆 Récompense: 100 USDT à partager parmi 10 chanceux.
Joyeux Noël à tous, nous souhaitons que cette nouvelle année nous amène un marché toujours plus en hausse 🔥
---
About XY Finance
XY Finance is a cross-chain interoperability protocol aggregating DEXs & Bridges. With the ultimate routing across multi-chains, borderless and seamless swapping is just one click away.
XY Finance Official Channels
XY Finance | Discord | Twitter | Telegram | Documents | Partnership Form